Everything You Need to Know About the USA Women's Gymnastics Trials This Weekend
Photos courtesy Getty Images
Olympics
Lists
The U.S. Women's gymnastics team will be decided this weekend. That's an exciting prospect for those of us who follow gymnastics and for those whose interest peaks around this time every four years. But there appears to be less drama heading into this weekend in San Jose than close followers might be used to.
For the most part the team appears to be mostly selected with up to four spots all but penciled in heading into Olympic Trials. There's one automatic spot technically up for grabs, but that's going to the best gymnast in the world. Three other spots are likely already clinched as long as this weekend presents smooth routines without any major mishaps. The fifth and final spot is still a question. While most of these spots appear to already be decided, the final four gymnasts on the team will be selected by national team coordinator Marta Karolyi and other members of a small selection committee shortly after Day 2 of the competition concludes on Sunday night. The selection process will include results from previous meets, such as P&G Championships that were held two weeks ago in conjunction with the men's Olympic Trials in St. Louis two weeks ago.
Olympic Trials for the women start Friday night at 8:30pm and conclude with Day 2 Sunday night at 8:00pm. Here's a look at how the field of 14 gymnasts look before the start of competition in San Jose.
Best in the World
Simone Biles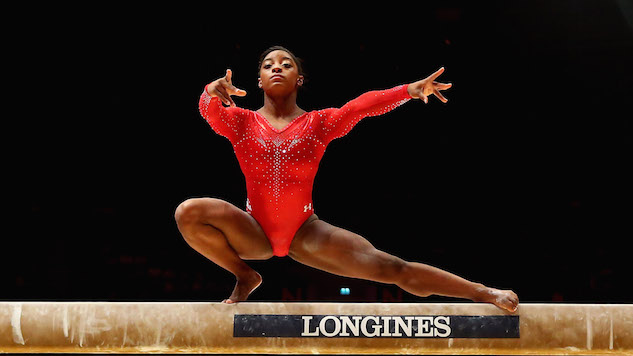 Simone Biles is the best gymnast in the United States. She's also the best gymnast in the world. It wouldn't be a stretch to consider her the best gymnast of all time. There's been gymnasts who have been dominant for long stretches of time like Biles has—she's won three consecutive World all-around titles and four consecutive U.S. all-around titles—but it's rare a gymnast has scored so much higher than the competition. In a sport decided by tenths of a point, Biles won her most recent world championship by over a full point.
There's only one way to automatically qualify for the women's team and that's to finish first all-around through the full two-meet qualifying process. After P&G Championships, Biles has a 3.9-point lead in the all-around. She's the lockiest of locks.
London Returnees
Aly Raisman, Gabby Douglas
It's not easy making back-to-back Olympic teams for anyone in gymnastics, but it's even more rare on the women's side. It hasn't happened in the United States since Amy Chow and Dominique Dawes made back-to-back teams in 1996 and 2000. Both Aly Raisman and Gabby Douglas are looking to be the next set of teammates to make it back after being a part of the gold medal winning "Fierce Five" team in 2012.
Raisman is the biggest lock for the team outside of Biles. She won the all-around at the Secret Classic at the beginning of June while Biles and Douglas competed only two events each. She also came in second all-around at P&G Championships and sits just behind Biles heading into Trials. As the oldest competitor at 22 years old, she'll be on the team with another solid showing.
Douglas was a little more shaky during P&G Championships, though she still finished fourth all-around. She's also coming off some success internationally, as she placed second all-around behind Biles at the most recent World Championship and won the all-around of the American Cup in March. But during P&Gs, she had mishaps on balance beam during Day 1 and bars and floor during Day 2. With a mistake free weekend she's in, but a mistake or two could be cause for concern when it comes to Karolyi's selection.
Budding Star
Laurie Hernandez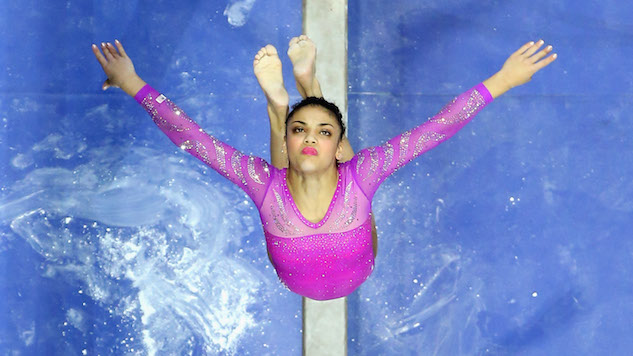 Heading into P&G Championships, Laurie Hernandez looked to be a fringe candidate for a spot on the Olympic team. At just 16 years old, she's one of the youngest competitors in the field and at the minimum age to qualify for Rio. She's one of the most charismatic athletes and it shows in all of her routines, especially on floor. At worst it appeared she would come out of the qualification process as one of the favorites for the Tokyo Olympics in 2020, however Hernandez finished third all-around at P&G Championships behind Biles and Raisman. Her ability to perform well on multiple events now should make her one of the favorites to come out of San Jose as an Olympian heading to Rio.
Top Specialists
Madison Kocian, Ashton Locklear, MyKayla Skinner
This is where the weekend gets interesting in figuring out who takes the final spot of the five-woman team. With the first four spots already penciled in, the last roster spot on the team will likely go to a gymnast with a specialist role and odds are it goes to one on bars — either Madison Kocian or Ashton Locklear.
Kocian has the edge in start value (the highest possible score received on a routine), but over the past few meets Locklear has been cleaner in performance and beaten Kocian despite the lower ceiling. There's only a few tenths difference between Kocian's routines that start anywhere from a 16.6 to a 16.7 to Locklear's routine that starts at a 16.5. Those are the two highest start values on bars for the United States and bars for the women is like pommel horse for the men — the event the team needs the most help.
Locklear won bars at P&G Championships over Kocian by just 0.15 over the two days. Both gymnasts tied with a 15.7 on Day 1, but Locklear edged Kocian 15.6 to 15.45 on Day 2. Locklear also came in first place on bars at the Secret Classic in June with a score of 15.85, while Kocian was second at 15.7.
While bars will play the biggest role, the deciding factor between the two could be about where else they can contribute. Kocian came in fifth all-around at P&G's, while Locklear only competed on bars and beam. Beam may be the tiebreaker, but even that is close. Over the two days competition, Kocian outscored Locklear on beam by half a tenth (0.05) but Locklear's 14.45 score on Day 1 was the highest score of the four routines performed between the two.
MyKayla Skinner's ability on vault and floor would make her a capable contributor on almost any Olympic team, but she finds herself in a deep class of gymnasts that has all-around competitors able to contribute on those events. Skinner was just one of two gymnasts, along with Biles, to compete two vaults at P&Gs in preparation for event finals on vault during the Olympics for which two different vaults are needed and should she make it, she'd be a threat to finish on the podium. The problem for Skinner is the depth in front of her blocking a clear path for the team. She'll likely need a stellar performance and subpar showing from either Douglas or Hernandez to make the five woman team.
Everyone Else
Maggie Nichols, Ragan Smith, Amelia Hundley, Rachel Gowey, Christina Desiderio, Brenna Dowell, Emily Schild
There's a lot of good gymnasts in this group. Unfortunately, the U.S. is flooded with good gymnasts and only five can be on the official team for Rio.
Maggie Nichols is a strong competitor returning from a torn meniscus suffered back in April. She only competed bars and beam at P&G Championships and had a major mistake on each event, beam Day 1 and bars Day 2. Amelia Hundley had the best all-around showing two weeks ago, placing sixth in the all-around, but didn't place higher than seventh on a single event during the first half of qualifying. Brenna Dowell had a rough two days on beam and her other events were not strong enough to get her into the top five individually, despite finishing 11th all-around. Rachel Gowey finished ninth all-around and fifth on bars, but falls behind Kocian and Locklear for the specialist spot.
Ragan Smith is a strong contender to be named an alternate, but at 15 years old, Smith along with Christina Desiderio (15) and Emily Schild (17) should be young enough to hang around and be among the top candidates looking towards Tokyo in 2020.
Dan Pizzuta is a freelance writer and former Division I gymnast at Temple University.