Warning: getimagesize(https://www-wp.pastemagazine.com/wp-content/uploads/2022/06/10/TrumpFastFoodMain.jpg): failed to open stream: Connection timed out in /home/prodwp/public_html/wp-content/themes/pastemagazine/single-article.php on line 154

President Trump invited the Clemson Tigers—2018 college football champs—to the White House, where he served a banquet of "McDonald's, Wendy's and Burger Kings (sic) with some pizza," because he assumes "that's their favorite food." They apparently liked it.
Trump's assumption about the Clemson players is no surprise, because Trump can only see the world in terms of himself, and that stuff is his favorite food. The President does break with the Tigers over one thing, though: Exercise. Even though he stuffs his face with fat and sodium all day, Trump doesn't believe in exercise, theorizing instead that the human body works like a battery, with a finite amount of energy stored up that you must apply to activities judiciously. He seems to apply a lot of that energy to eating pure crap, though, and it's a wonder his battery has lasted so long. Let us now take a brief tour of Trump's adventures with fast food:
Here we see the President gloating over Kentucky Fried Chicken.
A political news diet of Fox & Friends each AM is like eating KFC every morning for breakfast. Intellectual junk food. pic.twitter.com/D4a6G6XKnO

— Adam Best (@adamcbest) June 29, 2017
He celebrated his RNC delegate victory by posting an Instagram photo of himself eating McDonalds on his airplane, which you can see in this tweet:
Ivana Trump: Trump's only weakness is a McDonald's Big Mac https://t.co/La1Jr4MaD5pic.twitter.com/wxKvsanuqt

— The Hill (@thehill) June 13, 2018
In similar style, we have the famous Taco Bowl tweet.
Happy #CincoDeMayo! The best taco bowls are made in Trump Tower Grill. I love Hispanics! https://t.co/ufoTeQd8yApic.twitter.com/k01Mc6CuDI

— Donald J. Trump (@realDonaldTrump) May 5, 2016
He loves hot dogs.
Donald Trump with his Beloved Hot Dog #tbt#hotdoglover#presidenthotdog#thotdogpic.twitter.com/MrzE53wDo1

— eve peyser (@evepeyser) March 15, 2018
He loves pizza, like any New Yorker, but he eats it sacrilegiously—often with right-wing celebrities. Here he is wrong-waying it with Sarah Palin:
Donald Trump eats his pizza with a fork. That should DQ him from being an American. #TrumpFactspic.twitter.com/3qyWZCviGB

— Abed A. Ayoub (@aayoub) March 14, 2016
Trump once even promoted eating pizza incorrectly:
He seems to at least know how to pizza the right way:
Trump To Serve Fast Food – Mc's, Wendy's, Burger King – to Football Team

Greased up meat, fries that will last through an apocalypse and gooey pizza. All washed down with Coke, the lighter fluid of soft drinks. num numb. https://t.co/3gOP34gMZLpic.twitter.com/WKez87gIJ0

— Dane B. McFadhen (@DaneMcFadhen) January 14, 2019
Here's the President of the United States eating meat on a stick.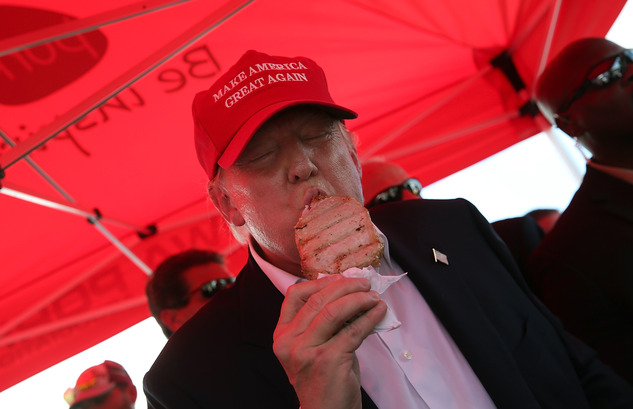 Trump likes to enjoy junk food while watching elite athletes.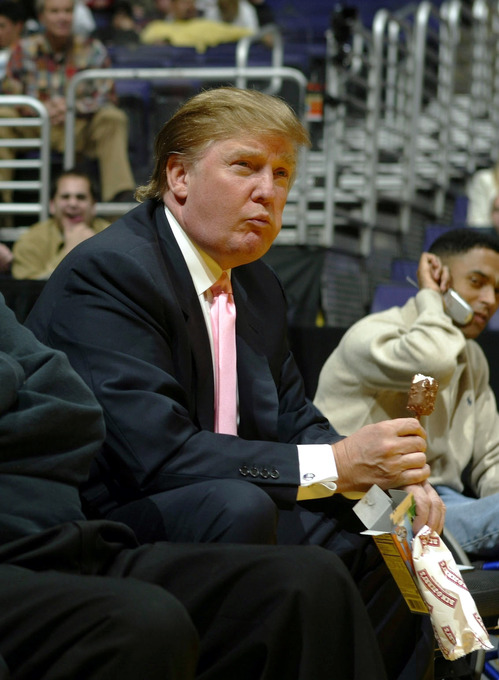 He really seems to enjoy this.
Really @realDonaldTrump you wanna preach about Kasich eating , Stop the bs .. Talk about substance #NeverTrumppic.twitter.com/cSmqP6r93B

— Renegade Cowboy (@Rene_gadeCowboy) April 26, 2016
Really.
TRUMP MAKES GOOD ON HIS PROMISE TO "NOT BE SO NICE" TO MEGYN KELLY BY NOT SHARING ANY OF THE ICE CREAM MOM GOT pic.twitter.com/NXWgSSaqTv

— Hampton Yount (@Hamptonyount) August 8, 2015
Here he takes a break from the ice cream to stuff pretzels court-side.
Given recent news it might be worth revisiting this claim:

Former White House aide said she walked in on President Donald Trump eating paper after a meeting with lawyer Michael Cohen, in what she believed was an effort to destroy sensitive information. https://t.co/OPJmsYmlMV

— Adam Parkhomenko (@AdamParkhomenko) January 13, 2019
Hell, here he is eating ice cream while playing a sport.
I hate ice cream now…
This guy ruins everything #GodBlessAmerica#freedom#4thjuly2017@realDonaldTrumppic.twitter.com/OaS7qM8XjF

— UnsilentMajority (@The_UnSilent_) July 4, 2017
Here Donald Trump prepares his mouth with a well-done Trump Steak, sold exclusively at the Sharper Image electronics store.
"Let them eat Trump steak"? pic.twitter.com/qbUoBdoo3C

— 2PuppetsOnABalcony (@PuppetBalcony) January 15, 2019
And lastly, though he famously doesn't drink alcohol—his brother died of the stuff—he does drink junk. Here he is—the President of the United States—drinking Diet Coke from a wine glass at a toast at the United Nations:
President Trump sips Diet Coke from his wine glass after a toast. (Photo: Carlos Barria/Reuters) pic.twitter.com/xZRRw0xKZa

— Colin Campbell (@colincampbell) September 25, 2018