Olympic Soccer Preview: 3 Teams That Could Spoil Gold for the USWNT
Photo by Jamie Squire/Getty
Soccer
Features
No women's team has ever followed up a World Cup championship with an Olympic gold medal. That may give you pause, until you consider that women's soccer has only been an Olympic sport since 1996.
Nevertheless, it's also worth noting that the US Women's National Team have beaten the defending World Cup champs twice before in the Olympics (eliminated Germany in 2004 semifinal and defeated Japan in 2012 final). In fact, the US has been so dominant in the Olympics they have won four out of five gold medals, missing out only in 2000 when they won silver—the year after they won the 1999 World Cup.
Still, the fact remains that no World Cup champ has gone on to win the gold in back-to-back years. The US Women's National Team hopes to make history by becoming the first team to do just that.
It's easy to say that the USWNT are the favorites and the gold is theirs to lose. The US defeated the second, third and forth ranked teams of Germany, France and England in this year's inaugural She Believes Cup. Yet each victory came within the margin of one goal. All one has to do is look at this summer's Euro Championships to know that nothing is certain. If the USWNT wants to make it a 4-repeat as Olympic champions, they don't have any room to falter.
Three group stage matches in seven days will test all the teams' rosters (reduced to 18-players) with arguably the US sitting in the best position at player depth. However, the addition of new faces like Mallory Pugh, Lindsey Horan, and Allie Long, combined with injuries to Carli Lloyd, Morgan Brian, and Tobin Heath, have necessitated a variety of starting lineups in recent months.
Has the team had enough time to gel together? And how game-ready is Megan Rapinoe, who hasn't played a single minute this year recovering from a torn ACL?
During last year's World Cup, head coach Jill Ellis had time to ease in an injured Alex Morgan by increasing her game time over several matches. She also had time to tinker with lineups and formations for much of the tournament, trying to find a winning combination, even as two yellow card accumulations forced Rapinoe and Lauren Holiday to sit out the quarterfinals. This time around Ellis won't have that luxury, facing a possible six games in less than a span of three weeks in Brazil.
With 8 of the 12 teams advancing to the second stage, all it would take is an upset, a helpful bracket position, or a weak penalty shoot-out for it to be anyone's game. Since the US's most recent rival Japan did not qualify for the Rio Olympics, the task will fall to Germany, France or possibly Australia to play spoilers.
Germany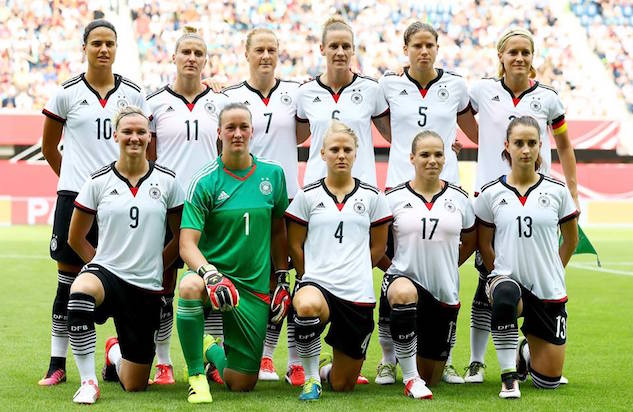 Three-time Olympic bronze medal winners Germany would love nothing more than to exact their revenge on the US. Not only for eliminating them in the 2004 semifinal, but also for last year's exit from the World Cup. Head coach Silvia Neid, who announced she is retiring from coaching the national team after the summer games, will look to go out on a high note as well.
Like the US, Germany has had to deal with key retirements including players of the year in 2013 and 2014 respectively, keeper Nadine Angerer, and Nadine Keßler. Most significantly Germany will go without 2015 World Cup Golden Boot winner and 2015 Player of the Year finalist Célia Šaši?, who retired last year in her prime.
However, the Germans have plenty of players who can step up and pack a big punch as demonstrated in their 11-0 win over Ghana last week. They have dominated their last three opponents outscoring them 19-0 in the run up to the Olympics. Compare that to the Americans, who combined 10-3 over the past four matches, one of which included a hard fought 3-3 draw versus Japan. Anchoring the Germans will be veterans Simone Laudehr and Lena Goeßling in midfield, and Saskia Bartusiak and Annike Krahn at defense.
Keep an eye on:
A healthy Dzsenifer Marazsán could have a breakout tournament for Germany. At only 24 years old she already has 60 national team appearances with an impressive 29 goals. Anja Mittag will also look to pick up where she left off from last year's WC where she scored 5 goals.
France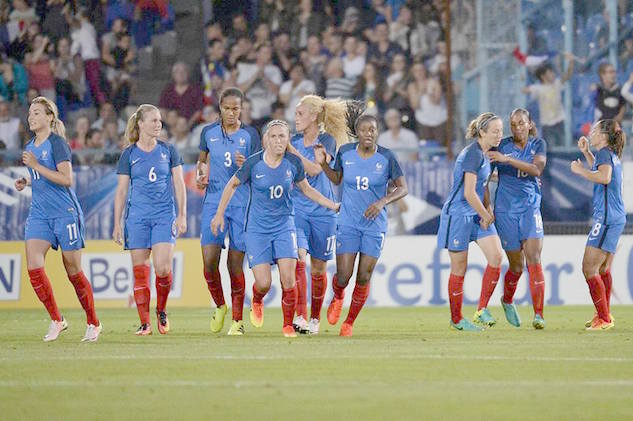 Could this finally be France's year to take the top spot in an international tournament? Their best ever finish (and only appearance) in the Olympics has been forth place, in the 2012 London games. France's squad has some of the best talent in the world featuring Eugénie Le Sommer, Louisa Nécib, and Wendie Renard. Whether or not they can bolster the team to an Olympic gold is yet to be determined.
When Les Bleues faced the Americans earlier this year they played extremely well but lacked the finishing touch failing to get on the scoreboard. They will battle it out with the US, New Zealand and Colombia in Group F. You'll remember that Colombia pulled off perhaps the biggest upset in Women's World Cup history defeating France 2-0 last year during group play. Expect Les Bleues to have learned their lesson and be more focused this time around.
Keep an eye on:
They don't call Louisa Nécib "the female Zindane" for nothing. This will be her final hurrah as she announced her retirement earlier this year. She helped push her club team Olympique Lyon to three UEFA Champion's League championships in 9 seasons.
Australia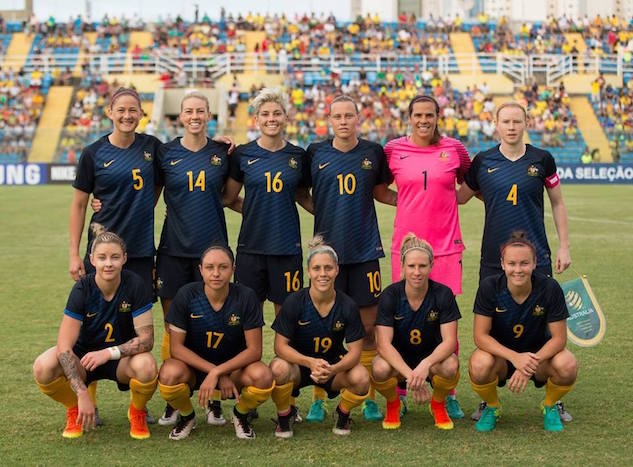 Nothing pumps you up to crush your next opponent quite like a big defeat. While the US, Germany, and France open the tournament on highs, Australia is coming off a 3-1 loss in a friendly warm-up match to host Brazil. The score line is a tad skewed due to Australia's Katrina Gorry sending off in the 49th minute, which allowed Brazil to score 3 unanswered goals in the second half. The Matildas will look to brush off the loss when they take on Canada in group play and try to carry it forward for their second match versus Germany.
The Australians have an exciting style of play that incorporates speed, toughness and the bravado to think they can take down anyone. Defender Laura Alleway is confident heading into the tournament saying, "On our day we can beat anyone. The competition in the top 10 teams in the world now is so tight that on anyone's day results can swing. We're in it to win it."
Keep an eye on:
Speedster Lisa De Vanna up front leading the team and Ellie Carpenter, Australia's own version Mallory Pugh, who at only 16 years old plays professionally in the W-League for the Western Sydney Wanderers FC.
When and how to watch the USWNT at the Olympics:
Aug. 3 v New Zealand @ 6 p.m. ET
Aug. 6 v France @ 4 p.m. ET
Aug. 9 v Colombia @6 p.m. ET
All US games will be broadcast on NBC Sports Network and on NBCOlympics.com.
Finally, here's a little video courtesy Megan Rapinoe to help get you pumped for the Rio Games.
We out!! Next stop B R A Z I L #beyourbestyou#riomode
I'm so excited I can't even!! ????????x???????? https://t.co/y3v7KeAL2Apic.twitter.com/6UTlef1icI

— Megan Rapinoe (@mPinoe) July 28, 2016