The Olympics falls behind the World Cup and the respective continental championships in the pecking order of international soccer competitions. But since debuting at the second Games way back in 1900, the sport as an Olympic event has thrown up numerous thrillers worthy of the world's biggest stages.
From historic victories and giant-killing exploits to arguably one of the greatest end-to-end spectacles the women's game has ever seen, here's a look at ten matches we'd love to see replicated in Rio this summer.
10. Spain 3-2 Poland (Barcelona 1992)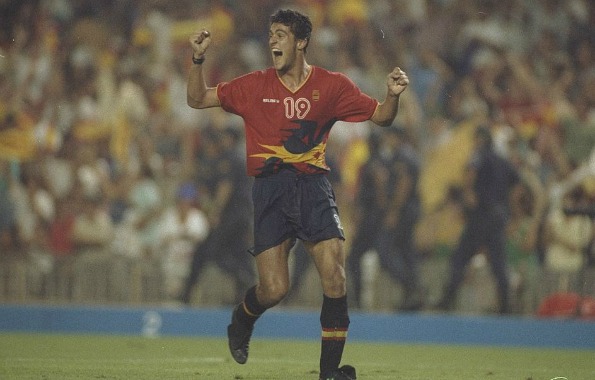 Manchester City coach Pep Guardiola was part of the Spanish side that became the first host nation since Belgium in 1920 to win the men's soccer Olympic gold. But they were made to work for it by a spirited Polish team determined to spoil the 95,000-strong national party. The home side was forced to come from behind following a late first-half goal from Wojciech Kowalczyk. But after drawing level at the exact point that King Juan and Queen Sofia took their seats in the Nou Camp, Spain eventually emerged victorious thanks to a 91st minute chip from Francisco 'Kiko' Narváez.
9. Luxembourg 5-3 Great Britain (Helsinki 1952)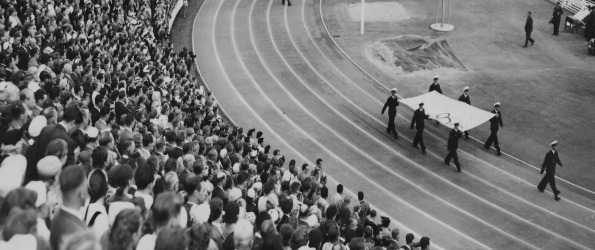 Three-time gold medal winners Great Britain were expected to walk over first-time Olympic qualifiers Luxembourg when the two sides met at the Lahden Kisapuisto at the 1952 Helsinki games. Things looked to be going to form when George Robb, who was still classed as an amateur despite playing for Tottenham Hotspur at the time, put the favorites 1-0 up in the 12th minute. However, Luxembourg's Joseph Roller equalized on the hour mark and the game eventually headed into extra time. The underdogs then proceeded to shock Great Britain with three goals in six minutes, and eventually finished 5-3 winners in one of the biggest Olympic soccer upsets of all time.
8. Norway 3-2 USA (Sydney, 2000)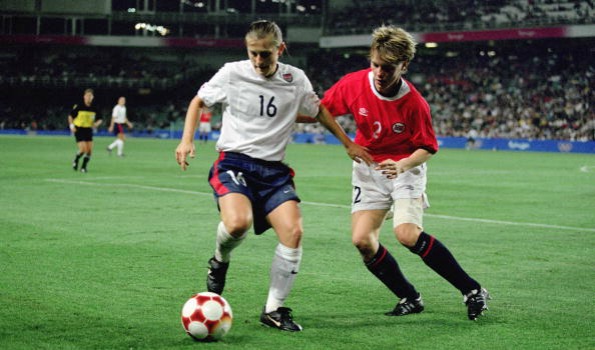 Having beaten Norway in the semi-finals of Atlanta 1996 and indeed, their opening match of Sydney 2000, the U.S. Women's national team finally looked to have overcome their one-time bogey team. Hopes were high, therefore, when the Americans took on Per-Mathias Høgmo's side for the second time in as many weeks in the Olympic final: even more so when Tiffeny Milbrett put them ahead after just five minutes. Norway rallied back with goals from Gro Espeseth and Ragnhild Gulbrandsen, but a Milbrett header five minutes into stoppage time appeared to swing momentum back in the USA's favor. However, far from folding in extra time, the Norwegians somehow gained a new lease on life and after 12 minutes, substitute Dagny Mellgren found the net to make Norway the USA's bogey team once more.
7. Poland 5-4 Great Britain (Berlin 1936)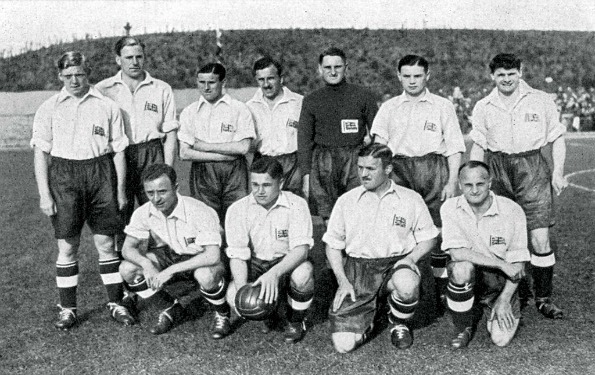 As you'd expect from an Olympic Games staged in Berlin just three years after the Nazis came into power, events off the field overshadowed Great Britain's encounter with Poland. The British, competing in their first Olympics since 1920, had been forced to meet Hitler at his castle for propaganda purposes and subsequently caused a major uproar when they famously disobeyed orders to give the Nazi salute before kick-off. Poland, meanwhile, had problems of their own making, having sent home star man Ernst Wilimowski for refusing to curb his hard-partying ways. However, the game briefly took center stage when the Poles raced into a 5-1 lead, only for their opponents to mount a miraculous, near-comeback with three late goals.
6. Argentina 6-3 Belgium (Amsterdam 1928)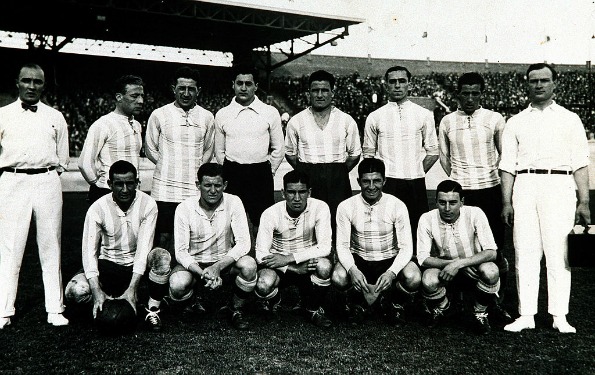 Argentina were positively frenzied at the final Olympic soccer tournament to be staged before the inception of the World Cup stole its thunder. In the nation's first ever Olympics, Argentina humiliated USA 11-2 in the first round, thrashed Egypt 6-0 in the semis, and forced reigning champions Uruguay to a replay in the final. But their second-round match against Belgium also proved they had plenty of fighting spirit to go along with all their firepower. Having squandered a three goal lead built in the first ten minutes to an impressively resilient Belgian side, José Lago Millán's men could have been forgiven for completely capitulating. Instead, they simply started again from scratch and thanks to a brace from Domingo Tarasconi and a goal from Raimundo Orsi, restored their winning margin with apparent ease.
5. Hungary 6-5 Yugoslavia (Tokyo 1964)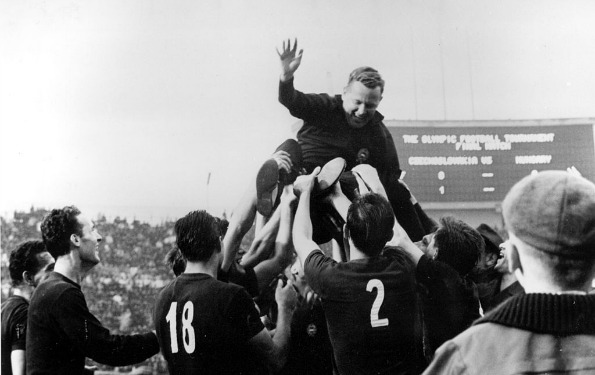 Having thrashed Morocco 6-0 in their opening game to all but guarantee qualification for the next round, Hungary may have been hoping to conserve some energy in their subsequent encounter with Yugoslavia. But after going behind to Ivaca Osim's first-minute strike, the eventual gold medalists were forced to put their foot back on the gas (and then some) in what can now be classified as the purest definition of a goalfest. Any latecomers to the Komazawa Stadium would have cursed their tardiness, as four goals arrived in the first 15 minutes with an additional five coming before half-time. The scoreboard operator enjoyed a much-needed break after the restart, with only Tibor Csernai's decisive penalty and a neatly bookended consolation from Osim crossing the goal line. But the first 45 minutes alone was enough to ensure what on paper appeared to be an unremarkable fixture a place in Olympic folklore.
4. Nigeria 4-3 Brazil (Atlanta 1996)
Pelé's prediction that an African nation would win the World Cup by the end of the 20th Century didn't quite pan out. Had the legend been talking about the Olympics, however, then we'd all be hailing him as soccer's greatest soothsayer. But for all the historic importance of Nigeria's 3-2 win over Argentina in the 1996 final, it was their semi-final encounter against Brazil that remains in the memory. The reigning world champions took just a minute to open the scoring and although a Roberto Carlos own goal gave the Super Eagles a lifeline, a second Conceição goal and a Bebeto strike looked to have put the game out of reach by halftime. Nevertheless, with just 12 minutes remaining, the Nigerians discovered a second wind, and after managing to draw level on the stroke of full time, Nwankwo Kanu gave his side a previously unthinkable victory with a coolly-taken golden goal.
3. Yugoslavia 5-5 Soviet Union (Helsinki 1952)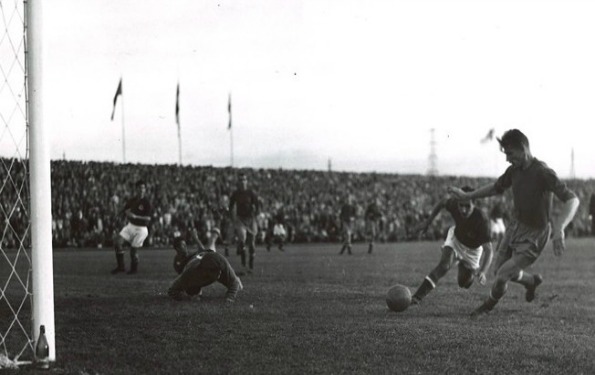 Yugoslavia also found themselves at the receiving end of another gripping, goal-heavy Olympic contest in 1952, although few neutrals would have afforded them much sympathy on this occasion. The Yugoslavs looked to have comfortably wrapped up their first-round game against the Soviet Union by the hour mark, racing out to a 5-1 lead. But in an astonishing final 15 minutes, Boris Arkadiev's men suddenly woke up, got themselves back into the game thanks to a Vsevelod Bobrov hat-trick, and with just 60 seconds on the clock scored an equalizer to produce possibly the greatest comeback in Olympic soccer history. Sadly, the Soviets' never-say-die attitude proved to be of no avail when just two days later they lost the replay 3-1. The result was so shocking that the Russian press didn't mention it until Stalin's death one year later.
2. USA 4-3 Canada (London 2012)
"I just don't think any of us could believe what happened, honestly." Anyone who witnessed the extraordinary drama of Canada's semi-final against USA in the 2012 games probably shared striker Melissa Tancredi's sentiment. The unfancied Canadians took the lead on three occasions thanks to on-fire captain Christine Sinclair, but each time were pegged back by their resilient North American neighbors, albeit with a little help from a by-the-book Norwegian referee who had everyone Googling the six-second rule. And just when you thought that a match involving a hat-trick, a rather fitting Olimpico goal, a 20-yard screamer, and numerous dodgy decisions couldn't get any more eventful, up popped Alex Morgan with a 122nd minute looping header to send USA into the final and a heartbroken Canada on the next plane home.
1. Spain 2-2 Cameroon (Sydney 2000)
A whopping 114,000 turned up to Sydney's Olympic Stadium to watch 1992 champions Spain take on Africa Cup of Nations winners Cameroon in the final, and they were rewarded with a match which contained everything but the kitchen sink. The result looked to be a foregone conclusion when Barcelona pair Xavi and Gabri (the latter of whom had come on as a substitute for injured captain Velamazán and would later be sent off) put the Spaniards 2-0 up within half an hour. But the Indomitable Lions lived up to their nickname, with an Amaya own goal and a Samuel Eto'o equalizer forcing the game into extra time.
If an early missed spot kick from Angulo, a second Spanish red card for José Mari, and a late Cameroon winner that was unfairly ruled offside hadn't produced enough drama, then the decisive penalty shootout certainly did. Amaya concluded his game from hell by driving his spot kick off the bar, and the African side scored all five penalties to be crowned one of the sport's most surprising Olympic champions.