Throwback Thursday: England vs West Germany (July 30th, 1966)
Photo via Hulton Archive
Soccer
Features
I think it's fair to say that if most of us could travel back in time and fix or prevent some terrible mistake we made in our pasts, we'd do it. Even those of us who try not to dwell on the past or live in regret have the occasional momentary pang of What Could Have Been.
But how many of us wish we could go back and prevent one of our good days? Or our best day?
Some England fans would at least seriously that opportunity. The Guardian spelled out the case for it earlier today, sketching out an alternate reality in which that goal was never given, England lost on that fateful day 50 years ago, but went on to become powerhouses in international football. Indeed, English football as a whole would look much different than it does today— for the better.
This is an odd way to reflect on what is unmistakably English football's greatest triumph. Then again, any England fan would tell you that logic rarely plays into this particular matter.
This week we'll stay in our timeline and look back at one of the pivotal moments in football history— the 1966 World Cup Final.
There's not much I can say about the game itself that you don't already know. The game is still within living memory, and I suspect this story could only be told well by someone who was there, or at least by someone in the country who was able to watch on the telly. Alas, tracking someone down for this piece was impractical, so you're stuck with me.
Needless to say, as the newsreel announcer points out, no other occasion held at Wembley Stadium, before or since, was as singularly momentous. It was the day Wembley was built for.
Bobby Moore led his side out for what was self-evidently the biggest moment in English football. We're used to international tournament football being such a cautious and uninspiring affair these days, but the 1966 World Cup Final wasn't that. Both teams immediately went for the jugular in the opening minutes, with white and red shirts nearly finding the goal early on. Whatever else happened, this was going to be a fight.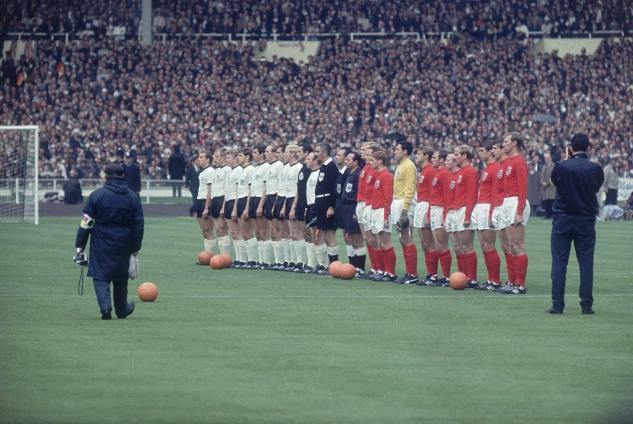 A singular fear gripped Wembley— and, indeed, the entire country— in the 12th minute, when Helmut Haller hit a low shot through traffic that bounded into the far low corner of the net. Silence, shock, dismay, things that would become all too familiar for England fans in the decades to come.
Yet it wouldn't last long. Six minutes later, Geoff Hurst bagged his first goal of the day with a thundering header from close range. 1-1.
Despite some fierce back-and-forth, neither side found the goal again in the first half. Both teams went into the tunnel on level terms. The marching band played. The crowd tried to settle themselves.
In the second half Germany took on a more defensive posture, holding pat while the English hurled themselves on the ramparts. The Germans had some forward movement of their own, which England survived mostly thanks to Gordon Banks in goal. A ferocious battle, but an even one.
Finally, finally, a breakthrough. With just 12 minutes remaining in regulation, Martin Peters took advantage of a rare German defensive error and slotted home. 2-1 to England with time running out. The crowd drew a long breath and settled in for the ride.
The English had two choices— fall back and protect what they had, or go for a third goal and end all doubt. They chose the latter, and continued to press the Germans late into the game to put the game away. It was a reasonable choice. It was probably their best option at that moment. And it absolutely bit them in the ass.
In the final minute of regulation, and with Germany throwing everyone forward in desperation, central defender Wolfgang Weber found himself in the right place at the right time. A lucky bounce following a blocked shot, Banks out of position, and Weber was able to tap in to a practically empty net. 2-2 with no time left in the 90. On to extra time.
And this is where paths diverged in the wood.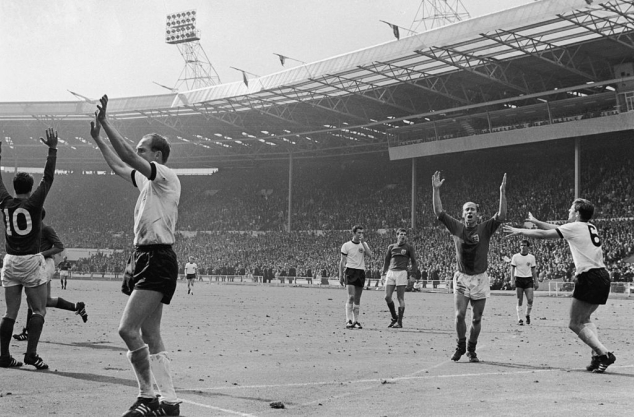 In the 101st minute Hurst collected the ball on the edge of the six. He swiveled on one foot and, somewhat off-balance, fired from close range. The ball hit the underside of the crossbar, bounced on the line, and was cleared out by Weber. What happened next was a definitive moment of drama in international football.
English players insisted it was a goal. The Germans cried that it wasn't. The referee, Gottfried Dienst, wasn't completely sure either way. He stopped play so he could consult the linesman, Tofiq Bahramov from the Soviet Union. (In later years, "Russian Linesman" became something of a meme in English football, but just to be clear, Bahramov was Azerbaijani, not Russian. Not that it really mattered at the time.) Bahramov indicated that the ball crossed the line, and Dienst, who didn't get a good enough look at it himself, deferred to his linesman. He pointed to the center circle as men in red shirts wheeled away in celebration. A cluster of white shirts surrounded Bahramov, demanding an explanation for this scheißdreck.
Modern researchers have investigated that goal at length. Analysis of the film in latter years seem to suggest the ball never crossed the line.
But this was, of course, in the days before goal-line technology and cameras everywhere, so the referee and the linesman had only their eyes and their best judgment to go on. The goal was given. 3-2 England.
The Germans threw everything they had left at the English defense in the waning minutes of extra time but the home side just about managed to hold things together. And then, in the dying moments of the game, Hurst seized on the fatigue that had settled in the German side and launched a counter-attack.
"And here comes Hurst. He's got… some people are on the pitch, they think it's all over. It is now! It's four!"
4-2. Hurst with the first hat trick scored in a World Cup Final. The singing in the crowds. Queen Elizabeth II handing the Jules Rimet trophy to Bobby Moore. Iconic scenes etched into England's collective memory like an intaglio print.
So. Would you do it over if you could? Knowing what you know now, would you go back and prevent the best day of your life if you thought the rest of it would turn out better than it has? How certain would you have to be? We all get so few genuine triumphs in our lives— is it really worth cheating ourselves out of one for some postulated reward? How do you explain it to your past self? Would you even owe your past self an explanation?
The past 50 years in English football have been marked by an interminable failure to live up to lofty explanations. They won it once, and it should've been more than once, and it hasn't. Whether it's just barely missing out on another final in 1990 or not even qualifying in 1974 and 1978, the overarching theme for England has been the same: "not good enough."
There are some who would consider trading that sunny, glorious day in 1966 for something more sustainable in the 50 years since. It was, for many, the greatest day of their lives. Would they really take that away from everyone?
Would you?
In any event, this is the history we have. 50 years ago, England won the World Cup in their own yard. Last week, they named Sam Allardyce as their new manager. So it goes.