No matter how it performs, critically and commercially, the Pixel is bound to be remembered. It marks a moment in time that we will look back to. The moment when Google, after years of hinting, even dabbling, finally decided to build its own smartphone.
The Pixel, though it is being physically constructed by HTC (in the same way that Foxconn operates for Apple), is the first smartphone designed entirely by the minds in Mountain View. It is an enormously important device for that reason, which means that Google needed to make sure it was excellent. Early reviews indicate that it is not only excellent, but one of the best phones ever made.
We still have a lot of work to do to make any determination of that level, but the early reaction from us is much the same as anywhere else. The Pixel is phenomenal.
Hardware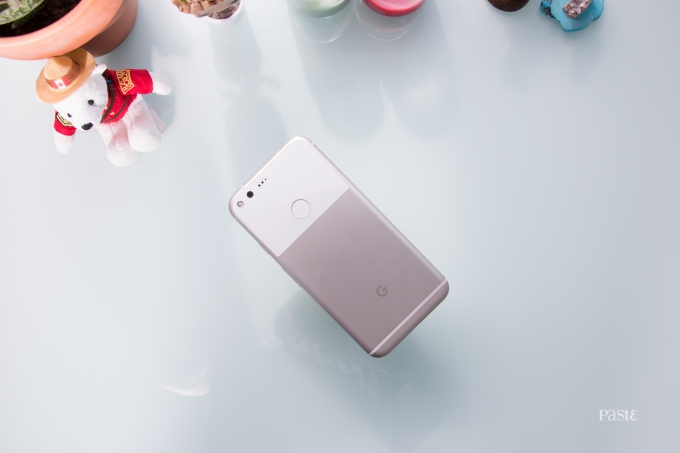 Though it has not had much experience in the hardware department, every device Google has designed itself, like the Chromebook Pixel and Pixel C, has been excellent from a fit and finish perspective. The Pixel is no different.
Design-wise, as many others have noted, there is no denying the Pixel holds many similarities with the iPhone. You can't really blame Google for going with a safe design on its first attempt, one that the company must have known would appeal to the widest range of buyers, but I would have liked to see Mountain View offer something with a little more flavor than this.
The phone is primarily aluminum and glass, which means it not only shares DNA with the iPhone, but just about every smartphone currently on the market. Google attempted to differentiate its device by adding a glass shade to the back. While it's supposedly there to help users orient the device in their hand, in my short time with the phone, it feels like nothing more than a ploy to make the design less stale, which it fails to do.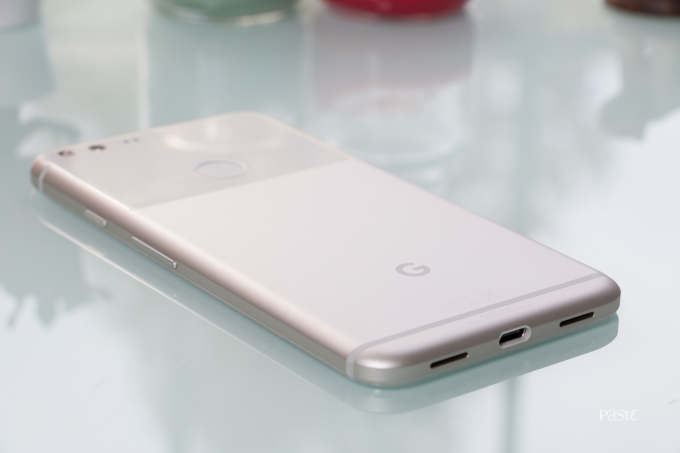 I never thought of the Nexus 6P as a rickety device, but you can feel the upgrade in craftsmanship with the Pixel. It is very well constructed, while remaining light and thin enough to not be overwhelming given its large, 5.5-inch screen. The device does have an interesting wedge shape to eliminate the camera bump on the back which I initially feared would make it feel top-heavy or disproportionate, but it's not even noticeable unless you're specifically looking for it.
Just about everything from a hardware perspective befits the phones hefty price tag (our 32GB Pixel XL in Very Silver retails for $769 unlocked), including the screen, which has impressed me as much as any other device I've used in 2016. There are some downsides, however. When leaks of the device first surfaced, many voices across the internet blasted the phone's large bezels. I will not deny the Pixel has large top and bottom bezels, but my eye adjusted to them pretty quickly and even after just a few minutes the wasteful bottom chin rarely caught my eye. That said, it is absurdly large, and even more confusing. Why Google couldn't find some way to utilize that space, or get rid of it altogether, is beyond me.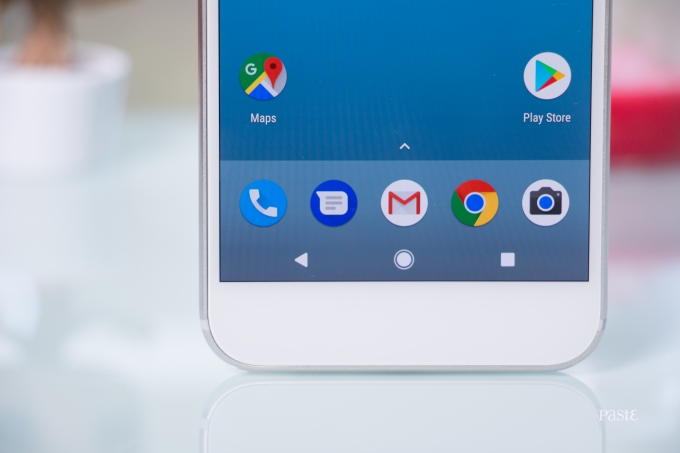 More disheartening, though, is the serious speaker downgrade. Last year's 6P came with dual front facing speakers, some of the best on a smartphone ever. The Pixel killed the dual speaker dream. Google's first smartphone comes with a pitiful single speaker that offers halfway decent sound, but doesn't get terribly loud and can sound muddy at high volumes.
I'll save more in-depth thoughts about the hardware for the full review, but my initial impressions are strong. I'm impressed with what Google was able to do in its first time out, and HTC should be given a pat on the back for doing a phenomenal job with construction.
Software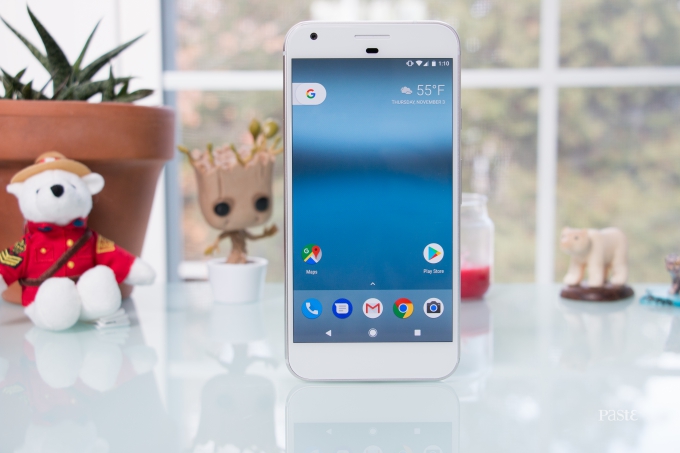 Twelve hours is not nearly enough time to make pointed criticism of the Pixel's software, but my first reactions to it are, like with the hardware, largely positive. Much of the aesthetic changes Google made, such as the new Pixel launcher, circle icons and new folder design, aren't my favorite but they also aren't so offensive as to really enrage. They're fine. I still prefer the Nexus look of Android, but I'll have to see if the new ideas grow on me.
The big addition, of course, is the Google Assistant. Again, I haven't spent nearly enough time with it to make any definitive statement, but so far it seems smarter than Google Now and Google Now on Tap, but still not smart enough. It is conversational, as advertised, meaning you can ask it something like "Who is the President?" and then "How old is he?" and the Assistant will know you want to find out the age of Barack Obama. Despite the obvious improvement over Now on Tap, the Assistant can still be hit or miss.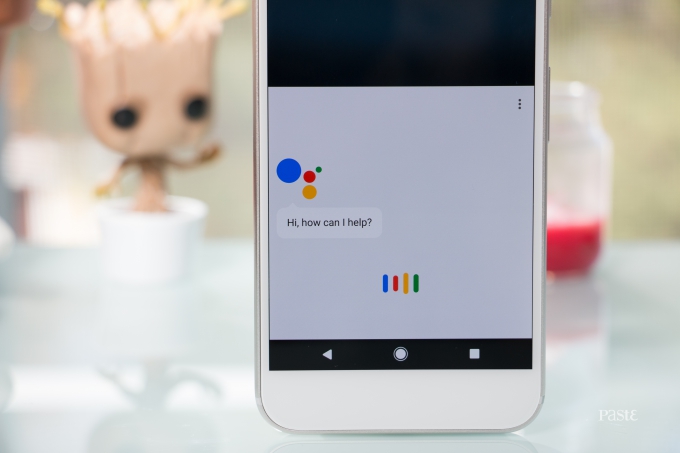 For instance, yesterday I asked what time the Oklahoma City vs. Golden State basketball game was, to which it correctly answered 10:30 p.m. EST. But, when I asked what channel the game was on as a follow-up, the Assistant was clearly lost and instead directed me toward popular articles involving the word "game." Still, it seems like the Assistant could provide some real utility and I'll have to see if that pans out over my time with the device.
As a final thought, let's talk about how fast this phone is. A lot of talk was made about the Pixel benefitting from Google becoming vertically integrated, controlling both the hardware and software side of production, meaning the company could optimize the latest version of Android for the Pixel better than any Nexus in the past. So far, that seems to be true. The smartphone has healthy specs, including a Snapdragon 821 and 4GB of RAM, to back it up, but it is without a doubt one of the most responsive and quickest devices I've ever used.
I haven't put it through intensive use yet, but it is noticeably quicker than the Note 7, for example, and perhaps slightly faster than the LG G5, Moto Z and HTC 10, though I'm relying mostly on distant memory for those comparisons. Of course, the issue with most Android smartphones is not how fast they are to start, out of the box every flagship phone should perform impeccably, it's how well they hold up over time that matters.
Camera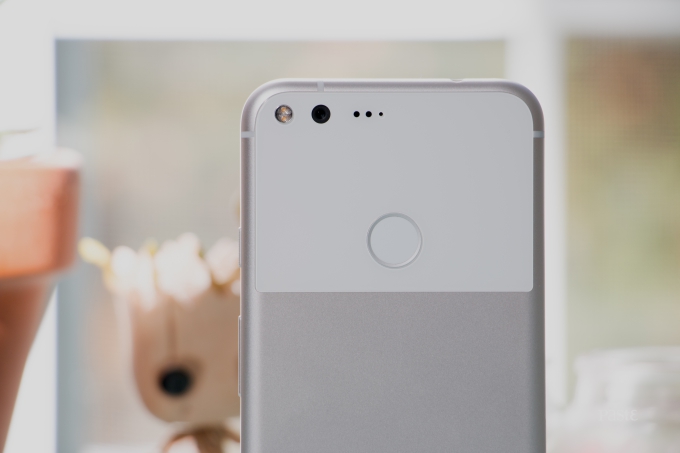 Google was quick to talk a big game about the Pixel's camera, noting that the phone received the highest ever score from DxOMark on announcement day. A high benchmark score is one thing, how the camera performs in a real world setting is something completely different. But, early reviews have been glowing, with some critics going as far as saying the Pixel has the best smartphone camera ever.
I won't go that far, not yet. My early experience has been fantastic, however. The photos are sharp, with good color, dynamic range and detail. All the things you'd want from a photo are supplied by the Pixel, but the best part is how fast it is. The app launches and takes photos instantly, even with HDR+ set to on by default. All I want from a smartphone camera, and I've said this numerous times in the past, is to give me the confidence that the shot I want will be the shot I get.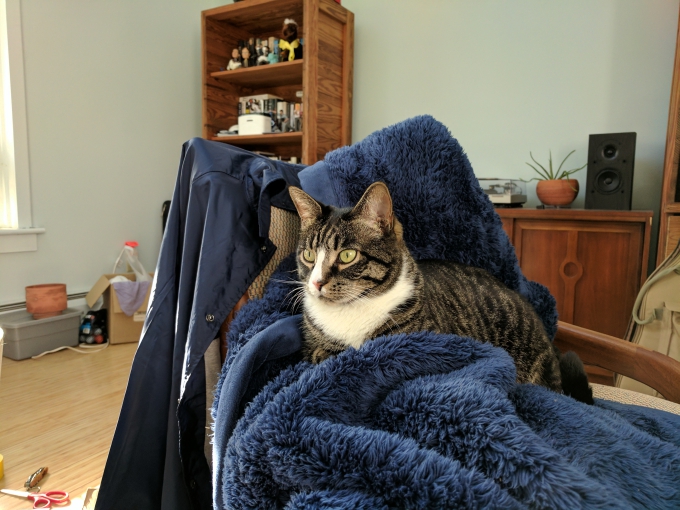 That means the quality needs to stand up to scrutiny, but the system needs to be fast enough for the photo to be captured in the first place. I don't take a ton of photos, so generally cameras aren't high on my priority list and I view a great camera as a luxury. For those that do place camera performance at the top of their checklist, the Pixel has the makings of being a top contender.
I can't stress enough that these are all first impressions based on just a few short hours with the Pixel. That said, first impressions have often told me a lot about how my experience with a device will pan out. We'll have much more to say about the Pixel in the coming weeks, but thus far, the impression it's made has been very, very good.