Warning: getimagesize(https://www-wp.pastemagazine.com/wp-content/uploads/2022/06/11/hp-omen-x-main.jpg): failed to open stream: Connection timed out in /home/prodwp/public_html/wp-content/themes/pastemagazine/single-article.php on line 154

While HP had historically been a bit more conservative with how it approaches gaming since it acquired the Omen brand from VooDooPC, this year is different. HP is doubling down on its gaming efforts. With a new refresh for Omen, HP shows that it has been listening to what gamers want from a desktop or mobile gaming system, and the 2017 Omen series comes with much anticipated upgrades, like the latest overclockable quad-core processor options from Intel and AMD, upgraded graphics power and expandable designs.
"Omen is engineered for gaming performance, designed for immersion and crafted for expansion," said Mike Nash, VP of Customer Experience and Portfolio Strategy at HP. As part of its more targeted strategy, HP has two series for Omen. The standard Omen branding is used by HP for mainstream gamers, while its performance-driven Omen X will be targeted at enthusiasts.
Omen 15 and Omen 17 Notebooks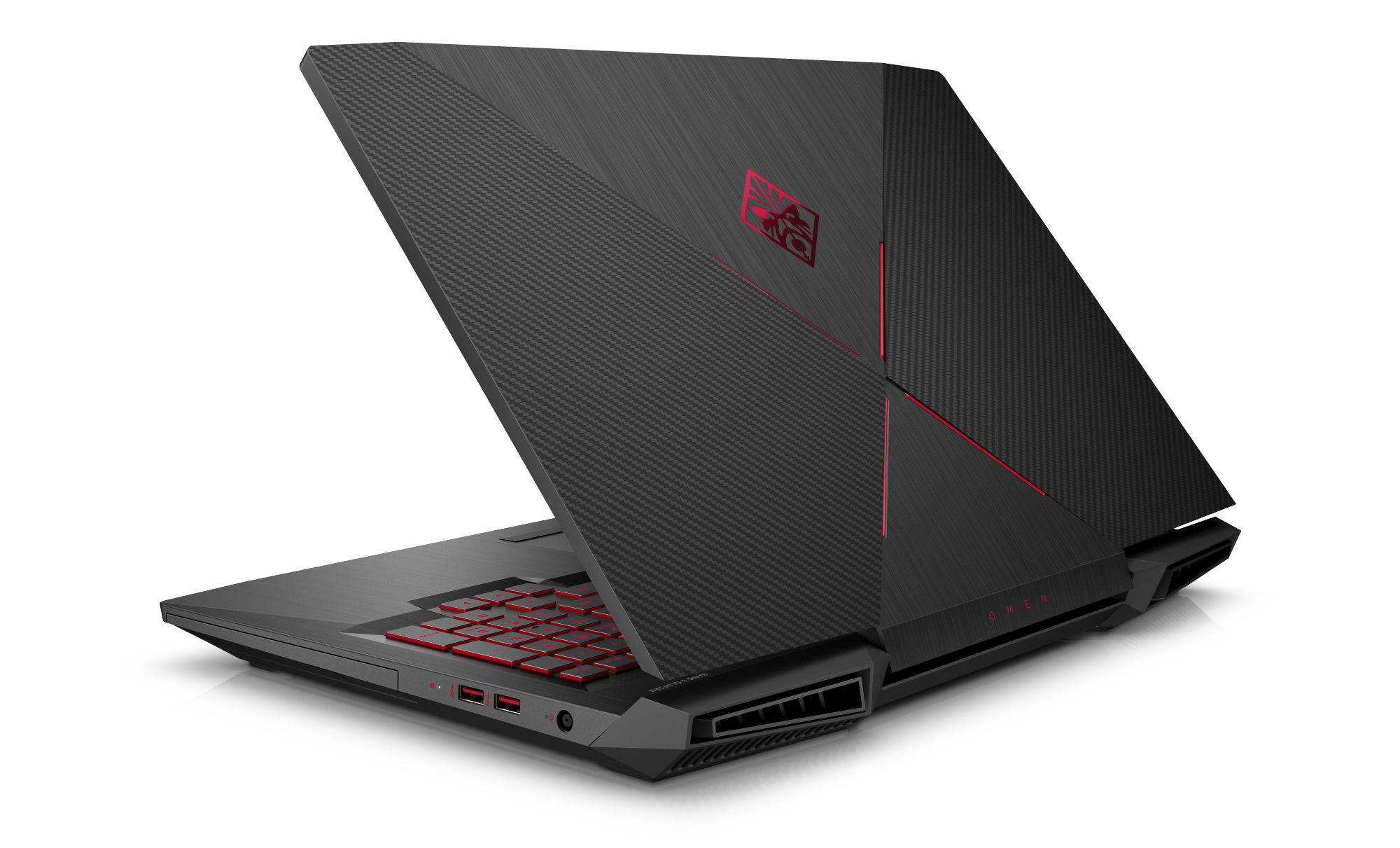 This year, the Omen notebooks are built from the ground up for gaming, and the laptops come with much requested enhancements from gamers, including more ports, full-size arrow keys, better expandability and VR support on the smaller 15-inch model.
The prior generation 17-inch model already supported VR, and this year users can choose either an Nvidia GTX 1070 discrete GPU or AMD's RX580. While the 15-inch model doesn't quite have the same graphics power, this year's model supports a much upgraded Nvidia GTX 1060 or AMD RX550 GPU, which means you these mobile notebooks will work well with headsets like HTC's Vive. On the processor side, unlike HP's mainstream business and consumer notebooks, you'll get a more powerful Intel quad-core processor.
To accommodate these more powerful components, HP also included larger fans, which Nash claims is able to deliver better cooling with less fan noise. As a result, airflow has increased by as much as 21 percent on the 15-inch model, which allows the slim gaming laptop to maintain consistent performance without throttling. HP claims that the 15-inch model makes use of Nvidia's slim Ultrabook-like design language that was unveiled recently at Computex.
There are plenty of storage options that you can configure with HP, including PCIe SSD, HDD or combo drives. If you need to upgrade your storage or RAM, HP claims that a single panel on the bottom of the laptop will give you access to swap out these components.
Additionally, the 17-inch model also comes with an optical drive. In terms of ports, there are three USB Type-A port, a USB Type-C port (Thunderbolt 3 is an optional add-on here), combo audio jack, card reader, HDMI 2.0, Mini DisplayPort and an Ethernet jack.
Gamers will be happy to know that Nvidia's G-Sync or AMD's FreeSync technologies are supported on the display, which comes in either a 4K configuration or a 1080p panel that supports 120Hz refresh. And to make gameplay easier, the backlit keyboard comes with key rollover and anti-ghosting design. The arrow keys are now made full size, and the 17-inch model even comes with independent macro keys.
As typical with HP systems, the Omen notebooks support dual speakers from Bang & Olufsen. There is a discrete amp, and HP also included DTS Headphone X support on the combo audio jack, which allows the system to simulate surround sound when you're using headphones.
The Omen notebooks will be available starting June 28. Pricing starts at $999 for the Omen 15, which comes with an Intel Core i7-7700HQ CPU, AMD RX550 graphics, 1080p 60Hz display, 8GB RAM and a 1TB hard drive. A premium $1,599 configuration includes an Intel Core i7-7700HQ CPU, Nvidia GeForce GTX 1050Ti GPU with 4GB video RAM, a 4K UHD panel with 60Hz refresh, 16GB DDR4 RAM and a 1TB HDD alongside a 512GB SSD for storage.
The Omen 17 starts at $1,099, but performance-driven gamers will likely want the $1,799 top tier model that comes with an Intel Core i7-7700HQ CPU, Nvidia GeForce GTX 1070 GPU with 8GB DDR5 video RAM, a UHD 60Hz refresh rate display with G-Sync support, 32GB DDR4 RAM and a 2TB HDD alongside a 256GB SSD.
Omen Desktop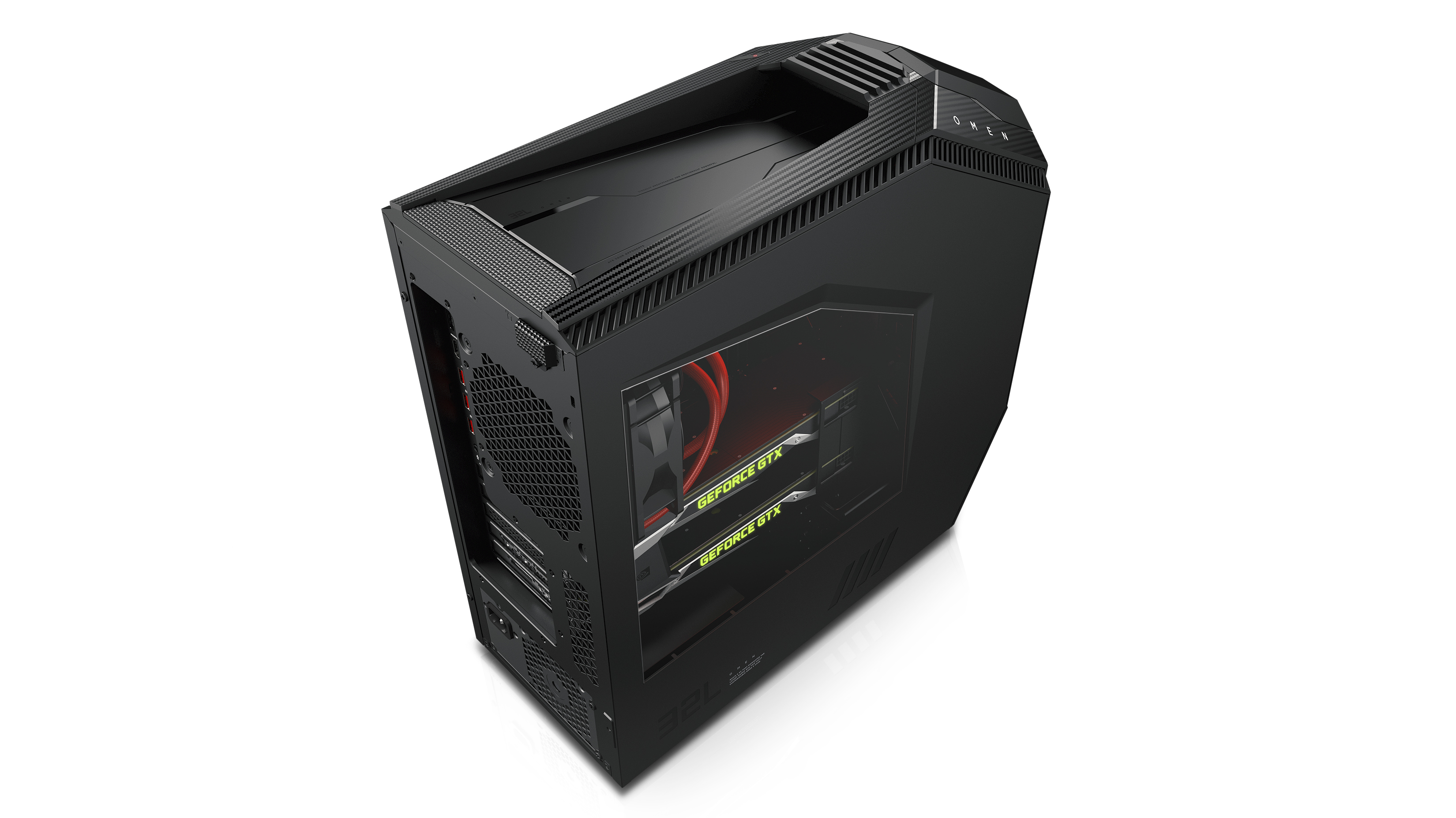 While the new Omen notebooks promise better performance and expandability this year, the Omen desktop takes this to another level. With the desktop, gamers can choose from an Intel 7th Generation Core i5 or i7 unlocked options, or AMD Ryzen for overclocking. With more space this year on the tower, you can configure the desktop with up to two graphics cards, choosing between dual Nvidia GTX 1080Ti or dual AMD RX580 options. These configurations will be VR certified. Other options include dual storage options and up to 32GB of RAM.
Overclocking this year should be easier for users with HP's Omen Command Center. The software works, like on the laptop, to allow you to configure things like the keyboard key lighting and prioritizing network traffic for optimal gaming performance, but the Omen Command Center on the desktop also makes it easier to overclock your CPU using software, rather than having to go into the BIOS settings.
Like the Omen notebooks, cooling is also improved on the desktop. HP is able to do this by doubling the number of fans on the tower and also increase the case volume by 15 percent. The result is that airflow has been increased by up to 51 percent. Liquid cooling is also an option.
In terms of design, an optional see-through panel door with internal lighting can be configured. And while you can go into the tower to upgrade individual components, there are slots at the top of the tower to give you access to the drive bays. There are ten USB ports split between the top and the rear of the tower as well as a single USB Type-C port. Other ports include HDMI 1.4, DisplayPort 1.2 and three audio ports.
Configurations start as low as $899, which comes with an AMD Ryzen 1400 processor, Nvidia GeForce GTX 1060 GPU with 3GB video RAM, 8GB of system RAM, 1TB 7200RPM hard drive and an optical drive. The top configuration is priced as $2,199 and comes with an Intel Core i7-7700K unlocked processor, Nvidia GeForce 1080Ti graphics with 11GB video RAM, liquid cooking, 16GB system RAM, 512GB SSD and 2TB HDD, a see-through panel and optical drive.
The Omen Desktop is available starting June 6.
Omen Accelerator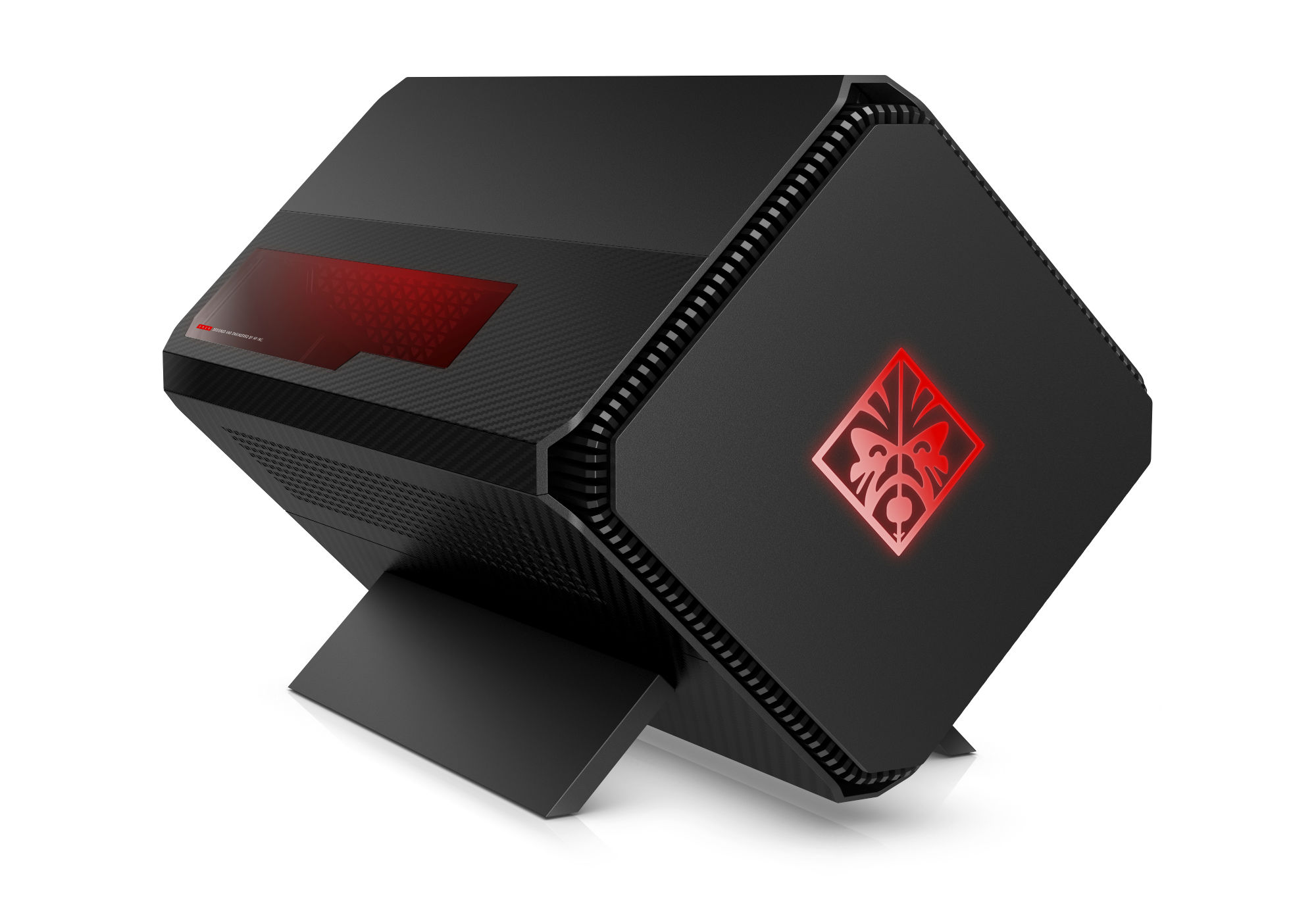 If you've already invested in a consumer or business system—like the HP Spectre x360 or the EliteBook x360, both of which we recently reviewed—you can "Omen-ize" your existing setup by adding a graphics dock. Because some of these systems rely on weaker integrated graphics, the Omen Accelerator allows you to add a more powerful desktop-class GPU to your system over a Thunderbolt 3 connection. As such, your existing PC must have a Thunderbolt 3 over USB Type-C port for the Omen GPU dock to work.
At its basic, the dock allows you to connect your favorite GPU to your PC, but it also adds further expandability. There is a drive bay so you can add an SSD to the dock for more storage, and there is also a USB dock that gives you access to four more USB 3.0 ports. The dock has a built-in power supply, so connecting the dock to your existing notebook will require only a single cable to add GPU performance, more storage, peripherals over the built-in USB 3.0 dock and power to keep your laptop charged.
The dock retails for $299, which is cheaper than what Razer is charging for its Razer Core GPU dock. HP will also offer configurations with various SSD capacities and GPU options from AMD and Nvidia, but pricing for the bundle was not revealed during my conference call with the company.
The Omen Accelerator will become available in August. In addition to the Accelerator, HP also announced a new desktop backlit gaming keyboard with 2.2mm of key travel, a new mouse that comes with weights for better control and a gaming headset with improved audio.