Just what form factor should a personal computer take? In the last five years, we've seen the PC industry ask itself that very question, and we've also witnessed some novel designs as a result.
Steve Jobs heralded the next era of personal computing with the launch of the iPad in 2010 in what he called the post-PC revolution. Microsoft followed with the launch of the Surface in 2012, a tablet that its makers claim can replace both your laptop and, with the right docking station, your desktop at home. Not to be outdone, Intel, makers of the processor that powers Microsoft's Surface Pro tablets, answered the very form factor debate with a radical take on mobile computing: the Intel Compute Stick. Not much larger than a pack of gum, the Compute Stick is an HDMI dongle that is portable for travel, can transform any display into a desktop PC and can run any Windows apps—just bring your own keyboard and mouse.
But can your phone replace your PC? With Ericsson reporting more than 2.6 billion smartphones in use globally today, Microsoft would like to think so. After all, if it could get Windows, the dominant desktop operating system by a significant margin, onto smartphones, this would give Microsoft ammunition in its mobile fight against Apple's iOS and Google's Android.
And this is precisely the strategy Microsoft is using with the launch of the Lumia 950 XL. By bringing Windows 10—and all of its buzz and brand recognition—to mobile, the 950 XL, along with its smaller sibling the Lumia 950, showcases not only Microsoft's vision for mobile, but also how a phone can radically transform into a PC with the right accessories. Once a display is connected to the Lumia 950 XL, the phone doesn't just mirror its display onto the larger screen. A new Windows 10 Mobile feature called Continuum allows the Windows experience to scale up, giving you a full desktop Start menu so that you can use your phone, like a PC, on the big screen.
So how does Continuum work and can your Lumia 950 XL replace your desktop?
Design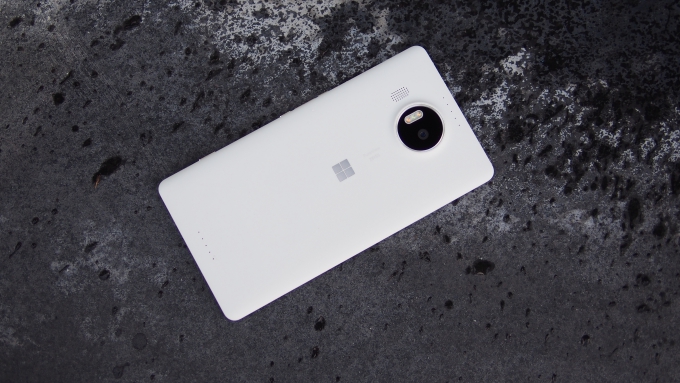 While Microsoft made claims in the past that Windows Phone delivers fast performance on conservative hardware, the Lumia 950 XL shows the company is ready to take on Android rivals in the specs game. Underneath the uninspiring white polycarbonate shell are features worthy of flagship phone status: fast octa-core Snapdragon 810 processor, liquid cooling (a first for a phone), 3GB of RAM for multitasking, a high resolution 5.7-inch QHD display and iris scanner for security.
Like the Windows Phone 8.1 that Windows 10 Mobile replaces, you'll find the familiar Live Tiles interface, a second screen with all your installed apps and the promise of a growing ecosystem of Universal apps that will work across PC, tablet, Xbox and phone. Unfortunately, right now, it's just a promise.
A common complaint with Windows Phone is limited third-party app support. If you're a Google user, you won't find familiar apps like Hangouts, Drive or Docs. Microsoft is still pitching its own services as alternatives. Additionally, many banks don't support Windows 10 Mobile (yet), so you'll have to use the new Microsoft Edge browser. Unfortunately, this means that some features, like mobile check deposit, don't work.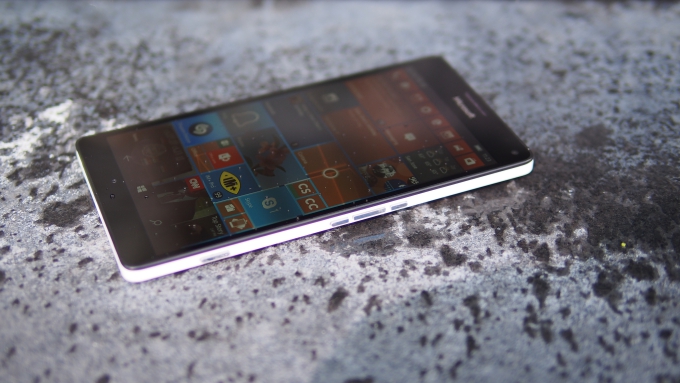 The good news is that if you're invested in Office and don't mind some workarounds in lieu of official apps, you can get Windows 10 Mobile to work. I use IM+ Pro, for example, to access Google Hangouts for chat. Social apps like Facebook, Facebook Messenger, Instagram, Twitter and LinkedIn do a decent job, but are nowhere near as robust as they are on rival platforms. The biggest apps that I miss coming from iOS and Android are home automation services, third-party VOIP services and specialty service and shopping apps.
As excellent as Microsoft Office, Skype and OneDrive are, I would still like more diversity in the Windows Store.
From Small Screen to Big Screen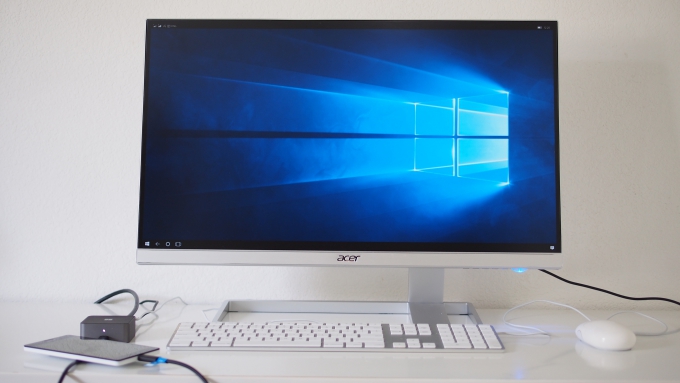 The real magic—and the star of the Lumia 950 XL's show—happens when you look beyond the gorgeous 5.7-inch 1440 × 2560 AMOLED display, which coincidentally is the same size and resolution as of Samsung's Android-powered Galaxy Note 5. Once you connect the optional Microsoft Display Dock (US$99) to the Lumia 950 XL via a USB Type-C cable, you'll be able to connect a monitor and USB accessories to the Lumia, just like on a regular PC.
In addition to the USB-C port to connect the Lumia, the Display Dock also comes with three USB Type-A ports, an HDMI port, a DisplayPort and another USB-C port on the back to connect a power cable to charge your phone while it's docked.
When you connect a display, a keyboard and mouse to the dock, and connect the dock to your phone, you'll be able to activate a feature called Continuum. Unlike on iOS and Android, Continuum doesn't just show a bigger version of your phone's display on the monitor. Instead, it scales the interface to give you a proper desktop experience on the larger screen.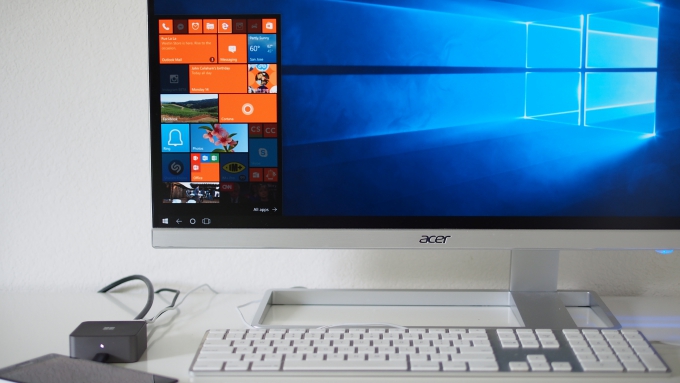 In my case, I've connected a 27-inch Acer 4K monitor to the dock over DisplayPort—I attempted the setup with HDMI and couldn't get Continuum to work—along with a wired USB Apple keyboard and Apple mouse.
The setup was pretty seamless. Once the Lumia 950 XL enters Continuum mode, you'll see a virtual trackpad on your phone's screen, which allows you to ditch the external mouse if you want to use your phone as a mouse. Unfortunately, you'll still need either a USB, Bluetooth or wireless keyboard to use in Continuum, as the phone isn't capable of displaying a virtual keyboard.
On my monitor, the desktop looks almost exactly as it does on a Windows 10 PC or on a Surface. A small Windows icon on the lower left of the screen can be activated to display Windows 10's new Start menu, and next to the Windows icon is a small circle that can be used to call up Cortana. There's a button for multitasking to see all my open windows, and a small Action Center icon on the lower right pulls up all my notifications and alerts.
At a cursory glance, the main difference between Continuum on mobile versus a native Windows 10 PC desktop experience is that you'll see a small status bar on the top, like you would on a phone, that displays the wireless network connection, Wi-Fi status, battery level and time.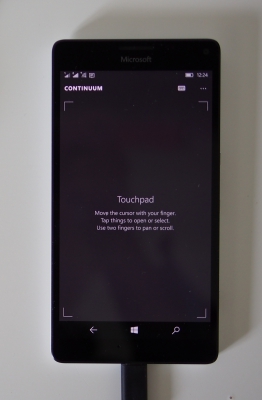 Continuum only works with Universal apps at this time, so not all apps available to the Lumia 950 XL can be used on the big screen. Apps that won't work in Continuum are greyed out in the Start menu.
The new Outlook Mail experience looks beautiful in desktop view, showing a nice three-pane view. The Messaging app, which integrates text message and Skype conversations into a single location, also is a joy to use with a two-pane interface, displaying your message list on the left and your conversation in the right pane. And if you're an Office user, Office Mobile on Continuum feels like it does on a desktop, rather than made for the phone or mobile tablet.
While Continumm on mobile allows Universal apps to have the same appearance and experience as on a desktop PC, a big difference is that apps always run full-screen. Unlike your PC desktop, you can't resize app windows, and even Snap multitasking isn't available on Continuum.
Additionally, Continuum is also limited by the number of Universal apps, which isn't many to start with, so you'll find yourself living primarily inside Microsoft's new Edge browser. In this sense, Continuum, to me, feels a lot more like Microsoft's answer to Google's Chromebook than a PC replacement. And similar to its competing cousin, the browser makes up for where there is a lack of app.
The Microsoft Edge browser, which replaces Internet Explorer, renders most pages quickly. Even though Facebook is a Universal app, there isn't a Universal Facebook Messenger app yet. To remedy this, I logged on to Facebook on Edge in Continuum. The result is that Facebook loads fine, but there was significant lag when typing in Facebook chat windows.
Similarly, typing in Hangouts windows inside Gmail or working on Google Docs files exhibited similar lags, making the experience unusable. In Hangouts, after a message was sent, I would have to close and reopen the same chat conversation before I can type and send another message, and trying to type in Google Docs is just an experience in frustration.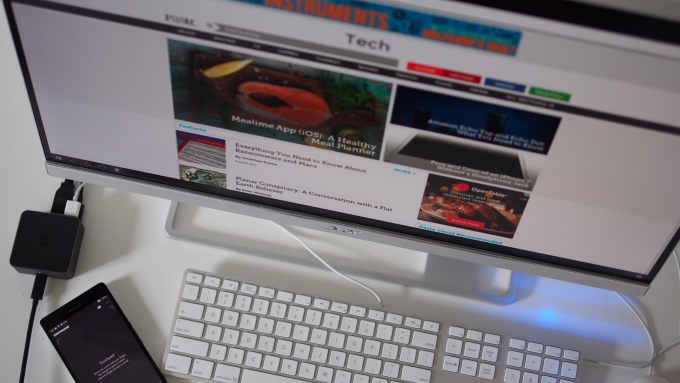 Another limitation of Edge that I discovered is that while you can share the page you are viewing with the share sheet on Windows 10 Mobile, similar to Android and iOS, you can only share to Universal apps in Continuum. While doing some Internet research, I tried to save a webpage to my Pock8 app, a third-party client that works with the Pocket service. However, since Pock8 isn't a Universal app, I wasn't able to do this directly. A workaround would be to bookmark all the pages I like on Continuum, disconnect from the dock, and then share the pages from Edge from my phone to Pock8.
Continuum did have its highlights. If you need to do productivity work, Office Mobile is a seamless experience, and Edge does a great job with casual browsing and video watching. Prosumers will be disappointed that Edge still doesn't support browser extension, so you won't be able to run ad-blockers or integrate with password managers like LastPass or 1Password, to name a few.
One of the neatest parts of Continuum is that you can continue to use your phone independently while it's connected to a monitor. The Lumia 950 XL is capable of displaying two distinct experiences simultaneously.
Where Continuum really shines, if you're willing to tote the dock and your phone along with a keyboard and mouse, is for travelling business executives. The combined package is smaller and weighs less than toting around a laptop. Sure, you can use a shared PC in your hotel's business center if you decide to not carry your laptop, but getting Continuum setup on your hotel room's HDTV is more convenient and probably safer for your data. If you're working with sensitive files, they'll be secured on your phone and you won't have to enter your passwords and credentials when accessing different websites as you would on an unsecured guest PC in the hotel lobby.
A Vision of the Future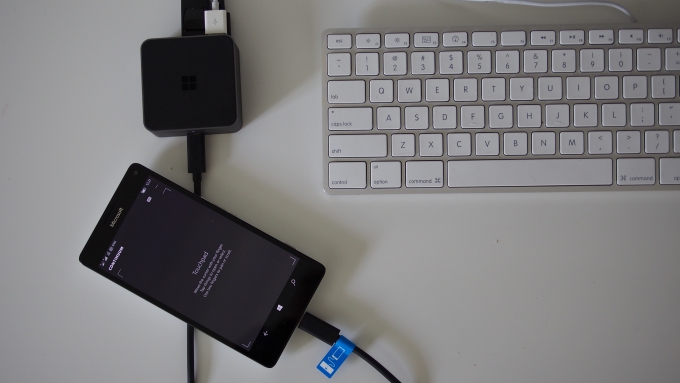 Where Continuum sits today reminds me a lot of the situation with Microsoft's now defunct Windows RT platform. Both experiences operate on ARM architecture processors, and both experiences rely on the browser and on Universal apps.
In this interpretation, it's curious to see where Microsoft takes Windows 10 Mobile and Continuum in the future. As it stands, Continuum feels like an unfinished vision of something that could be great. If Microsoft could port Windows 10 Mobile to run on a low-powered Intel Atom X3 processor, for example, then Continuum could be drastically more useful.
This would enable Microsoft to run a similar phone-centric experience, like Windows 10 Mobile, on an x86-powered Lumia. And when you dock your phone, Continuum will get even more powerful. With "Intel inside," future Lumias would have expanded multitasking capabilities as well as the ability to run any Windows app. This includes Universal apps as well as traditional Win32 programs, like Photoshop.
Imagine being able to snap a portrait, using the Lumia's excellent PureView camera, doing some light retouching using the FaceTune app on your phone. When you're back at your desk, you can plug in your phone, open up Photoshop or a similar desktop-class image editor, and make heavier edits.
Sadly, with ARM, Microsoft's vision falls short. Windows 10 Mobile lacks Universal apps and Continuum feels too limited to be truly useful as a PC alternative.
Camera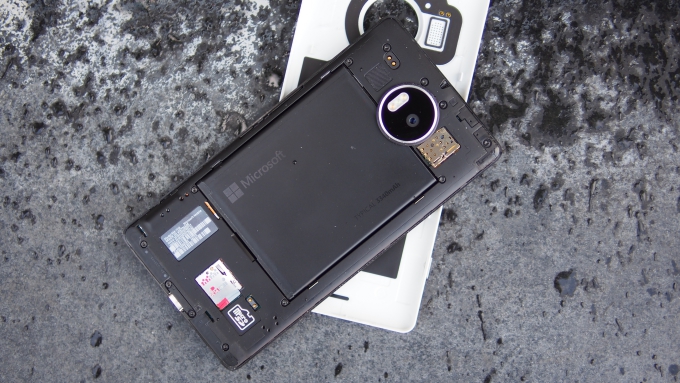 Lumia faithfuls will not be disappointed with the camera on the 950 XL. The camera combines a 20-megapixel sensor, Zeiss optics for the lens, a bright triple-tone LED flash for even more natural skin tones and optical image stabilization.
The camera interface is simple and easy to use, and autofocus is generally fast, but isn't quite as fast as newer Android devices, like the Samsung Galaxy S7 or the LG V10, especially in low light. For more advanced users, Microsoft gives you robust control over different exposure settings, including the ability to capture detailed RAW images using the DNG file format. The only thing you can't control is the fixed f/1.9 aperture.
Where the Lumia 950 XL's camera shines is with Rich Capture technology. You can either set Rich Capture to off or auto, but you can't force it to always on at this time. The technology is Microsoft's answer to HDR, and it allows the camera to capture multiple images using different exposure settings. Unlike HDR, Rich Capture also works when the flash is on.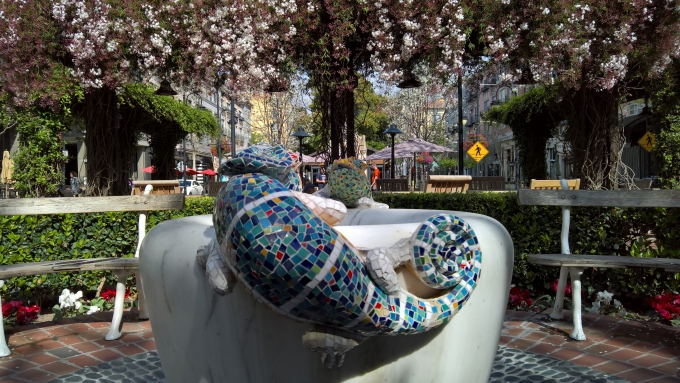 After the image is taken, you'll be able to scroll through your images or continue operating the camera, but Rich Capture takes a few seconds to properly stitch your photo in the background. Once the adjustments to the image has been made, you can go into the image and adjust how much HDR you want and you can also tell the camera how much flash you want in your image after the photo's been captured. This allows you to create more natural looking photos—too much flash and your photos look washed out, while too little flash can mean dark, fuzzy images with a lot of noise.
It's a great feature, and I found the flash adjustments through Rich Capture to be most useful for taking pictures of people. Rich Capture's HDR adjustments are more suited for landscapes and scenes with harsh lighting. Too much HDR, like on the Samsung Galaxy S6, for example, can lead to images that look cartoonish, un-natural and fake. The ability to control highlights and shadows through Rich Capture is just amazing.
If you're migrating from an older Lumia, like the Lumia 930 or 1020, you'll also appreciate that Microsoft has made significant improvements to its implementation of the Zeiss optics. Whereas older phones often exhibited lens flare when shot in harsh or bright lighting conditions, the Lumia 950 XL does a much better job at controlling flare. On older images, if I shot out on a bright day and didn't use my free hand as a lens hood by cupping the top of my phone, I'd get a bright streak of light. On the Lumia 950 XL, I haven't noticed this behavior at all.
Even videographers will find a lot to appreciate with Microsoft's camera implementation. In addition to optical image stabilization for shake-free videos, the Lumia 950 XL has four microphones for precise sound isolation and to cancel unwanted background noise. Even though I am not a videographer, I appreciated the quad-microphone setup on the Lumia 950 XL for recording audio notes, which delivered clear clips that are nearly free of background noise.
Video can be recorded in up to 25 frames per second for 4K footage, and 1080p full HD videos can be captured at up to 60 frames per second.
Verdict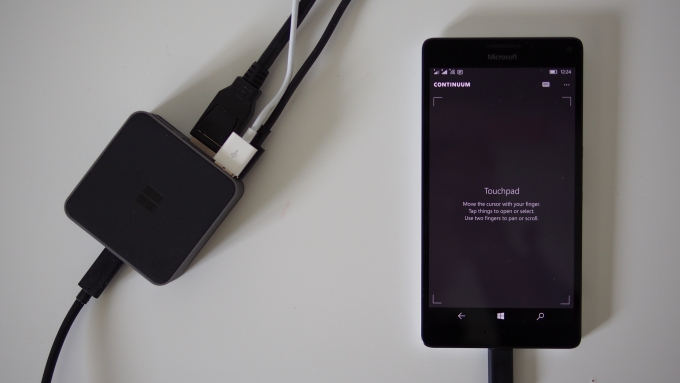 Right now, it's hard to recommend the Lumia 950 XL to anyone outside of mobile photographers, Lumia faithfuls and die-hard Windows users. The camera innovations that Microsoft implemented are extremely useful and largely unmatched by others in the smartphone space. However, this still won't matter to the general consumer when most smartphones deliver good enough camera experiences. Where the Lumia 950 XL differentiates from other mobile experiences is Continuum, a feature that tries to turn your phone into a PC when connected to a dock at your desk.
In its first implementation, Continuum shows a lot of promise. It allows Universal app to give a mobile-first experience when its shown on your phone, and transforms into a desktop experience when connected to Continuum. In this interpretation, the Lumia 950 XL is the ultimate mobile PC.
But like Windows Phones before it, Continuum is still hampered by the same shortcomings. The app gap is getting wider, and Google's spat with Microsoft means that important Google experiences are left out of Windows 10 Mobile, limiting the Lumia 950 XL's appeal to users who are already deeply entrenched in Microsoft's ecosystem.
And sadly, Microsoft's flagship phone's appeal doesn't even get a boost from its utilitarian hardware design, eschewing its predecessors bright and colorful shells for business-centric black or white tones. And the unapologetic use of plastic suggests that Microsoft may not grasp consumer tastes.
What the Lumia 950 XL represents is Microsoft's vision of the future of computing—the ability to take your PC with you in your pocket. We'll have to wait and see how this vision evolves and gets perfected in the future.