You may know Sen.se, the upstart technology company founded by Rafi Haladjian in 2003, because of this. Mother was a home security system meant to be cute that missed its target by a significant margin and came out instead as a futuristic nightmare akin to Black Mirror. It caused quite a stir at CES a few years ago.
The company's latest product is, thankfully, far less intimidating. Dubbed Peanuts, Sen.se's newest endeavour are an array of sensors that can be inconspicuously placed in your home to serve a certain purpose. The first is the ThermoPeanut which, as the name suggests, reads the temperature in whatever room you place it and keeps you up-to-date via an app on your smartphone.
The sensor is small, roughly the same size as an old Jeep Cherokee key fob, meaning you can place it just about anywhere you want. It can withstand temperatures from -5° to 140°F, so you can place it in a room, your fridge or even keep it on your person if you want. In the box, there are several ways to attach it to various surfaces, including sticky putty, self-adhesive tape and a holding clip if you want to affix it to your clothes. Be warned, though, the self-adhesive tape is not as friendly as I would have hoped and did rip paint off my wall.
ThermoPeanut is made mostly of plastic with a matte finish so it doesn't reflect much light. It feels well made and should stand up to years of use because you won't actually handle it much. It's red finish is an obvious choice, but I wish Sen.se offered more color options that would better blend into your home. Right now, it looks like my wall has an enormous pimple.
There's a small dimple on the top of the sensor, or bottom depending on how you look at it, that will let you know if the current temperature is too high, too low or within normal range with a series of three short beeps. It's a useful feature to have in case your smartphone dies, or you happen to be away from it, but I didn't employ it often.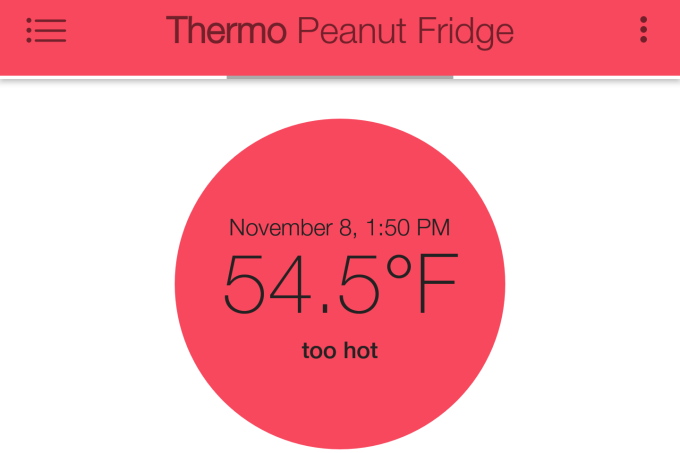 Instead, most of my time with ThermoPeanut was spent within the accompanying app. To Sen.se's credit, the application is well designed and easily understood. On the main page you'll see a large, red circle that displays the current time and temperature. Underneath, there are three charts, all displaying temperatures over various time ranges; 24 hours, 30 days and 12 months. You can also tap the large red circle at the top to see how you're connection is and what percentage of battery remains. On the lower right hand side, there is a small button that will retrieve the latest temperature immediately (so long as you're connected).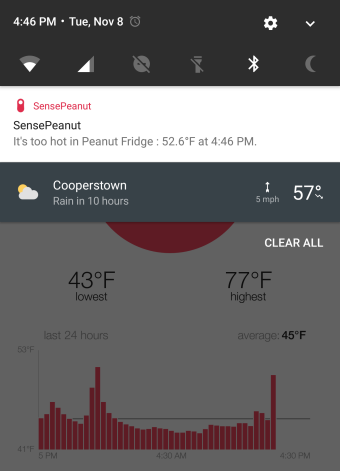 The most useful part about the device is its ability to alert you if the temperature has gone beyond the limits you choose when first setting up the app. This worked best for me when I used the ThermoPeanut in my refrigerator, given the smaller temperature range and higher likelihood of sudden change. Over the few days I had the sensor in my fridge, it legitimately saved me once. Without purposely meaning to, for testing purposes, I accidentally left my fridge door cracked and, after a half hour or so, got a notification on my phone that the temperature was too hot. It just worked.
As a tech writer, I see a lot of products that try to do too much, so there's something refreshing about this and subsequent Peanuts to be released by Sen.se. They're meant to serve a singular purpose, and they serve that purpose incredibly well. Plus, at just $29, it's basically an impulse buy for anyone who wants to keep an eye of the temperature of a drafty room, their kid's room, their fridge or what have you. The device does integrate with IFTTT so you can set up different recipes with it and will soon integrate with Nest, which will be extremely useful for obvious reasons.
The Penut runs on a CR2032 battery, the coin shaped ones you might find in a watch or small gadget, and thus lasts a long time and is easily replaceable. Sen.se estimates a six month battery life, dependent upon how often you check the temperature (which the sensor does every 15 minutes by default but you can customize that time) and press the button. I found mine was not going to get anywhere near the estimation, but I'm not convinced it was at 100 percent to begin with, plus it's a fix that costs a few dollars so no real harm done.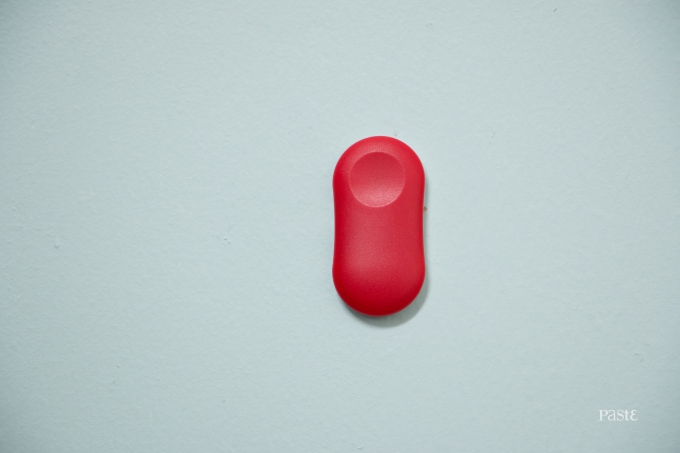 After the ThermoPeanut, Sen.se has three others slated to come to market according to its website; SleepPeanut, PeanutButton and MedPeanut. Of those three, the second seems the most useful, essentially working like a smart switch for various devices in your home. The idea is an intriguing one, but finding the right uses for them could be tricky. Those on the way are useful, yes, but also perform tasks that could be done by an app on your smartphone or another, more robust product. Still, as I said above, there is benefit in a device that is built to take on a single assignment.
The ThermoPeanut may not be an exciting product by today's tech standards, but it is one that works and is immensely affordable, and often stability is worth far more than excitement.