A sightseeing tour of Paris seems like a no-brainer. Snap signature selfies in front of the Eiffel Tower (or up in it); stroll down the infamous Champs-Élysées and head up to the top of the Arc de Triomphe for that classic Instagram shot; and cross the Louvre, Musée d'Orsay and Catacombs off the checklist. Even in two days, you can make the rounds at all the major landmarks (and still indulge in plenty of wine, cheese, baguette and escargot). But then there's the side of Paris captured so dreamily in films, Hemingway novels and the prose of chanteuse Edith Piaf. We're here to help you fit it all in.
The Eiffel Tower alone welcomes more than seven million visitors a year, but tourism in France's capital city, home to over two million residents, was hit hard following the recent terrorist attacks. Some hotels even dropped down to 50 percent occupancy in the weeks just after. Numbers this spring showed that travelers are slowly returning and showing support for the City of Light, joining locals on cafe terraces and, for a moment, putting aside any fears to live out their version of An American in Paris.
The city has centuries of history to uncover, with its 16th and 17th century squares like the Place de la Concorde and Place des Vosges in the Marais, sitting on the line dividing the third and fourth arrondissements. Around the Renaissance era, the "modern" version of Paris we know today came into fruition as the Louvre transformed from a fortress to a palace and other landmarks like the Palais-Royal and Luxembourg Palace were born.
Spiraling out like a snail shell, the city is divided up into 20 arrondissements, starting with the first in the center (where you'll find spots like the Louvre and Place Vendôme) and spinning clockwise in rings. Most of the highlights from guidebooks sit within the first eight arrondissements, but that doesn't mean you should discount the other 12. After ticking all the major monuments off your Paris itinerary, spend a weekend indulging in the latest trends to sweep across Paris' streets perusing the emerging 10th and 11th arrondissements, taking the time to sit back and enjoy the city's beautiful boulevards and parks that are still a source of inspiration for artists today.
Day One
Morning
No matter what day of the week, one thing that remains consistent for Parisians is their morning coffee. Start in one of the chicest craft coffee neighborhoods of them all, the Marais. Stepping inside espresso bar Loustic is like traveling back to the 1960s, with midcentury modern, hexagon-shaped wooden tables, tribal-patterned benches and tunes by the Jackson 5. Serious coffee drinkers will be impressed by the beans, sourced from a specialty independent roaster in Antwerp that's deemed one of the best in Europe. Coffees change weekly and with the season, but you can't go wrong with a classic espresso paired with the pastry of the day supplied by local bakeries like Broken Biscuits.
If you want to get your coffee and food fix all in one go, stroll just 10 minutes away to The Broken Arm Café, a concept shop off the Square du Temple that was founded three years ago by three friends. Swedish chef Linda Granebring whips up a new menu daily that's heavy on gourmet salads and fresh veggies (think lemon risotto with green asparagus and beef tartarewith beet salad, both of which cost 18.50€).
After fueling up, head in the direction of the recently renovated Picasso Museum (12.50€ for a ticket), a 10-minute walk away in the Marais, and a bit calmer (and more doable during a short trip) than some of the heavy hitter museums like the Louvre. Over 5,000 of the artist's pieces are displayed in the 17th century Hôtel Salé, a private mansion with a restored staircase based on Michelangelo's design for Florence's Laurentian Library.
While you're in the Marais, window-shop your way through the neighborhood's boutique-lined streets to local favorite Merci, a multilayered concept store with a rotating ground floor exhibit and Used Book Café. Even if you're not in the market for a designer sofa or sweater, the shop is curated like a museum with each piece put on display so perfectly, it's hard to think of actually taking anything home. Before leaving, be sure to stop in the cafe and scan the shelves in case you come across a hidden gem amongst the 10,000 books lining the library wall.
Afternoon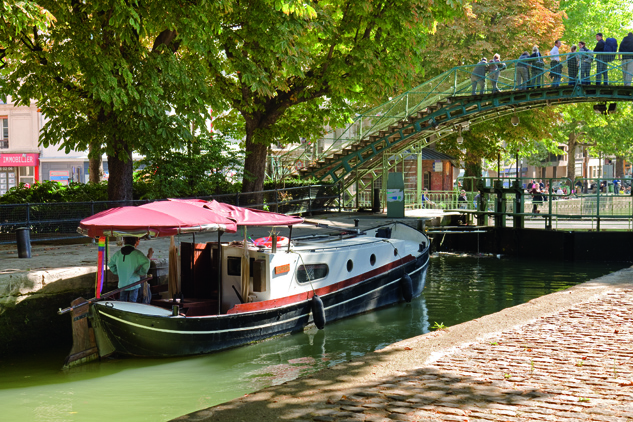 Photo courtesy of of Paris Tourist Office/ Jacques Lebar
A lot of afternoon plans in Paris depend on the weather, so if it's a nice out, head over to the Canal Saint-Martin neighborhood (pictured above) and take a seat on the terrace along the water for a bistro lunch at Chez Prune. The local bobo (bourgeous-bohème) will sit here for hours lingering over a glass of wine and the plats du jour that teeter on the traditional side of French cuisine (plates of charcuterie, salads and roasted meat that range around 12€). For something with a bit more flair, swing by the street food-style Jules et Shim for Korean bibimbap (9.50€), a rice-based bowl topped with vegetables and meat or seafood. Take your picnic fare to go and head across the canal to the nearby Buttes-Chaumont Park, one of the largest green spaces in Paris that also offers one of the best views over the city and Montmartre.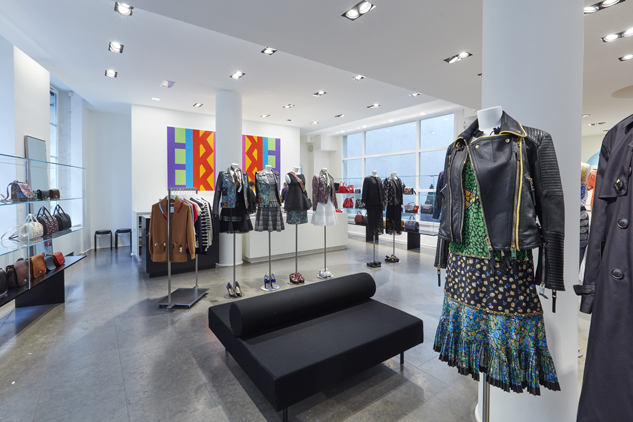 Photo courtesy of Colette
After a short sieste, or catnap, get your energy levels back up at Paris' first independent outdoor coffee shop, Honor, sitting discreetly in a courtyard along the fashionable rue Saint-Honoré. Cold-press coffee may be the rage in Brooklyn but it's still a slow trend in Paris. If you're a fan, be sure to try Honor's overnight brew using beans from local roaster Coutume. The cafe also does coffee to-go if you'd like to take it with you while strolling down the designer shop-clad street and into the Tuileries Gardens, stopping into fashion cult favorite Colette (pictured above) along the way. Monet fans can also catch the artist's eight infamous water lily murals lining the elliptical rooms at the impressionist Musée de l'Orangerie, located in the western corner of the Tuileries.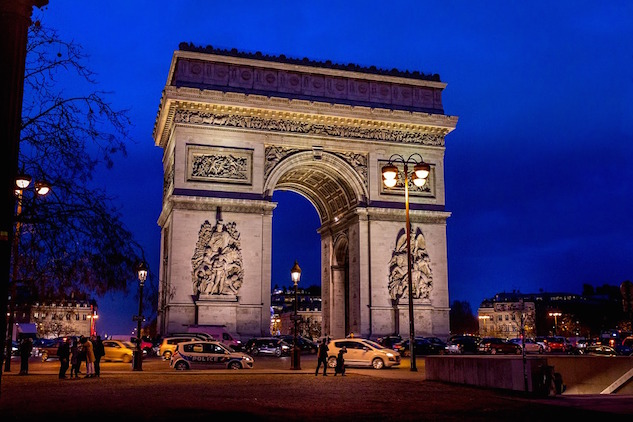 While you're close to the Avenue des Champs-Élysées in the 8th arrondissement, take a tourist moment and cruise along the grand boulevard to one of the most iconic monuments in the city: the Arc de Triomphe, opened in 1836 by King Louis-Philippe. The Eiffel Tower seems to get all the glory when it comes to breathtaking views over Paris, but the panoramic views from the top of the arch are some of the city's most picture-worthy, possibly because they include the infamous tower.
Evening
Hop on the metro and get off at Oberkampf (Lines 5 and 9), where you'll start the night at Ober Mamma. Put your name down on the list for Italian aperitivo that kicks off at 6 p.m. and fills up fast.
After a round of Italian-inspired cocktails and light bites like bruschetta and burrata, zig zag a few blocks over to wine bar La Buvette, squeezing into a seat at the counter, where owner Camille will guide you in the right direction when it comes to wine selections. Don't worry about not recognizing any of the labels; the wine cave features mostly organic vinos from the likes of Domaine Valette and Alexandre Bain that pair perfectly with the gourmet small plates of sausage and foie gras. If you still have room for more alcohol, take a nightcap in craft cocktail form at the hidden Lavomatic bar, a speakeasy set above a laundromat. From the outside, you'd think this was just a super-late laundromat, but the trick is figuring out which machine button to push to get access upstairs.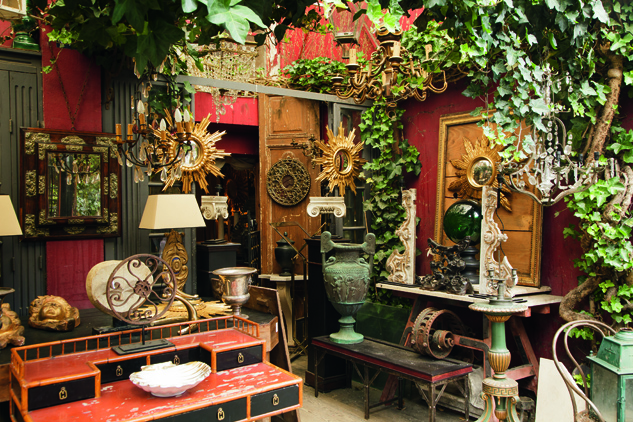 Photo courtesy of Paris Tourist Office/Marc Bertrand
Day Two
Morning
Grab a craft coffee and pain au chocolat (to tide you over till brunch later) to-go at Coutume Babylone (if you're seriously hungry, try the eggs Benedict with smoked trout served on top of two mascarpone pancakes) in the seventh arrondissement, and hop on the metro (Line 4 to Porte de Clignancourt) to wander through the stalls of the world's largest flea market, the Marché aux Puces de St-Ouen (pictured at top), which is open Saturday, Sunday and Monday.
Prepare to get lost in the crisscrossing streets and shops, with 15 markets in total composed of over 1,700 vendors, many of which are pedaling pretty antiques. If you happen to be looking for a vintage fur or Chanel bag, this is the place to find it, but keep in mind these goods don't come cheap.
Afternoon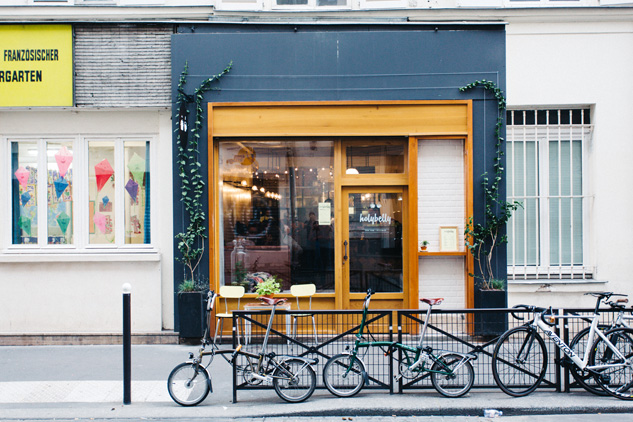 Photo courtesy of Nico Alary
Over the past few years, the brunch trend has washed over Paris, but there are a few standout spots that are well worth the wait, since many don't take reservations. The Melbourne-inspired Holybelly (pictured above) on the Canal Saint-Martin has been heavily Instagrammed but the brunch spread really does taste as good as it looks. Artisan bread is sourced from nearby organic boulangerie Du Pain et des Idées and coffee beans come from Parisian roaster Belleville Brûlerie. Be sure to try the Sweet Stack (11.50€), pancakes that are anything but basic. The cozy Café Oberkampf in the 11th arrondissement is another great place (that always seems packed) to linger over brunch fare, with a simple but well-executed menu of tartines, Israeli shakshuka, sandwiches and freshly baked banana bread.
If you want to squeeze in another cultural attraction this afternoon, trek 45 minutes on the metro from either of these restaurants to the Frank Gehry-designed Fondation Louis Vuitton in the Bois du Boulogne. Save time and ensure you'll be able to make it inside by buying a timed ticket online (14€).
Designed around the surrounding woods and park, the museum is composed of 3,600 glass panels that form 12 sails for a contemporary version of a ship. The artwork inside also veers on the contemporary side with work by a mix of international filmmakers, photographers, painters and visual artists, with current exhibitions including "Keys to a passion," highlighting pieces from 20th century artists like Munch and Delaunay.
Evening
After running around town all day, you can go as hard or easy as you'd like come nightfall. Start your own little cocktail crawl from Oberkampf and cozy up at one of the candlelit tables in the narrow bar Bespoke, part of the city's new craft cocktail revolution, with seasonally changing menus that are just as the name of the bar promises, bespoke. Tell the bartender your favorite flavors and they'll whip up a personalized pick.
Around the corner, Le Mary Celeste is a top spot for pre-dinner drinks (or apéro, as the French call it) particularly known for its creative cocktails like the two-person Batida Express (26€), a refreshing blend of Absolut Elyx, Apérol, coconut water, mate syrup and puréed pineapple. While you can nosh on small plates and oysters here, those with more of an appetite should settle into a tasting menu a few minutes away at Top Chef finalist Pierre Sang's Oberkampf location. The Korean-born French chef blends both of his heritages for a six-course surprise dinner (39€) that can be enjoyed over a few hours. If you'd rather go low-key and continue with the cocktail theme, head out to Saint-Denis and take a seat upstairs at Hero for Korean street food and soju-fueled cocktails. The one-year-old space is just as visually loud and appealing as something you'd expect to find in Seoul (think video installations, industrial lighting and beats that mix French faves with contemporary K-pop). The highlight here is the yangnyeom, or Korean fried chicken (12.50€), designed to be shared with the table alongside a series of sides (the kimchi du jour is a must-try), sure to soak up all the alcohol from the evening.
To Stay
Philippe Starck has helped make budget look cool with his eight-year-old Mama Shelter, a playfully chic boutique hotel in the 20th Arrondissement not far from the Père Lachaise cemetery. Rooms start at 79€ and come stocked with free films on iMac-connected TVs, as well as the signature superhero and villain masks that are yours during the stay.
Home to both artists and sex shops (as well as the famous Moulin Rouge cabaret), Pigalle is once again drawing crowds to its corners thanks to the booming neighborhood nightlife scene. Stay in the heart of it all at the 40-room Le Pigalle, which blends elements of hotel and hostel with bunk bed-outfitted rooms and suites that play on Pigalle's musical past with record players and vintage vinyl (plus views of the Sacré Coeur). Pigalle prices range from 110€-145€ per night.
Before securing its status as a staple on the Parisian nightlife scene that drew everyone from Yves Saint Laurent to Mick Jagger back in the day, Les Bains originally opened as the city's first bathhouse in 1885. After a revamp, the spot reopened last year tacking on a third title: hotel. The 39-room hotel still offers hints of its former club days with suites stacked with Joy Division albums and Warhol-style sofas (rates from 250€ for a classic room).
Getting There
More than half of the passengers arriving into Paris' main hub, Charles de Gaulle (CDG), fly Air France, but most of the major carriers like American Airlines and United fly from hubs across the U.S. Once you arrive, one of the quickest ways of getting to the city center is by train on the RER B (10€ each way), which departs from Terminal 2 and takes around 30 minutes. If you're coming from another destination in Europe, many of the budget friendly airlines like Norwegian and EasyJet fly into Paris-Orly (ORY). The OrlyBus is just 7.70€ for a one-way ticket and takes less than 30 minutes to reach its final stop, Place Denfert-Rochereau in Montparnasse.
Lane Nieset is Paste's Jet-Set Bohemian columnist and a freelance writer covering all things travel from her home base in Nice, France.