Media portrayals of Santa Monica show wide sandy beaches, a family-friendly pier and the perpetually packed Third Street Promenade. A different side of Santa Monica, however, exists just south of Pico Boulevard. About a decade after the Civil War, settlers first developed Santa Monica and Ocean Park as two separate neighborhoods divided by a gully, which eventually became the Santa Monica Freeway (I-10) in the 1960s. In the early 20th century, part of Ocean Park became its own city, eventually renaming itself Venice in 1911, while an amusement park made the rest of the neighborhood a major tourist destination.
Fast forward to modern times, and Santa Monica proper now claims the tourists with Pacific Park on the Santa Monica Pier, while Ocean Park more closely resembles Venice Beach with an artsy surf vibe and a vibrant Main Street filled with boutiques, bars and restaurants. Old-school surfers and skaters know this area as Dogtown, home to the infamous Zephyr Competition Team (or Z-Boys), who popularized aerial-style skate moves in the mid-1970s.
Day One
Morning
The beach is a must when visiting Santa Monica, but avoid an uncomfortable sunburn by hitting the waves in the morning. Anywhere on the sandy expanse is good, but for a bit of history, hit the water just south of the Sea Colony towers near Ocean Park Boulevard. This is the former location of the Pacific Ocean Park, a pier-based entertainment complex name-checked in the Beach Boys' "Amusement Parks U.S.A." (1965). The park fell into disrepair by the 1960s, but before the city demolished it in 1975, this dangerous surf spot was a favorite of the Z-Boys. Hit up Perry's at the Beach (with six Santa Monica locations) for breakfast, drinks and beach-centric rentals. In the late morning, wash off the sand and get ready to explore.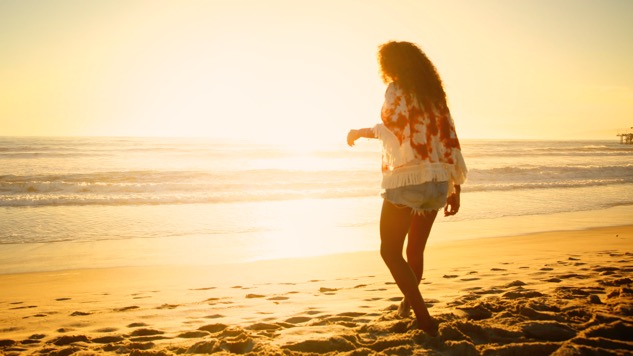 Afternoon
Start with lunch at Cha Cha Chicken, a colorful Caribbean joint with dishes like coconut fried chicken and salmon negril during the weekdays and sweet spicy jerk eggs for weekend brunch. Fans of Mad Men-style lunches will appreciate the restaurant's BYOB policies, and Star Liquor is only two blocks away on the corner of Main and Bay Streets.
After lunch, head one block east to Main Street, turn right and walk past Star Liquor to the southeast corner and grab a caffeine boost at Dogtown Coffee. This java spot with house-roasted beans is the original location of the Zephyr surfboard shop opened by Jeff Ho, Skip Engblom and Craig Stecyk in 1971. On display at Dogtown Coffee are some of the original Z-Boy skate decks. In the early days, Main Street-adjacent Bay Street was one of the many spots where the team liked to skate when they weren't surfing.
Travelers seeking a more traditional cultural experience can check out the California Heritage Museum at Main Street and Ocean Park Avenue. This elegantly restored 1894 Victorian house contains a museum with rotating exhibits that highlight early California culture. On various days, the lot near the museum features a farmer's market or a collection of food trucks. Those who could care less about museums can head south on Main Street to explore the many shops, galleries and salons. Notable boutiques include Fedora Primo retro hats, Trendy Sunglasses, Streetcraft LA creative studio and store, Love Adorned jewelry and many others. At 4 p.m. or soon after, dive into one of the many bars offerings happy hours specials (more info on happy hours below).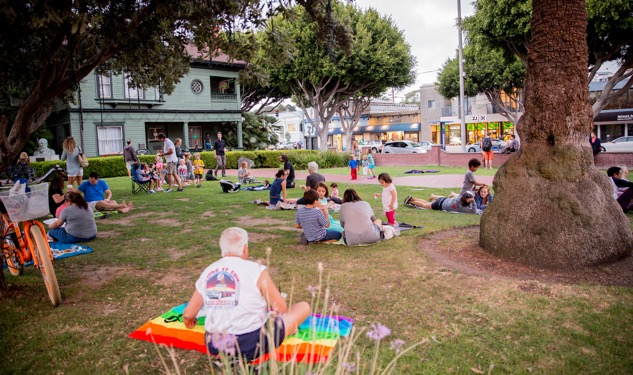 California Heritage Museum
Evening
Start the evening with a stop at the beach to watch the sunset. Check an online weather site for the sunset time, and arrive at least 40 minutes earlier. (Remember, "sunset time" is when the sun has already set.) After that, head to Main Street and watch the retail row transform into a dinner and drinking hot spot. The top culinary choice is an old-school classic, Wolfgang Puck's Chinois on Main. In 1982, the Austrian chef opened the original Spago on Sunset Boulevard, and a year later, he fused classic Asian dishes with French technique and California farm goods inside this Barbara Lazaroff-designed beauty. Signature dishes include the Chinois chicken salad, the Shanghai lobster with curry sauce and the catfish with ginger and ponzu sauce.
After dinner, head to the speakeasy-style Basement Tavern inside The Victorian. With a setting seemingly ripped from a Turner Classic Movie, the old school subterranean bar has a cozy vibe with oversized chairs in various shapes, and the soundtrack includes artists like the Doors, Sublime, the Offspring and Led Zeppelin. Upon entering the Victorian, head straight back, and once you pass the stairway, turn left to find an unmarked door with stairs leading down. What the Basement Tavern lacks in draft beer it makes up for in whiskey flights.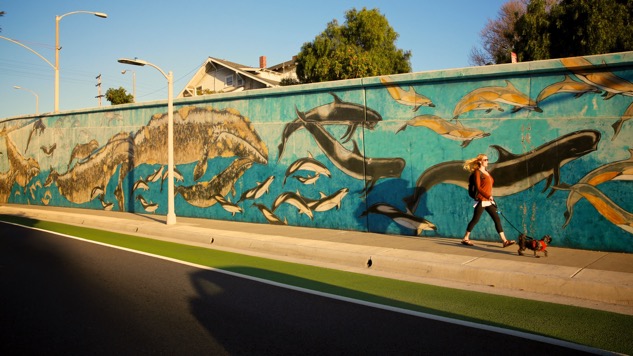 Day Two
Morning
For day two in Dogtown, start with one of three options. If you hail from a beachless city, repeat the same sand and surf experience as day two. If not in the mood to get wet, rent a bike (at the aforementioned Perry's) and pedal along the boardwalk bike paths between the Venice and Santa Monica piers. Sunburn got you looking redder than a lobster? Consider option three, breakfast and coffee at the insanely popular Urth Caffé at Main Street and Hollister Avenue. With an outdoor patio overlooking Main Street, the cafe features a full menu, including a breakfast-only prosciutto, egg and cheese panini with tomato dipping sauce, but the organic coffee and teas are the headliners. Each day, the downtown facility roasts the triple hand-sorted beans in small-batch, vintage cast iron roasters and distributes them to Urth's seven SoCal locations.
Afternoon
Shower up and head down Main Street for a lunch oddity known as an Australian pot pie. Chopped champion Chef Joe Youkhan opened the original Aussie Pie Kitchen here in Santa Monica putting a gourmet twist on an Australia street staple. The ingredients are marinated and slow cooked, so each pie takes three days to make, and options include chicken thighs marinated in chardonnay, lamb in red wine and steak cubes in shiraz. Customers typically stack the pies with sides such as sausage & croissant stuffing or macaroni and three cheeses.
After lunch, the question of culture versus shopping rears its head once again. For the former, head two miles up Ocean Park Boulevard and a few blocks over to Airport Avenue to find the Museum of Flying. Originally opened nearby under a different name in the 1970s, the museum (in new digs since 2012) contains aviation art, interactive exhibits and a dozen or so aircraft that can include a 1959 RoadAir, Cassutt III Formula One Air Racer and Wright Flyer replica. Or head north on Main Street for a peak at the original Art Deco interiors of the historic Santa Monica City Hall, built in the 1930s as part of President Roosevelt's Public Works Administration projects. If opting to shop, feel no shame since Main Street boasts several one-of-kind shops leaving the chain-store shops to the Third Street Promenade.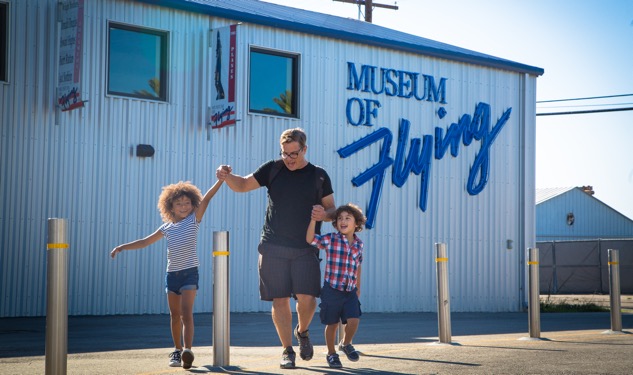 Museum of Flying
Evening
Sure, you enjoyed a sunset the night before, but it is an ever-changing experience that should be enjoyed every evening when visiting Santa Monica. Pick your favorite spot on the beach to watch the sky change color, or venture north to the Santa Monica Pier and watch sunset from a perch overlooking the water. Then head back to Main Street for one of several dinner options covering different ethnic cuisines.
Manchego is a hidden gem for people who love wine and tapas like manchego macaroni and cheese with white truffle oil, grilled octopus with blistered tomatoes and spectacular cheese and cured meat boards. For Asian culinary enthusiasts, head to the north side of Main Street for the casual Jinya Ramen Bar, founded by a Japanese chef who arrived in the U.S. only a few years ago. If Spanish and Japanese dishes don't ring your bell, put your musical tastes aside and visit Joe Jonas' Hinterland, a quaint Southern-style seafood restaurant known for its flavorful shrimp and grits made with chorizo and charred shisitto peppers. After dinner, dance and drink at the Circle Bar, which originally opened in the 1940s.
Happy Hours
South Santa Monica is famous for happy hours, and booze hounds have several options seven days a week. Among the top picks, Enterprise Fish Co. has a two-page menu that includes craft beers and $1.50 oysters on the shell, and the "happy hour area" is a greenery-packed outdoor patio. The 4 to 7 p.m. happiness runs Sunday to Friday, with an additional 9 to 11 p.m. happy hour on Friday and Saturday nights. Other top happy hours include O'Brien's Irish Pub, Finn McCool's, Manchego, Areal and the Basement Tavern, the latter of which features a 5 p.m. to close happy hour on Sundays where the $5 Delia's Elixir (bourbon, lemon, raspberry) rules supreme.
Getting There
Los Angeles International Airport (LAX), which serves most major cities, is relatively close to Santa Monica. With the standard markups, an airport taxi will cost about $40 with tip, but regular rates for an UberX or Lyft typically cost under $20, or about the same as a shared-ride shuttle for a solo traveler. Take note, the $8/person LAX FlyAway shuttle between the airport and Colorado Avenue/2nd Street will stop running on September 6, 2016.
To Stay
Luxury hotels abound near Pico Boulevard on the border with Santa Monica proper. The affiliated Shutters on the Beach (starting at $671) and Casa del Mar (starting at $595) sit right on the boardwalk near the Original Muscle Beach (which dates back to the 1930s). Likewise, travelers can save a few bucks at the Bayside Hotel (starting at $248) a few blocks from the beach. Serious budget travelers, however, should opt for the Sea Shore Motel (starting at $125) in the middle of everything on Main Street at Ocean Park Boulevard.
David Jenison is a Los Angeles native and the Content Editor of PROHBTD. He has covered entertainment, restaurants and travel for more than 20 years.