Thirsty? You're in luck. In Paste's drinking-and-traveling series, City in a Glass, we mix up a city's signature swills and slide them down the bar to readers. Grab a stool. This round, in Los Angeles, is on us.
Los Angeles is known for its diverse and eclectic food scene. Here, you can eat everything from chai pudding at the glamorous Chateau Marmont to kimchi quesadillas out of a food truck in West L.A. But what you probably haven't heard much about is its drinks scene. That's because its cocktail community is just now starting to be taken seriously. What happened?
Local beverage director Gabriella Mlynarczyk has one explanation, although it's probably not a popular one: "More New York bartenders are moving to L.A." She says L.A. jumped into the classic cocktail scene a decade ago, but got in a rut because no one wanted to venture out of that classic format. So while bartenders in other cities like New York started making their own creative riffs on drinks, L.A. stalled, afraid of breaking the mold. In the past few years, however, L.A. started to catch up to—and in some cases surpass—the rest of the pack. Last month Koreatown bar The Walker Inn even won a coveted spot on the World's 50 Best Bars list.
L.A. barman Jason Eisner has another, cultural explanation for the innovative bartending wave that's sweeping the city. "People have woken up to the culinary applications of the cocktail scene," he says. "For a long time people were really focused on looking good. And then there was this period of new age-y stuff and a focus on how you feel. And now I think people are starting to make the connection: You feel good because you have a physical commitment to quality in your life."
As people became more concerned with what they were putting in their bodies, bartenders had to respond, ditching neon-colored syrups for gastriques and natural juices. Now L.A. bartenders are taking advantage of their access to abundant fresh produce, most of which is available year-round. (See also: San Diego) "The consumer expects us to, demands we do," says local bar manager Cari Hah. "It's weird if you don't use it. It's available to us, so why not?"
On this city drinks tour, we're going to introduce you to three innovative Los Angeles cocktails—all of which happen to be inspired by some rather odd things—show you where to find them and even how to replicate them at home.

1. #1
Where to order: Birch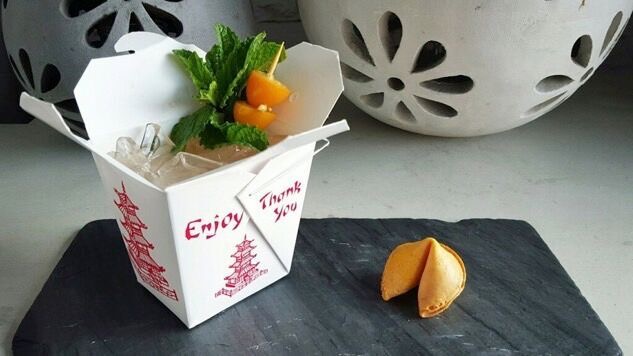 Photo courtesy of Birch
When the cocktail known as #1 is served at Birch in Hollywood, guests will often try to send it back. "It comes out in a Chinese take-out box, so people usually think it's food," beverage director Gabriella Mlynarczyk says. In addition to being tricked by the way it looks, drinkers are also tricked by the way it smells: Mlynarczyk created this aromatic cocktail to mimic the fragrance—and taste—of Thai tom ka gai soup. Drink #1 includes lemongrass- and Thai basil-infused rum, coconut butter-washed orgeat (almond syrup), lime juice and coconut milk.
"To me, Thai food is real comfort food," she says. "The lemongrass, the Thai basil and the coconut were just begging to be made into a cocktail." Like most of her ingredient-driven drinks, Mlynarczyk started out with those culinary components and then dipped into the alcohol to see what would complement those flavors best. In this case, it was rum. (Some of Mlynarczyk's other creations include a Peking duck-flavored Mai Tai and a chamomile tea cocktail that's seasoned with bee pollen.) "#1 is refreshing because you've got the Thai basil and lemongrass in there, but the coconut milk makes it a little more soulful," she says. She serves it with a fortune cookie on the side.
#1
2 oz. lemongrass- and Thai basil-infused rum, house-made
1 oz. coconut butter-washed orgeat, house-made
1 oz. fresh lime juice
1 oz. coconut milk
Sprig of fresh mint, for garnish
Spritz of Aftelier Perfumes' lemongrass chef's essence, for garnish
Fill a Chinese take-out box with pebble ice and set aside. In a cocktail shaker, combine rum, orgeat, lime juice, coconut milk and ice. Shake. Strain into the take-out box. Garnish with a spritz of lemongrass aroma and sprig of fresh mint. Drink through a straw.

2. Matcha Kit Kat Fizz
Where to order: Big Bar by Alcove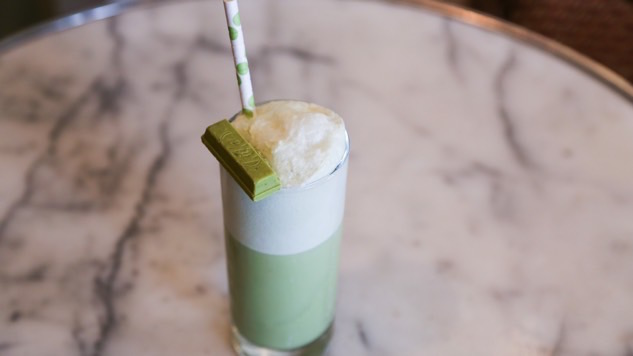 Photo by Eugene Lee
Cari Hah is known for her crazy obsession with Kit Kats. Hah, the bar manager of Big Bar in Los Feliz, eats all varieties of the candy bar, but is particularly fond of the Japanese matcha, or green tea, flavor. She was snacking on those at work one day when she realized the flavors could translate into one delicious cocktail. "And it would make me so happy!" she says. Her resulting drink contains gin, hazelnut liqueur, house-made vanilla bean syrup and matcha powder. "It is a subtle cocktail. But if you bite the Kit Kat and then sip the drink, you're like holy crap these do taste like each other."
Hah's drinks are often whimsical twists on classics. The Matcha Kit Kat drink is made in the style of a fizz. "Fizzes are famously known for being a pain in the ass to make," she says. "But I love making fizzes. I think that they're beautiful and delicious and customers get really excited when they watch someone make it. It takes a lot of love and time to make well." And once someone orders it, the green, fizzy drink is definitely a spectacle. "It's funny because you see one go out and then all of a sudden everybody in the bar needs one!"
Matcha Kit Kat Fizz
1½ oz. Aviation gin
½ oz. heavy cream
1 egg white
¾ oz. vanilla bean syrup, house-made
½ oz. Luxardo Angioletto hazelnut syrup
1 small barspoon matcha powder
Soda water
Matcha Kit Kat, for garnish
Combine all ingredients except soda water and Kit Kat in a cocktail shaker. Add ice to fill the shaker. Shake vigorously. Strain all the contents into one side of the shaker. Discard the ice. Shake the cocktail again, very hard and fast to develop froth. Set aside. Add 1 ounce of soda water to the bottom of a cold fizz glass. Pour the cocktail on top of the soda water in the glass. Tap the bottom of the glass (with a tool such as a muddler) to get the cocktail to rest and settle. Carefully add more soda water on top to make the meringue-like foam rise. Garnish with a Matcha Kit Kat.

3. Sour T-iesel
Where to order: Gracias Madre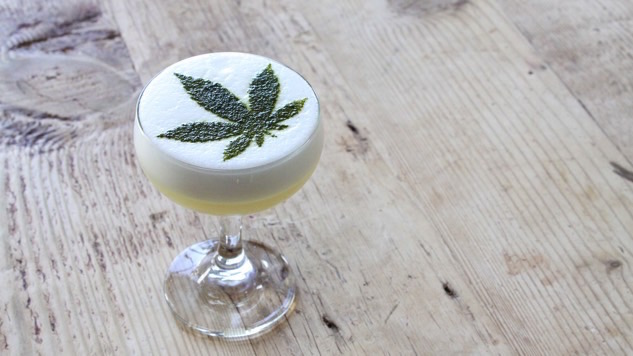 Photo courtesy of Gracias Madre
As of today, recreational marijuana is not legal in California. (This could change next week, as voters are deciding whether or not to legalize it.) So without medical clearance, residents cannot legally buy products containing THC, the main psychoactive compound found in cannabis. What they can buy, however, are products containing CBD, a non-psychoactive compound found in cannabis that reportedly has health benefits. You can buy CBD extract, taken from industrial hemp, at health food stores. Or you could drink it in a cocktail at Gracias Madre in West Hollywood.
At this vegan and 100 percent organic bar, beverage director Jason Eisner makes three different cocktails with CBD. One, his Sour T-iesel, contains tequila, lime juice, agave nectar, mint, aquafaba (chickpea water), matcha powder and a few drops of CBD oil. "It's a sour with a bit of a margarita and mojito qualities," he says. "And then we're playing with a number of culinary and, in this case, medicinal herbs that add a different dimension to it entirely." The matcha powder gives the drink a wheatgrass flavor, the aquafaba gives it a velvety mouthfeel (no egg white needed!), and the CDB is very floral, which gives the drink a distinct marijuana aroma. "You could sit on a patio and just kill five of them based on its taste, but you wouldn't want to. It's elegant. You want to sip it and savor it."
Eisner says all kinds of people come in and order the drink, not just people who think they're going to get baked from drinking it. (They won't.) "The vibe you get from CBD is totally different than anything you'd associate with marijuana," he says. "CBD is a mood elevator. It's an antidepressant. It's an antianxiety. It's one of the most powerful anti-inflammatories in the world. It makes people happy when they're here. They're alive and well."
Sour T-iesel
2 oz. tequila blanco
1 oz. organic, fresh-pressed lime juice
¾ oz. organic aquafaba
½ oz. organic agave nectar
3 organic mint leaves (no stems)
5 drops organic, cold-pressed CBD oil (extracted from industrial hemp)
Pinch pink sea salt
Ceremonial-grade matcha powder, for garnish
Combine tequila, lime juice agave nectar, mint, sea salt and ice in a cocktail shaker. Shake. Fine strain into a large vessel (such as a 64-ounce pitcher). Add CBD and aquafaba. Using a Kitchen Aid handheld emulsifier on turbo, emulsify liquid for five seconds. Transfer emulsified liquid back into empty cocktail shaker. Using a Hawthorne strainer, strain liquid into a Coupe glass. Use a stencil and matcha powder to create a pot leaf garnish.
City in a Glass columnist Alyson Sheppard writes about travel and bars for Paste and Playboy. She currently resides in the great state of Texas.