For those who have never been, Boulder may conjure up images of University of Colorado students strapping on skis to get through the snow to class, but the city offers many attractions beyond the winter months. Springtime in Boulder can still mean snow (March is the snowiest month in Colorado), but it typically melts off quickly and there are enough warm days for visitors to sip a Saison on a patio while tulips emerge from planters nearby.
As you drive from Denver to Boulder on Highway 36, a set of sharp slanted rock outcrops on the Rocky Mountains come into sharper view—the Flatirons. The sandstone formations offer a striking backdrop during a visit to Boulder. The city sits at an elevation of 5,430 feet and offers a gateway to the mountains for visitors and its approximately 100,000 occupants alike.
Boulderites—one-third of which are between the ages of 18 and 24—are known for their enthusiasm for the outdoors and a healthy lifestyle, and the city has good options for foodies and beer enthusiasts. The bike and pedestrian-friendly nature of the city also makes it easy for travelers to navigate.
Day 1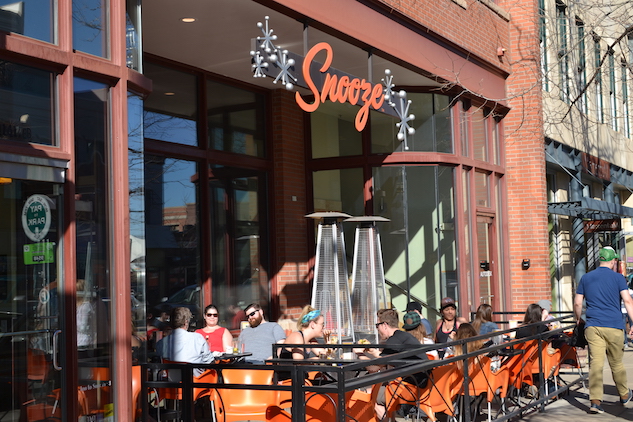 Morning
Begin your visit in Boulder's downtown area, which is centered around Pearl Street. Head to Snooze, a popular breakfast spot with retro hip décor that got its start in Denver. Sit in one of their circular booths or on the patio, and try a sweet offering like the pineapple upside down pancakes, or a savory option like the Bella! Bella! Benny—an Italian twist on a benedict with prosciutto and arugula on toasted ciabatta bread. The earlier you arrive the better, as the wait can be long (but worth it). If you are in more of a coffee and croissant mood, head to The Cup Espresso Café nearby instead, and start your day with a hot latte poured with an artful steamed milk design or a cold nitro coffee served on draft. The cafe has a relaxed atmosphere with brick walls and chalkboard menus mounted on the walls, and during warm weather, their side doors are rolled up to open up the space.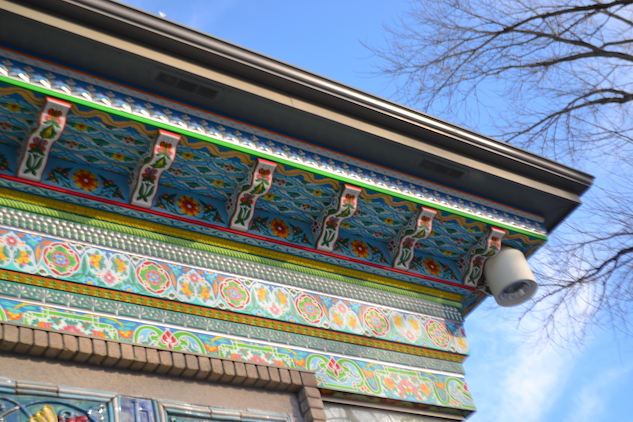 After breakfast, walk west (toward the mountains) and then take a left on 13th street and head toward the Boulder Creek path. You'll pass by the Dushanbe Teahouse, a gift from Boulder's sister city in Tajikistan. The building—featuring colorful ceramic floral patterns on the exterior (pictured above) and a hand-carved and painted ceiling on the interior—was made in Tajikistan and then shipped in pieces and reassembled in Boulder. Next to that is the Boulder Museum of Contemporary Art, which features rotating exhibitions. The museum is scheduled to reopen after a renovation on April 1 with an exhibit by sculptor and installation artist Martha Russo.
Continue walking to the Boulder Creek path—a stretch of over five miles that runs through the city. In warm weather, you will see people tubing and wading in the water. Walk along the path or rent a red cruiser from Boulder's B-cycle bike share program to explore more of it.
Afternoon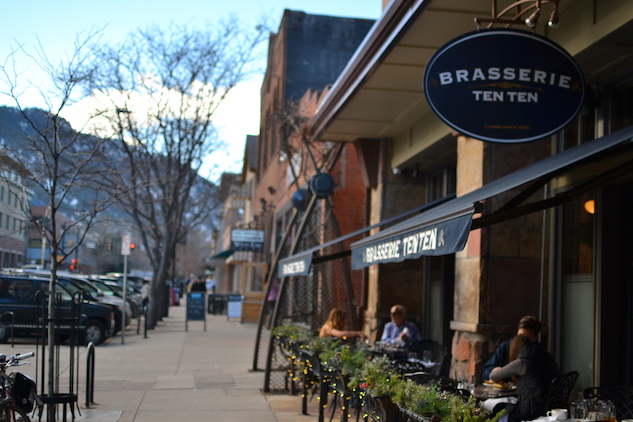 When you are ready for lunch, make your way back to the Pearl Street. Brasserie Ten Ten serves French food in an unpretentious atmosphere with mosaic tiled floors, big windows, and exposed brick walls. Order a cup of soupe à l'oignon and a salad, or the steak frites—a sliced hangar steak served with fries and an arugula salad.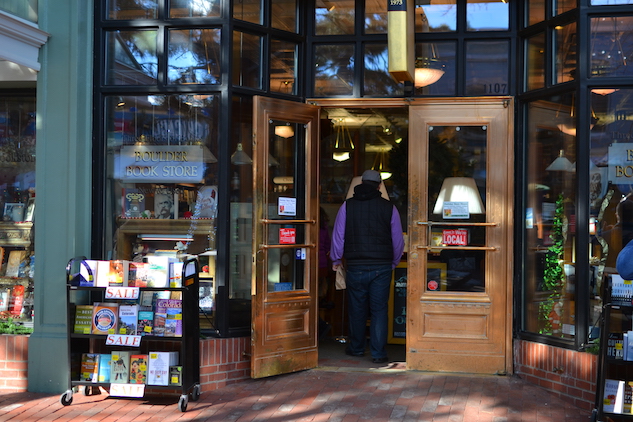 After lunch spend some time exploring the Pearl Street Mall. The four-block pedestrian section was created almost 40 years ago and is a popular spot for a variety of street performers that can range from a string quartet of buskers to a performer juggling fire sticks. In the pedestrian mall, check out Boulder Book Store, a three-story independent bookstore with a large collection of books and small gift items. The Beat poet Allen Ginsberg did readings here (he lived in Boulder and taught at Naropa University). Also stop by Alpine Modern a shop whose mission, according to their website, is to "… elevate the modern design and lifestyles of mountain communities around the world." The Boulder flagship store, located in the stark modern space just off Pearl Street, sells items from local and global artists including blankets, small wooden animal sculptures, and wall art.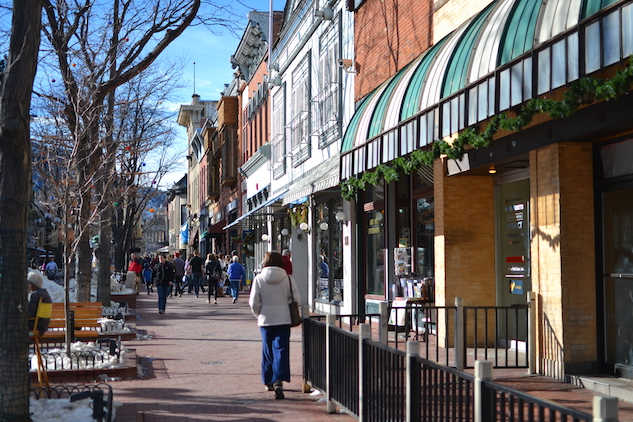 Walk east of the pedestrian mall (away from the mountains) to another collection of shops and restaurants. Common Era offers trendy women's clothing and accessories at reasonable prices. Bliss sells stationery and small gift items like candles, kitchen and baby items. At the small European-style grocer Cured you can buy local cheeses, gourmet oils and jams, and oversized pretzels.
Evening
For dinner, head to the buzzing contemporary restaurant Oak at Fourteenth on Pearl Street. Respected owner and chef Steven Redzikowski creates local and seasonal food focused on an oak-fired oven and grill. Try a warm bowl of shrimp and grits served in a slightly spicy Tabasco sofrito sauce for a twist on the traditional dish. You can also choose a cocktail from their menu that helpfully divides your choices between no, low, or high alcohol content so you can pace yourself accordingly.
After dinner, walk to the Bohemian Biergarten and take a seat at one of their communal wooden tables in the beer hall-like surroundings. Try one of the rotating drafts identified by handwritten chalk signs at the bar. Options could include a seasonal beer from Denver's German-style brewer Prost, or a Warsteiner Dunkel or Oktoberfest.


Photo courtesy of Boulder CVB
Day 2
Morning
Make your way to Chautauqua for a closer view of the Flatirons. The Colorado Chautauqua was opened in 1898 as a summer educational retreat in support of the Chautauqua adult education movement. Fun literary fact: the Colorado Chautauqua area makes an appearance in Stephen King's book The Stand (King lived in Boulder briefly in the 1970s). Now, the National Historic Landmark includes a collection of small cottages and lodges, a dining hall, and an auditorium set next to an open space with hiking trails.
The Chautauqua Dining Hall (pictured above), a historic building over 100 years old, is a great spot for breakfast. On warm days a view from the wraparound patio will allow you to dine on a croque madame and coffee while you take in a view of the mountains. The inside of the dining hall has a rustic mountain lodge charm, thanks to fireplaces and historic photos, and is a good place to warm up on cooler days.
After breakfast, walk toward the Flatirons to the Chautauqua park area. Take some scenic photographs of the mountains, and then hike a little way up the trail to get a view of the city. If you are feeling more ambitious (and outfitted with the right shoes, clothing, and supplies) you can hike the 6.9-mile Mesa Trail from this trailhead. If you are feeling less ambitious, spend some time exploring the nearby historic cottages and park.
Afternoon
While you won't see any students skiing to class (they just walk), it's worth exploring the flagstone architecture on the University of Colorado campus. After walking around campus, visit the adjacent University Hill area for lunch. The Sink is a Boulder institution that serves a range of pizzas (including some gluten-free options) and has been running on wind power since 2006. The interior has low ceilings covered in customer-created graffiti, and the walls are decorated with comedic murals. Look for the one depicting Robert Redford cleaning up—he worked as a janitor at the restaurant in 1955.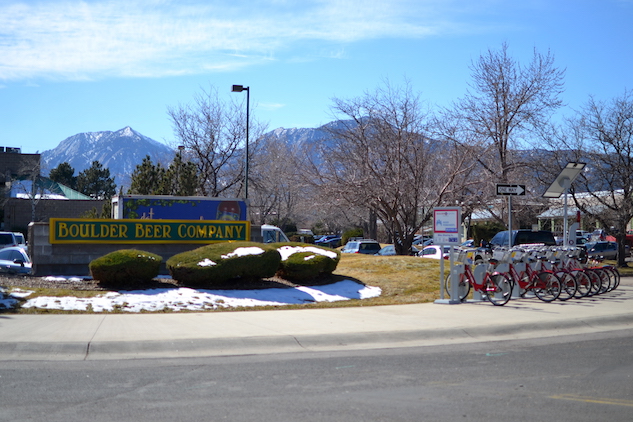 Spend your last few hours of daylight in Boulder exploring craft breweries. Pick up a map showing locations to 20 breweries and 9 wineries and distilleries in the area at the Visitor's Center on Pearl Street, or check it out online. You can rent a B-cycle to pedal between stops or hop on a Boulder bus (one line of which is literally called, "the Hop"). Try a Sweaty Betty Blonde Hefeweizen at Colorado's first craft brewery Boulder Beer Company, which opened in 1979. Visit Mountain Sun, a brewery that embraces Boulder's hippie roots, and is decorated with tapestries and colorful sun murals. You can choose from a rotating selection of beers like the Colorado Kind American Ale and the No. 1 Belgian Tripel, but bring cash because they don't accept credit cards.
Evening
As the sun sets but you continue to barhop, check out FATE Brewing Company to sample the Laimas Kolsch. Stay for a casual dinner of burgers or sandwiches featuring house-smoked brisket or pastrami. If you need a change of pace from beer, stop by the J&L Distilling tasting room to sample a cocktail made with their Sno vodka or gin.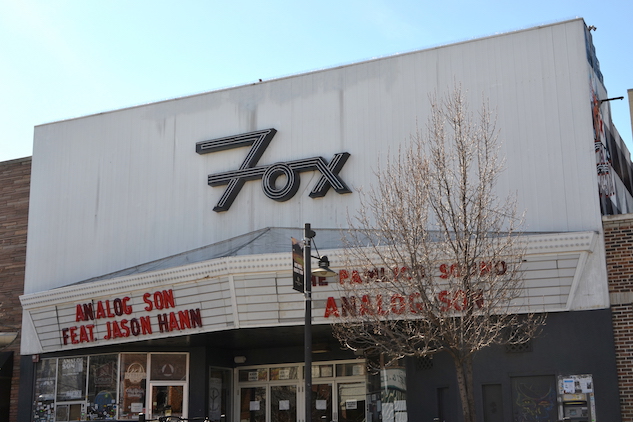 Finish your visit with a show at one of Boulder's music venues that draw national touring acts. The historic Boulder Theater on Pearl Street hosts live music and films throughout the year in a space that originally served as an Opera House. The Fox Theater on University Hill is a 625-seat venue that offers a steady stream of live music options.
Getting There:
Denver International Airport (DIA) is the best option to fly into and is served by many airlines including United, Frontier, and Southwest. The drive from DIA to Boulder takes about 45 minutes. You can rent a car or book a ride with SuperShuttle or Boulder Green Ride.
To Stay:
The Hotel Boulderado in downtown Boulder was built in 1909 and features a stained glass canopy ceiling and rooms with historic Victorian charm. Rooms start at $199. The hotel also houses Spruce Farm & Fish, a restaurant focusing on fresh and local foods; and License No. 1, a speakeasy style bar.
St. Julien Hotel & Spa is a 201-room luxury hotel just off Pearl Street Mall with rates starting around $319 in the spring and summer months. The sleekly designed hotel houses a 10,000-square-foot spa and fitness facility with an indoor lap pool.
Julie Vick is a writer in Colorado who lived in Denver for 10 years. Her work has appeared in The Washington Post, The Christian Science Monitor, and McSweeney's Internet Tendency.