Theme parks and amusement parks typically focus on one thing during the Halloween season: good old-fashioned spooky business. Haunted houses and scare zones abound from Universal to Six Flags to Cedar Fair's parks, guaranteeing a frightening time for everybody brave enough to enter.
There are a couple of exceptions to that rule, of course, and chief among them is Disney. They're upfront about that fact, too: Disney World's annual Halloween festival is known as Mickey's Not-So-Scary Halloween Party, after all. Especially young children might still be a little scared by the ghosts of the Haunted Mansion (I definitely was when I was five or six), but there's nothing to fear about the rest of the Magic Kingdom during this special event. This party is more about treats, sweets, and good times that are a bit more on the goofy side than the spooky. Check out the video below for my thoughts, and keep reading for more information.
Mickey's Not-So-Scary Halloween Party runs at the Magic Kingdom at Disney World through Nov. 1. It's a separate ticketed event that runs every Thursday and Friday night and select other nights throughout October; you can find the full calendar at its official web site. A ticket gets you access to the park starting at 4 p.m., with the party running from 7 p.m. to midnight, at which point the park closes. Tickets aren't cheap—they start at $105, and that's after a discount for buying in advance—but one benefit is that the park is less crowded than it is during normal operation, so lines are noticeably shorter.
What kind of hijinks can you get up to during the party? Well, it's a Halloween thing, and obviously that means costumes and candy. Everybody can dress up during this event, including adults, who normally aren't allowed to wear costumes to Disney parks (no masks, though, unless you're under 14). There are candy stations throughout the park, where kids can do some traditional trick or treating for prepackaged candy. The whole park is festooned with elaborate holiday decorations, and along with some creepy mood lighting that creates a genuine Halloween atmosphere despite the Florida heat.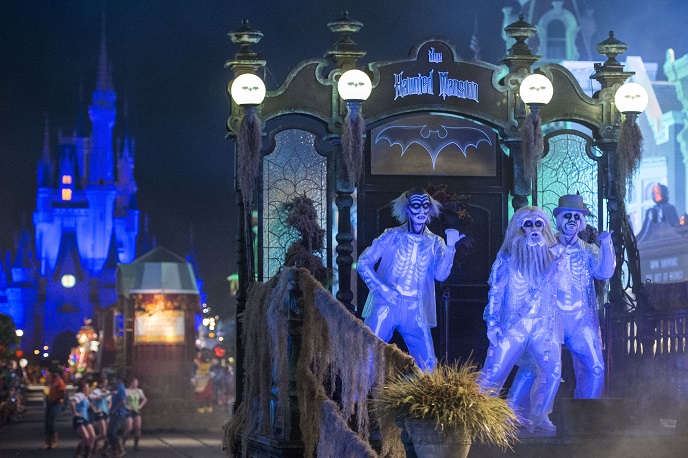 A few iconic rides have gotten a temporary Halloween makeover. Space Mountain is running in complete darkness; it's not a major change, as the Magic Kingdom's Space Mountain is already very dark. It's not necessarily a good change, either—it misses a lot without the traditional projections of solar systems and other celestial bodies. The Haunted Mansion ride is the same classic fun as always, but its attendants are now painted up like zombies. And Pirates of the Caribbean has a handful of new pirates in the form of live actors who appear throughout the ride and queue, reciting new dialogue and joking with the riders. None of these updates are that significant, or even all that memorable, but they do offer a unique spin on these classic rides that Disney fans know so well.
The best part of Mickey's Not-So-Scary Halloween Party is the holiday-themed entertainment. The nightly Boo-to-You Parade features characters from the Haunted Mansion, some of Disney's most dastardly villains, and Mickey and his pals in their Halloween costumes. The Headless Horseman rides down the streets of the Magic Kingdom periodically throughout the night, with a neat costuming effect that captures the fiend in all his creepy glory. The new Disney's Not So Spooky Spectacular nighttime show is an overwhelming tour de force of fireworks and projections that turns Cinderella's Castle into an ever-changing phantasmagoria. There's a loose story about Mickey and his friends trick or treating at a haunted house, but it's mostly just an excuse to recreate scenes from some of Disney's scariest cartoons, including a gorgeous version of the old "Skeleton Dance" Silly Symphony that turns the entire castle into a shivering cathedral of bone. It looks awesome. There's also a live show that takes place on the stage before the castle, starring the characters from the '90s film Hocus Pocus and various animated Disney villains.
If you're a big fan of Disney's meet and greets, this is one of the best times to meet those classic bad guys. Various Disney villains are available for photo opportunities throughout the park each night. You can also find Mickey and his friends in their Halloween costumes, as well as Winnie the Pooh and his pals in their costumes. And there are a variety of unique dessert parties and a special dining package that includes a visit from Cruella De Vil; those require an extra fee.
The big question surrounding Mickey's Not-So-Scary Halloween Party, as it is with almost every theme park, is whether it's worth the extra cost. I wouldn't recommend planning a full day at the Magic Kingdom, as that would require buying two separate tickets. It's hard to recommend going to another Disney World park earlier in the day, as that too would require two tickets. A good plan would be to spend the day enjoying the pool at your hotel, or visiting Disney Springs, or checking out any of the other attractions that the Orlando area has to offer, and then rolling up to the Magic Kingdom in the late afternoon to enjoy the party.
If you're a passionate fan of Disney World, you owe it to yourself to experience Mickey's Not-So-Scary Halloween Party at least once. It's the same park you know and love, but seen through a new lens, with different music, special lighting, and an atmosphere that's unlike any you've ever seen there. As always, the biggest concern is budget; if you can already afford a Disney vacation, though, you should consider springing for a ticket to this party. It's full of Halloween fun without the scares, and casts this beloved, iconic theme park in an entirely new light.
---
Senior editor Garrett Martin writes about videogames, comedy, travel, theme parks, wrestling, and anything else that gets in his way. He shares stories and photos from his Disney journeys on Instagram at @garrett_goes_to_disney. He's also on Twitter @grmartin.