Warning: getimagesize(https://www-wp.pastemagazine.com/wp-content/uploads/2022/06/16/rollicking_roadsters_main.jpg): failed to open stream: Connection timed out in /home/prodwp/public_html/wp-content/themes/pastemagazine/single-article.php on line 154

Disney's Imagineers don't always get it right. Luigi's Flying Tires was one of three new rides in Cars Land when the expansion opened in Disney California Adventure in 2012. It was like a cross between bumper cars and air hockey: you sat in an oversized tire that hovered on air, and shifted your weight to try and make it float into other tires. It was a bust from the get-go, with an underwhelming levitation trick and without the speed or impact of bumper cars. The ride was closed less than three years after it opened, an unusually fast admission that it didn't do what it was supposed to do and failed to catch on with the audience.
There are many that no doubt mourn the passing of the Flying Tires—every attraction, even the least significant, has its passionate defenders. I think most people will prefer the new ride that has replaced it in Luigi's Casa Della Tires store, though. Luigi's Rollicking' Roadsters isn't a must-ride marvel like Cars Land's signature Radiator Springs Racers attraction, but it is a charming little detour that'll add a memorable grace note to your day at the park.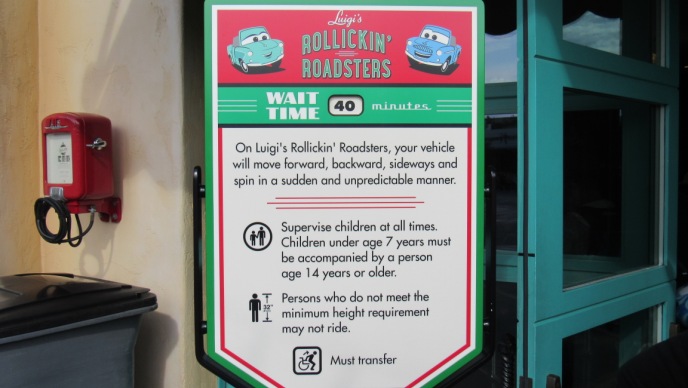 The story behind the Rollicking' Roadsters is that Luigi, the Italian tire salesman from the Cars movies, is hosting a reunion of his cousins from Italy in Radiator Springs. You show up just in time to help them out with a traditional Italian dance. Basically it's an excuse to put a bunch of cute Cars cars in a pen and have them circle around each other like they're doing an intricate wedding dance. There's a lot of sweeping and swaying and a little bit of spinning near the end as your car glides alongside 19 others to traditional Italian music. After about two minutes the cars return to their default position and you beat it through the exit.
Rollicking' Roadsters is an immediate upgrade from Luigi's Tires. Tires failed to do what it promised, whereas Rollicking' Roadsters accomplishes its modest goal. It does so with a ride system that isn't modest, one that brings an impressive technology to an American Disney park for the first time.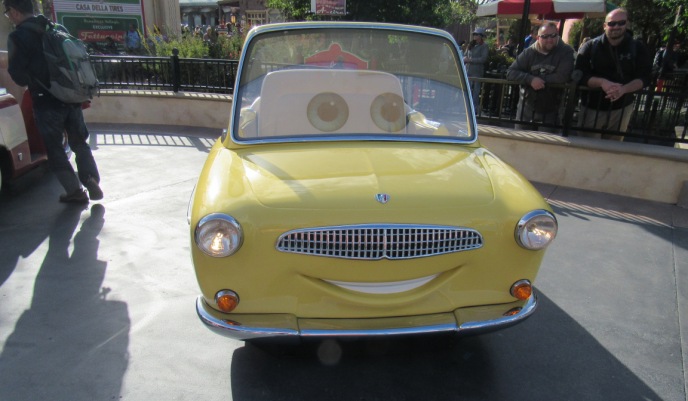 This is the first ride in the US to use the trackless ride system introduced in 2000 with Pooh's Hunny Hunt at Tokyo Disneyland. There are no visible tracks anywhere, so you have no way to know what direction your car is headed or how it'll move. That's crucial to selling the illusion of this being an actual dance by actual self-controlled cars. For American Disney fans who've been hearing about the handful of trackless rides at Disney's Asian theme parks, but had neither the means nor desire to fly to Hong Kong or Tokyo to visit a theme park, this is a first taste of a long-discussed technology that could be the future of family-friendly Disney rides.
Even if the tech wasn't impressive, Rollicking' Roadsters would be a hit because of the details. That's what usually separates Disney rides from the competitors, of course. I'm not a fan of the Cars movies, but Cars Land recreates its world so faithfully and beautifully that I don't even think about how disappointing the movies were. Rollicking' Roadsters fits in perfectly, reusing the preexisting (and incredibly cute) recreation of Casa Della Tires for its queue, with a number of decent jokes laced throughout the scenery to help ease the wait. (It was roughly a 45 minute line when I went late one afternoon in March, about three weeks after the ride opened.) The ride's cars might not appear in the movies, but they all have slightly different appearances that give them each a hint of individuality, with different colors, makes and models. Some even have grills that resemble mustaches. They all have that patented Cars look, with the eyes on the windshields and the mouths in the front. It's all very adorable.
Luigi's Rollicking' Roadsters is a little too short. Unlike Radiator Springs Racers or other Disney E ticket rides, it's not something you should go out of your way to experience. It is beautiful, though, and joyous in a way classic Disney rides should be. And with its new ride system, it's something that adults might find more interesting than similar, more traditional rides like Dumbo the Flying Elephant or the Mad Tea Party. This isn't to belittle the Rollickin' Roadsters. Its joyousness was strong for me—I'm a grown man often accused of being a cynic and yet I found myself clapping along to the music while my car glided across the court. At one point my car slid to the center while the other cars circled around me, a second car joining me for a center stage duet. For a brief moment I felt a strong bond with the woman and child in the car facing me, the three of us united in this unexpected and unique source of joy. The ride was short, and I didn't ride it again, so perhaps that euphoria is a one-time sensation. Even if that's so, all I felt with the Flying Tires was disappointment. Rollicking' Roadsters is definitely a welcome change at Cars Land.
Garrett Martin edits Paste's comedy and games sections. Maybe some day he'll edit its theme park section, too. He's on Twitter @grmartin.