Disneyland's Season of the Force Isn't Star Wars Land, But Is It Enough For Now?
Photos by Garrett Martin
Travel
Features
Disneyland
Also check out our gallery of photos from Disneyland's Star Wars Launch Bay.
You've probably heard about Star Wars Land, the new themed area coming to Disneyland and Disney's Hollywood Studios in Orlando. Like all things Star Wars, it's gotten a ton of press over the last few months, including a heavily hyped prime-time sneak preview during the Disneyland 60th Anniversary special a couple of weeks ago. There's no launch date yet, but it's safe to assume it's well over a year away—construction didn't start on either location until this past January, and meticulously designed immersive environments don't just spring up overnight. It took over a couple of years each for both halves of Universal's Wizarding World of Harry Potter to be built, and if you don't think Disney is going to try to outdo that state-of-the-art theme park, you underestimate how competitive this weird business is. We could already be talking about the next presidential election before we ever get to sit in that Millennium Falcon ride.
To fill the gap between now and then, and to make sure Disney's parks offer some kind of tie-in thrills during this most recent outbreak of Star Wars hype, they've launched an event known as Season of the Force. It's like a Star Wars pop-up shop that's overtaken Disneyland's Tomorrowland since November, smearing a veneer of Star Wars over Disney's longtime sci-fi outpost. (A smaller version is also running at Disney's Hollywood Studios in Orlando.) It's a bit of a band-aid, and diehard Disney traditionalists might resent the intrusion, but it wouldn't make sense to not capitalize on the massive popularity of The Force Awakens, and squeezing it into Tomorrowland, which has long been the home of Star Tours in Disneyland, makes the most sense. It'll get paying customers through the gates, but it might not offer enough of that familiar Star Wars atmosphere to placate anybody but the youngest or most devoted of Force fanatics.
Season of the Force brings a number of minor changes to Tomorrowland, and a handful of big ones. The vaguely futuristic ambient music that typically plays throughout the area has been replaced by John Williams' score from the movies. New scenes based on The Force Awakens have been added to the long-running Star Tours ride, and more Star Wars merchandise than ever before has taken over the gift shops. The big draws, though, are a collection of Star Wars memorabilia in the Tomorrowland Expo Center (the building formerly known as Innoventions) called the Star Wars Launch Bay, and a thematic overlay of the iconic roller coaster Space Mountain known as Hyperspace Mountain.
I recently spent a day at Disneyland checking out Season of the Force. As a Star Wars fan, it's a fun little diversion that offers something new and momentarily exciting. As a Disneyland fan, it feels a bit rushed and half-formed, and disrupts the inherent charm of Tomorrowland. Some vocal Disney devotees are concerned about Star Wars Land being squeezed into the tight confines of Disneyland, but if the only other practical alternative was making this Tomorrowland update a permanent overlay, nobody should be complaining about a shorter river or the loss of a petting zoo. A third park in Anaheim would've been the best plan, especially since both Anaheim parks can be painfully crowded during peak seasons, but that ship has sailed (unlike the ship that regularly sails in Disneyland's Rivers of America, which is dry-docked during Star Wars Land's construction).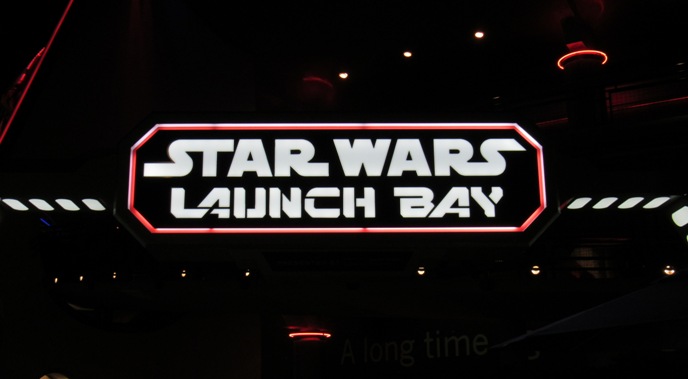 The Star Wars Launch Bay is a glorified gift shop where you can get your photo taken with Kylo Ren or Chewbacca. There's a small exhibit of models and movie props (here's a photo gallery) that offers an up-close look at a number of iconic Star Wars spaceships, and you might notice some interesting little details that you can't necessarily see on the movie screen. After looking at all these toy-sized models you have to exit through an actual gift shop filled with a variety of Star Wars toys. If you were looking for a hundred dollar oversized recreation of Kenner's old Chief Chirpa figure, here's your spot. If you miss the days where you could walk out of a Sharper Image at the mall with a multi-thousand-dollar life-size statue of a character you loved in elementary school, get on down to the Star Wars Launch Bay and snap up those man-sized Stormtroopers. Bring every dollar you ever even thought about making.
I wasn't expecting much from the Launch Bay to begin with, based on all the preview material, and considering the questionable quality of the preexisting Marvel exhibit that still runs on the building's second floor. I was still surprised at how little there is to do in the Launch Bay. Other than the character meet and greets, there's little to interact with. Museums learned long ago that they need to put up various multimedia displays and interactive gewgaws to keep the youth of today interested. You'd think a Star Wars museum in the Happiest Place on Earth would be overloaded with screens and buttons and other things to push and play with. The models are actually pretty cool, and I'm sure kids love getting their photos taken with Chewie and, um, the guy who murdered Han Solo (uh, spoilers) but the whole thing still feels sparse. The Launch Bay underlines how rushed the entire Season of the Force project feels.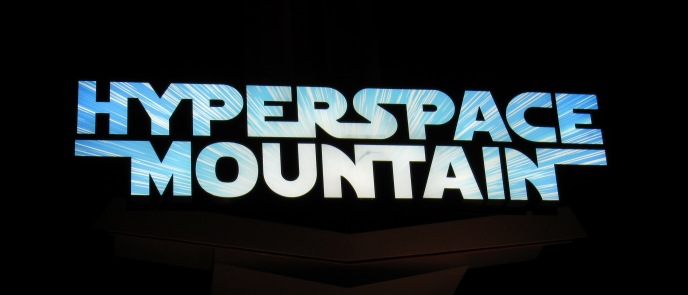 On one level Hyperspace Mountain is more successful than the Launch Bay. It turns Space Mountain, a little ride that I am fond of, into an old-fashioned Star Wars space fight, integrating laser blasts, projections of TIE fighters, and a new soundtrack made up of John Williams music, iconic Star Wars sound effects and "Red Five standing by" style X-wing chatter. It is a fun, fast rumble through a recognizable Star Wars milieu, compounding the already nostalgic retro-futurism of Space Mountain with the deeply ingrained love for a movie franchise that I have known literally for as long as I have memories.
It also can't compare with the real Space Mountain. That's an almost mythic experience, especially the beginning, as your rocket slowly climbs through that tunnel as lights spiral and grandiose sci-fi music washes around you. That moment when you coast from the tunnel into the first decline, when you slip into the darkness of space and the shimmering Theremin music surges into a Daft Punk-style electro chug, when you start to feel that combination of speed, surprise and the unknowable expanse of the cosmos deep inside your very core, might be the most exhilarating moment in the history of amusement parks. It can't be matched by the Star Wars theme and some makeshift TIE fighter graphics.
Even though it's exciting in the moment, I couldn't help but feel deflated by Hyperspace Mountain. It turns a crucial, iconic theme park experience into a fun but forgettable movie reference. If you're a kid who only gets to go to Disneyland once in your childhood, hopefully it's not while this inferior version of Space Mountain is running. Thankfully it's scheduled to be a temporary overlay, although with Star Wars Land still years away it could last for a while.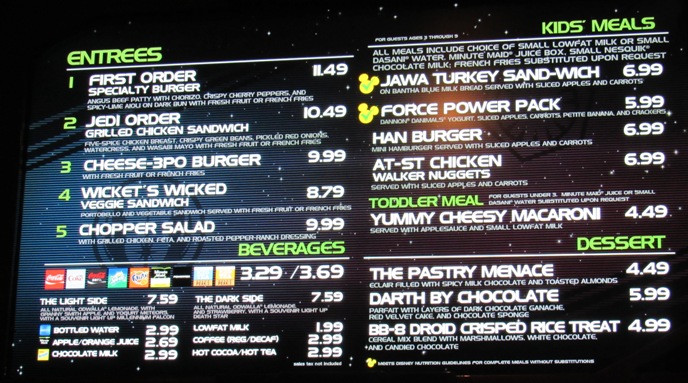 The best thing about Season of the Force, surprisingly, was the food. The Galactic Grill has a new menu full of Star Wars-branded options. It's traditional fare—burgers, chicken fingers, salads—but with names and presentations inspired by Star Wars, and ingredients that are slightly more out-of-the-ordinary than other Disneyland fast-service restaurants. Some items are served in collectible keepsakes, including a box that looks like Han Solo frozen in carbonite and a stein modeled on Chewbacca's head. The entire menu is split between a Light and a Dark Side, in keeping with the marketing for the new movie, which, for some reason, acts like it's no big thing if somebody wants to side with genocidal space fascists. (Maybe these are the people voting for Trump?)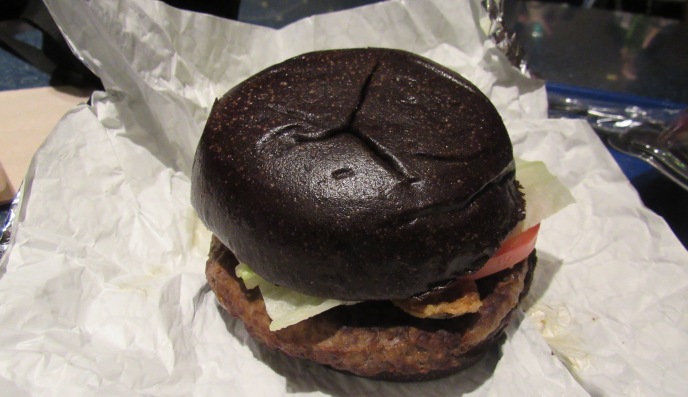 I had the First Order burger, which is an angus beef and chorizo blend with fried cherry peppers, spicy lime aioli and a black bun. It was more like a dark brown bun, looking like the pumpernickel they'd bring you at a steak house, but tasting like a normal traditional hamburger bun. The chorizo and aioli gave it a pleasant kick, and it was definitely a tastier meal than the other fast food options I've tried at Disneyland over the years. I topped it off with the Pastry Menace, an éclair with a spicy chocolate cream center and red and black frosting that vaguely resembled Darth Maul's head. It even had almond chips for Maul's face spikes. The spice of the pudding-like cream cut through the frosting and dough, and by the end it was spicier than the burger. Both were really good, even if they cost a little more than I'd normally spend for a fast food meal.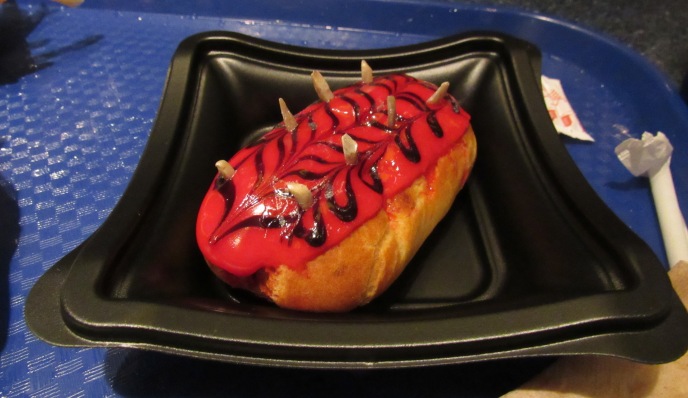 The offerings at the Galactic Grill are a cut above standard theme park food, but they also play into an ongoing debate about what a theme park should aspire to. Many critics deride the kitschy Star Wars-inspired food at Season of the Force, comparing it negatively to the non-illusion-breaking food of Universal's Harry Potter parks. When you eat at a Wizarding World restaurant, you can only order food and drinks that fit the theme. That means no Coca-Cola, no pizza, nothing that would seem out of place in JK Rowling's books or the movie adaptations. Obviously that doesn't happen at the Galactic Grill. Nowhere in Star Wars does Poe Dameron order up a vegetarian sandwich named after an ewok. But then we don't really know what they eat in the Star Wars universe, other than that insta-grow bread Rey makes at the start of The Force Awakens. And outside of the main attractions, Season of the Force in its entirety is only loosely themed around Star Wars—it doesn't look or feel like Star Wars, and at no point will you lose yourself and forget that you're at Tomorrowland. If Star Wars Land opens with the same mix of burgers and pizza you can get at most Disneyland walk-up restaurants, at odds with the immersive atmosphere it will presumably try to create, then maybe there'll be reason to complain. For Season of the Force, though, the goofiness of the Galactic Grill is entirely appropriate, and the quality of the food probably makes it the best thing there.
As an expansion of Star Wars' presence within Disneyland, Season of the Force is a success. There's definitely more Star Wars in Tomorrowland than there was six months ago. It's not a great example of how to design a theme park, though. It feels awkwardly squeezed into this preexisting space, a rushed makeover timed to capitalize on the new movies. Based on concept art, it looks like Star Wars Land will be a far more fully realized world, thoroughly immersing us in the Star Wars galaxy and living up to Disney's legacy for creating carefully managed, real world illusions. Hopefully Season of the Force's lackluster design doesn't diminish excitement for the massive investment that is Star Wars Land.
Garrett Martin edits Paste's games and comedy sections and writes about Disney parks for Paste as often as he can. For reasons he can't fully understand he grows more obsessed with Disney parks every year.