Jet-Set Bohemian: Treat Yourself with these Summer Wine Festivals
Top photo courtesy of Rootstock
Travel
Features
Festivals
A jet-set lifestyle doesn't have to be all private planes and decadent digs. In our Jet-Set Bohemian series, we blend the best of high and low for just the right balance … enticing everyone from backpackers to luxury boutique hotel lovers to come along for the ride.

On one side, a bar is lined with bottles of beautiful, oxblood-colored Burgundy wine. Nearby, a separate bar is dedicated entirely to pouring coupes of crisp bubbly, hailing strictly from the Champagne region. As for cocktails, the mixologists here have mastered the art of blending rare spirits with locally sourced herbs and produce, a skill that is still a hard one to nail down in France. After bartenders pour your drink, grab your glass and shimmy over to the stage, where you can sway to the sounds of France's "bluesiest chanteuse," Nina Attal, or the acoustic guitar of Jim Bauer, the former singer of French band Bristol.
This scene may sound like something you'd find at any summer music festival across the States. There's just one catch: instead of a park, farm or forest, this event is sprouting up inside the walls of Château de Pommard, a historic winery set amongst UNESCO-protected vines in the Clos Marey-Monge vineyard in Burgundy, France.
Château de Pommard is just one of the châteaux, wineries and abbeys across the country that are opening up their doors for more than just tastings this summer, hosting concerts in locations as legendary as the wines being served in them.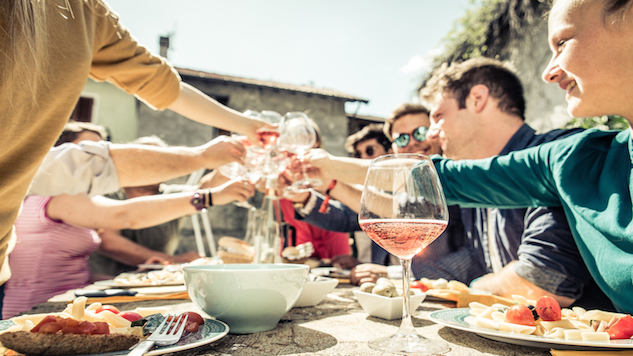 Photo courtesy of Rootstock
For its first musical venture, Rootstock, Château de Pommard decided to dedicate the festival to the release of its limited edition rosé, producing only 1,000 bottles for the occasion. During the two-day event in the center of the Côte-d'Or's largest privately owned Clos, you can sample Rootstock Rosé cuvée, crafted from the vineyard's Pinot Noir grapes. Wine novices need not worry. While the wine-centric festival may seem made for the pros, Château de Pommard's winemaker, Emmanuel Sala, will give you a crash course with a grand tasting of Burgundy wines sourced straight from the estate.
Beer lovers can also get their fix at the festival's "pub," sampling local organic brews from the four-year-old La Bab (brasserie artisanale de Bourgogne), such as the blond Festiv'Ale. And since Burgundy just so happens to be home to the highest number of Michelin-starred chefs than any other region in France, it's no surprise that the Clos' cuisine is far beyond typical festival fare. Pair your vino with a plate whipped up by one of the region's top eateries at the food stalls lining Chefs Alley before catching the next act stepping up on stage.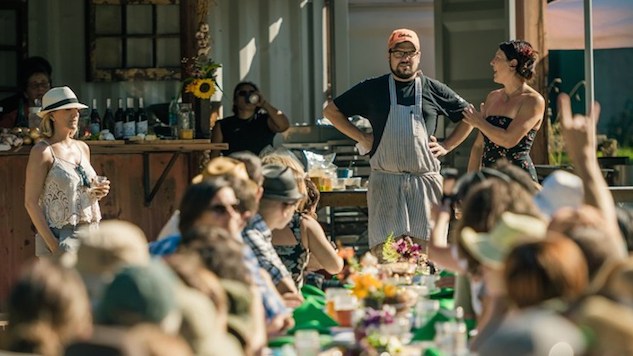 Photo courtesy of Rootstock
While in Burgundy, continue the festival circuit with a stop at the Clos de Vougeot festival, set on a former wine farm built by monks in the 12th century. At this wine fête, now in its 10th year, you'll be able to sample some of the region's best vino while listening to modernized versions of classical music by French and European artists like pianist Jean-Yves Thibaudet, performed alongside soloists from the New York Metropolitan Opera. While the concerts are one highlight of the event, the wine tastings are really the star of the show here. Take a seat for a master class and pairing in the château's ancient cellars (known as one of the top tables d'hôte, or prix-fixe meals, in the country), sampling wines from some of the most gorgeous vineyards in the region. A highlight from this year's picks: the 11th century Domaine du Château de Meursault, one of the rare wineries in Burgundy to boast the name of a château on its bottle.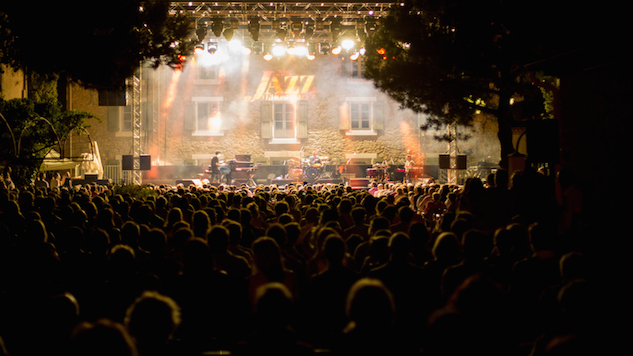 Photo courtesy of Jazz à l'Hospitalet
The "prince of Languedoc," winemaker Gérard Bertrand, took part in his first harvest when he was just 10 years old. Now Bertrand works with 13 wineries throughout the Languedoc-Roussillon wine region in the South of France, which recently merged with Midi-Pyrénées to form a new region dubbed Occitanie, where the city of Toulouse serves as capital. This month marks the 14th year Bertrand and his team will host their festival, Jazz à l'Hospitalet in Narbonne. Taking place at the winery and on La Clape hill, the festival will feature performances by French favorites like soul singer Ben L'Oncle Soul, as well as internationally known names like George Benson and Norah Jones. Evenings start in typical French fashion, with an apéritif and dinner served in the château's garden, paired with wines à la Gérard Bertrand. After the concert, the party really kicks off as the crowd moves over to the patio, which transforms into La Cave à Jazz lounge bar come midnight.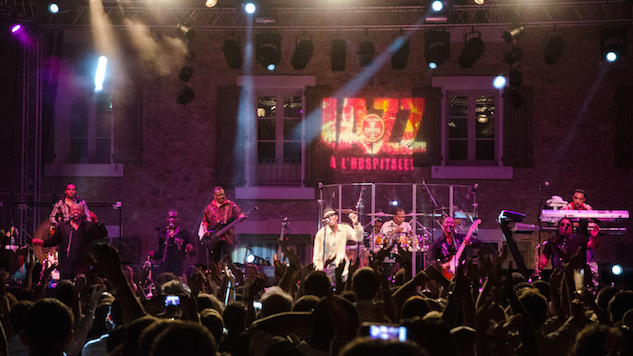 Photo courtesy of Jazz à l'Hospitalet
From now through August 26, Occitanie will also play host to the annual Festival Abbeys, launched in 2011 by trumpeter Bernard Soustrot. A series of 12 concerts will pop up across the region everywhere from the 12th century Fontfroide Abbey, a former Cistercian monastery, to the Château Royal de Collioure, a gothic military-style castle built on Roman foundations near the Spanish border. Sip on wines from France's largest wine-producing region while being serenading by the 12-person Orchestre de Chambre Occitania at a concert within the walls of some of Occitanie's most historic buildings. Leave your cut-off denim shorts and crop tops at home. This is one festival you'll actually want to dress up for.
---
Lane Nieset is Paste's Jet-Set Bohemian columnist and a freelance writer covering all things travel from her home base in Nice, France.