With its pristine pink façade and perfectly manicured gardens, this 110-year-old hotel doesn't look a day over 20. However, it's personality screams old school. It's kind of like your really cool grandma.
While Cape Town overflows with youth, recklessness and blurred lines, the Belmond Mount Nelson Hotel offers a sophisticated and old-fashioned experience, without sacrificing style. You'll never forget where you are, though, thanks to Table Mountain, which makes its way into the view from pretty much anywhere on the property.
First Impressions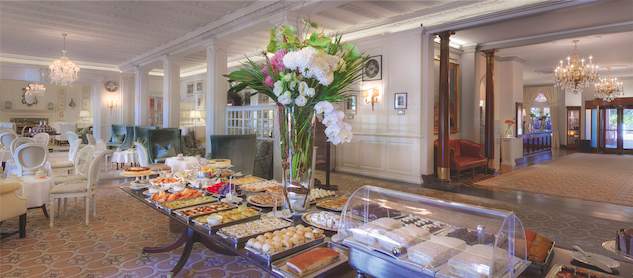 As you drive through the columned archway and onto the property, you'll think you're in Rome. That is, however, until you get closer to the bright pink structure with white painted windows and covered balconies, which have you wondering if you made a wrong turn and ended up on a Charleston plantation. The blush building is only a few stories high but its various wings are spread out over nine-acres of lush garden, enhancing the Southern feel. As you drive down the palm-lined avenue, walk past the bright flower arrangements and into the lobby, the Southern charm follows you. In the white painted lobby, which spans a large part of the first floor, long wooden reception desks lead to a larger room with patterned wingback chairs, floor to ceiling windows covered with sheer curtains, chandeliers, fireplaces and columns. If you look up, you'll notice the ornately carved crown molding and panels that line the ceiling. The long table in the center of the space is where the hotel hosts high noon tea.
The grand staircase or old-timey elevator will take you to one of the 198 rooms.
The Room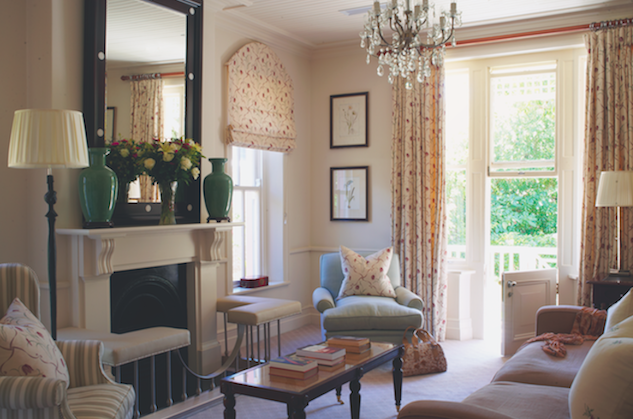 There are two types of standard rooms and eight types of suites, and I guarantee that no two rooms are the same. I figured that out as I peeked into each of my fellow travelers' rooms—all the same level—to see who had the biggest chandelier. What they all have in common is the grandiose vibe, and if you're anything like me, their beauty will bring you to tears. Carved mirrors framed by crystal sconces line the walls, chandeliers ranging in size dangle above, framed TV screens are built into the walls and floor to ceiling windows open up to views of the gardens, pool, and Table Mountain. The suites come with rich wood furnishing, balconies, crown molding, and knick knacks like small dog statues. If you're really special (slash rich), you get a canopied bed and multiple fireplaces. All of the bathrooms feature marble, a Jacuzzi tub and a glass-enclosed shower. No wonder people like the Dalai Lama and Leonardo DiCaprio choose to stay here.
What Pops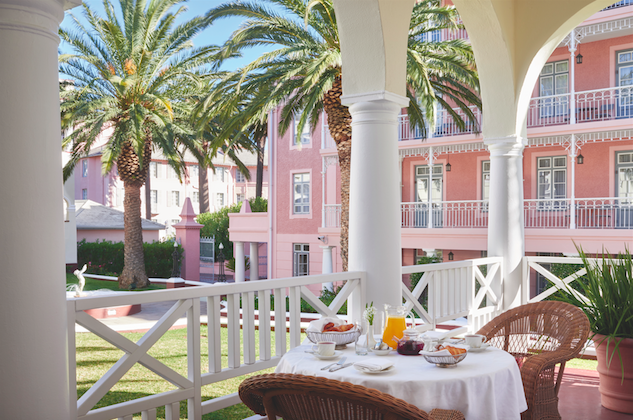 Photo by Mark Williams
Whether it's intentional or not, the Belmond Mount Nelson Hotel mixes many different cultures. As mentioned, you can find Italian and Southern influences throughout the property. Then, the hotel's afternoon tea conjures thoughts of South Africa's complex relationship with Britain and the Oasis Bistro brings you to the sea with its Mediterranean-inspired menu. Cape Town is well represented by the on-site boutique, which sells Zulu beadwork and hand stitched embroidery, the lobby's pop-up galleries for local artists and the garden filled with unique locally-crafted sculptures. You'll never forget the cross-cultural experience this South African hotel provides. Or its pink façade.
The Locale
The hotel rests at the foot of Table Mountain, creating memorable views. It is also on the edge of downtown Cape Town. Kloof and Long Streets, known for their lively markets, restaurants and bars, are within walking distance. Other than that, this massive estate plopped into a somewhat dull area seems out of place. There is nothing to do directly outside of the hotel's Romanesque entrance, which isn't really an issue because on-site you can find two pools tucked into the peaceful gardens and an out of this world galaxy-themed restaurant (corny pun intended). The hotel's shuttle service provides transportation to other sites, like the waterfront.
Maggie Parker is Paste Magazine's assistant travel editor.