Hotel Intel: History Revived at Pestana Vintage Porto, Portugal
Photos courtesy of Preferred Hotels & Resorts
Travel
Features
hotels
If you Google Porto and look at the images, you'll see the Pestana Vintage Porto a lot. That's because this recently refurbished hotel is in the group of 18 buildings that has been named a UNESCO World Heritage Site in Porto's historic Ribeira district.
Pestana Vintage Porto, a member of Preferred Hotels & Resorts' Lifestyle Collection, is impeccably placed on the river amid the colorful old buildings for which this area is known. In other words … it's picture perfect. We know—it's corny. But it's true.
This is the type of accommodation you walk up to and get giddy about because it looks "authentic;" the kind of place that could have housed Porto residents. And it did. Parts of the hotel date back to the 16th century. The proof is in the building's bones as the city's medieval wall forms part of the hotel's base.
It's the kind of place you pictured yourself in when planning this trip—with French doors leading to balconies you could stand on in the morning watching the fishermen come in. The kind of place you pat yourself on the back for finding because it has Portuguese character you can't find in those bland, boxy chain hotels.
First Impressions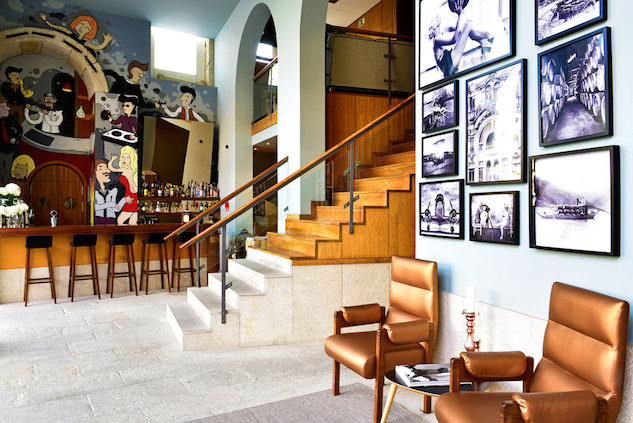 The historic cobblestoned street that leads to Pestana Vintage Porto is only accessible to authorized vehicles. So, plan on walking downhill two blocks. But, it's all uphill from here.
Besides the subtle metal sign that reads, "Pestana Porto Hotel" above balcony doors, the building blends in with the rest in this square. Not literally though, as a handful of the structures on this block are brightly colored, including this one, which is awash in a rich mustard yellow. Like other buildings in this UNESCO World Heritage Site, this one is only a few floors (six to be exact) and has a dramatic three-arched portico, wrought iron balconies and a blend of stone and bright paint making up the façade.
Like all the buildings on this busy block leading to the Douro River, walking in requires a zigzag through a crowd of cafe tables outside the entrance.
Once you make it to the doors, you are immediately hit with Pestana's effort to find equilibrium between modern and vintage. Just past the stone façade are glass doors within the arches that lead you to the lobby. Here, the balance starts to level out. The stone floors are bare save for a few matching rugs, and the walls are either painted with elaborate characters (over the bar to your left) or covered with old photographs.
Some of the walls encasing this small space are covered in fresh coats of gray paint, while others are simply exposed cement. The furnishings are a blend of sleek simple couches and old suitcases that serve as side tables.
Walk through another archway to find reception. Here, a cork covered counter (you are in Portugal, after all) sits in front of a cozy nook of suitcases and mod furniture against a wood paneled wall under a low ceiling. If the hotel had a 1970s basement, this would be it. After checking in, find your way to the elevator, or walk back toward the front of the hotel and up the wooden stairs to your own sanctuary of old meets new.
The Rooms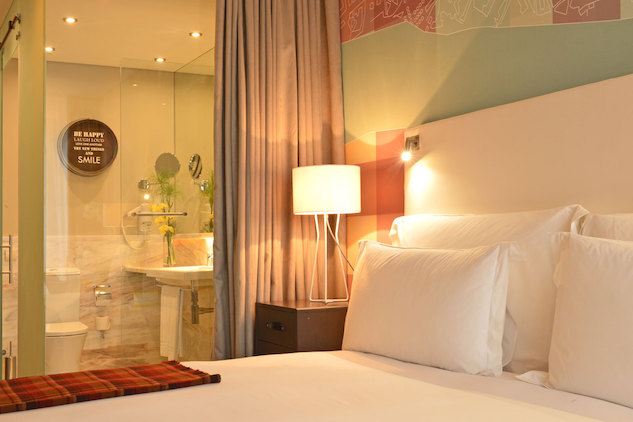 The Pestana Vintage Porto is more than just the yellow building. It extends through a few of the other ones behind it via glass encased walkway, giving this boutique accommodation a much larger span than anticipated. So, to get to your room, you'll likely have to take two elevators.
The hallways blend gray and wood, matching the lobby but in a much tamer way. The only excess is the soothing scent of incense. But the rooms are the complete opposite. Since these were formerly residential buildings, the 109 rooms are of different sizes and orientations, making them completely unpredictable.
As soon as you open the door, your eyes will immediately dart to the wall behind the bed. Each room has a wild accent wall—it could be a massive line map of Porto; a mosaic of photographs; or, at the very least, stripes. In some rooms, this wall is behind the bathtub. Wherever it is, we can guarantee that it's eye grabbing and sets the tone for the stay: memorable. Your digs will likely be outfitted in bright colors, from turquoise ottomans to red carpeting. Somehow, it's never too much; instead, it brings out the colors of the accent wall.
Some of the rooms have antique details like exposed brick and pillars. Sixty percent of them feature river views, and some have their own balconies, so you can live out your European fantasies over espresso every morning.
And you haven't even seen the most impressive part yet. That would be the all glass bathroom. Yes, that means it's completely clear. Everything is exposed, from the tub to the toilet to the bidet to you. For those who aren't feeling so free, there's a curtain that provides some sanctity. But watching the sun set from that tub is worth opening up for.
What Pops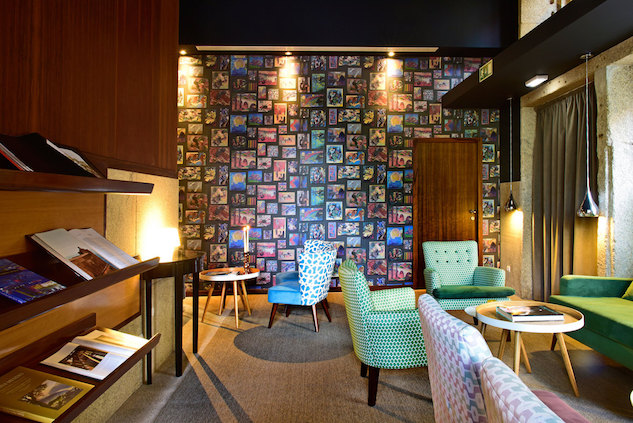 It depends on what you're into. If you like a luxurious yet unique bathroom, you'll find yourself spending a lot of time in these marble loos—and not because you ate something bad. If you like a quiet couch with plenty to look at, you'll be drawn to the hotel's cave-like nooks and crannies with Instagram-style photos posted on the walls, fresh flowers, books and lobby views. If all you care about is a scene, you'll be glued to your windows admiring the wineries or idling in the outdoor cafe/restaurant while buskers get comfortable in the square and tourists envy your front and center accommodations.
For us, it's their effort to pop while paying homage to historic Porto—old photographs arranged on the wall in a unique and contemporary way; cartoonish characters painted over the building's original arches; and the unique use of cork, one of Portugal's famed exports, as décor.
It's actually a perfect representation of what "vintage" has become—taking antique items and making them fit in today's world.
Locale
As you walk through Porto, the city sort of comes to life by getting more ancient as you walk down toward the river. If you want a taste of old Porto but need the comforts of modern tourism, park yourself in Praça da Ribeira. You won't really need to leave the square to find exciting sights and good food—try the hotel's Rib Beef & Wine for a high end dinner with one of the best views of the river—but we encourage venturing off the beaten square. You won't have to walk far to discover the heart and soul of Porto.
And at the end of the night, privilege awaits a cobblestone's throw away.
Website: Pestana Vintage Porto
Address: Praça da Ribeira, 1
Room Rates: From $169
---
Maggie Parker is Paste Magazine's assistant travel editor.