From in-house collections of art to rooms designed by artists, these seven hotels are perfect for artists and art lovers alike. Whether you deem yourself an artist or just appreciate a good Picasso and Pollock, you will surely be inspire by a night sleeping among Pantone color swatches, world-renowned works of contemporary art and up-and-coming street artists.
1. Gladstone Hotel
Toronto, Ontario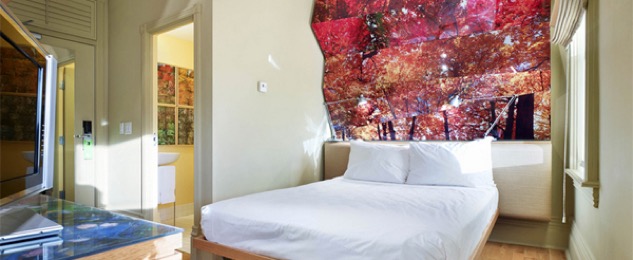 Photo via Gladstone Hotel
This swanky boutique hotel commissioned local Canadian artists to use its 37 rooms as their canvas. The end result is an array of rooms, from elegant to downright experimental, that reflect each artist's vision. Beyond the rooms, guests at Gladstone Hotel will truly feel like they're sleeping in a gallery. The hotel hosts an ever-changing program of exhibits featuring artists, designers, musicians and more.
2. The Ritz-Carlton, Millenia Singapore
Singapore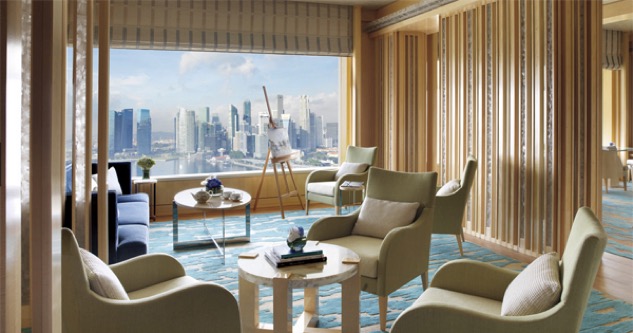 Photo via The Ritz-Carlton, Millenia Singapore
The Ritz-Carlton, Millenia Singapore houses 4,200 works of contemporary art in a five-star hotel designed by renowned architect Kevin Roche. Featured artists include David Hockney, Andy Warhol, as well as Dale Chihuly. The hotel sits along Marina Bay, making it a short walk to the ArtScience Museum. If you feel like channeling your inner artist, the hotel's private Drawing Room (pictured) in the 32-floor Club Lounge includes an easel, paper, pencils and views of Singapore's skyline for inspiration.
3. Hilton Anatole Hotel
Dallas, Texas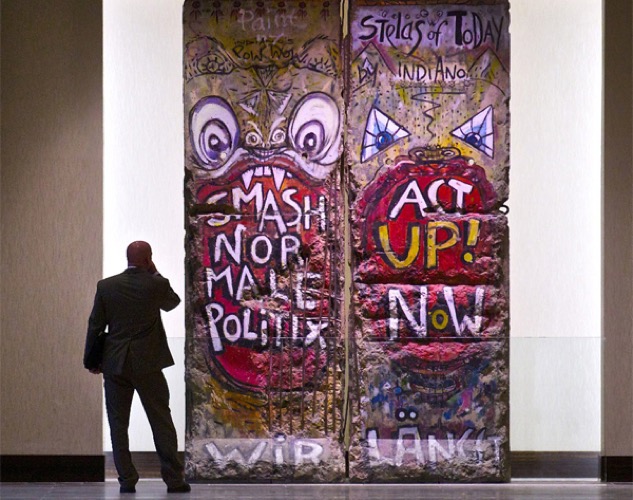 Photo via Hilton Anatole Hotel
The Hilton Anatole Hotel in Dallas is home to the largest hotel collection of art and antiques in the country. Walk the art-filled halls and lobby of this hotel and you'll feel more like you've managed to book an overnight at the Dallas Museum of Art than a Hilton. Among the collection you'll find a 12-foot section of the Berlin Wall painted by Jurgen Grosse (pictured). The hotel also offers a variety of programs and tours to encourage guests to experience the art, including a one-mile art walk.
4. 21c Museum Hotel
Louisville, Kentucky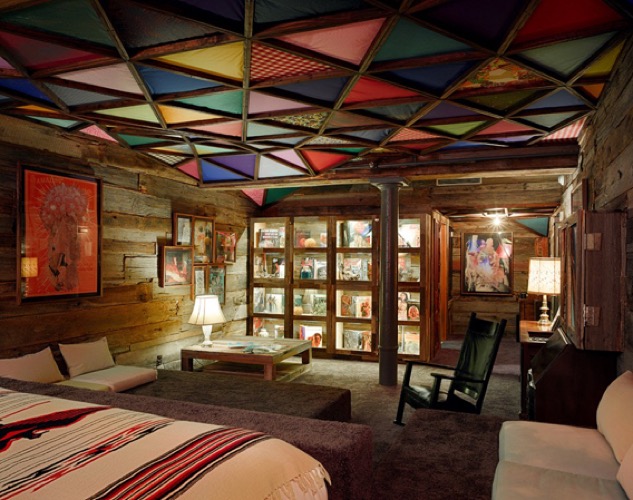 Photo via 21c Museum Hotel
Located in museum row and housed in a series of converted tobacco and bourbon warehouses, this art museum and boutique hotel features 91 rooms and an award-winning restaurant. 21c Museum Hotel is occupied by a rookery of resident red penguin sculptures and an assortment of "artfully design" rooms that either include original art or are works of art themselves, like the Asleep in the Cyclone room (pictured) featuring a sculptural installation by Jonah Freeman and Justin Lowe. 21c Hotels also has locations in Cincinnati, Durham and Bentonville.
5. Pantone Hotel
Brussels, Belgium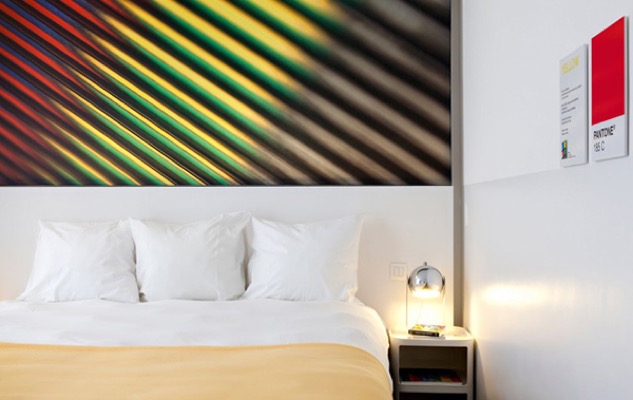 Photo via Pantone Hotel
Graphic designers, interior designers and the like will feel right at home (or at work) at the Pantone Hotel in Brussels, Belgium. As the name suggests, the entire boutique hotel is themed around Pantone, the famous color matching system. This 59-room hotel is bursting with color across each of its seven floors right down to the over-sized Pantone swatches that hang on the walls. If you plan on exploring the other artsy offerings in Brussels you can borrow one of the hotel's Pantone-themed cruise bikes to get you there.
6. Hotel Des Arts
San Francisco, California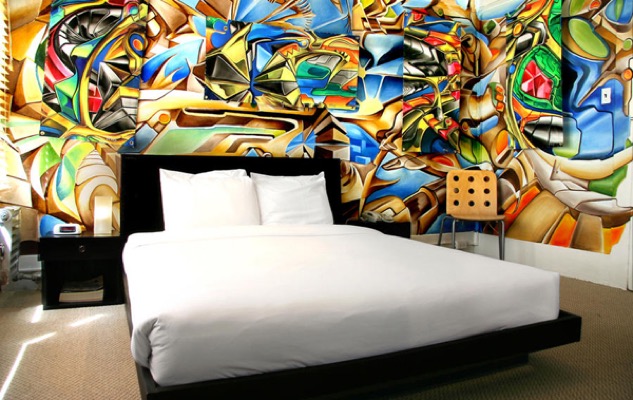 Photo via Hotel des Arts
Hotel Des Arts in San Francisco's French Quarter doesn't just feature art, it is art. The boutique hotel features the work of emerging artists from around the world all over the walls. Each of the 51 rooms, as well as the hallways, display "edgy graffiti-inspired works of art" around every corner. The hotel is also conveniently located near art galleries and museums for a well-rounded view on the vibrant San Francisco (and global) art scene.
7. Hotel Crayon
Paris, France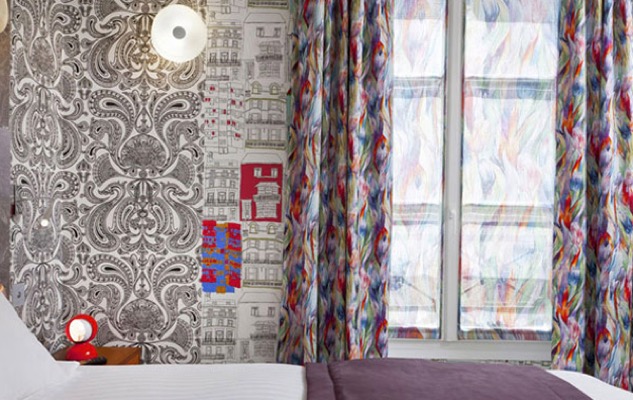 Photo via Hotel Crayon
Named after the favorite tool of coloring book artists and kindergartners, Hotel Crayon is an art-themed accommodation not far from the Louvre. The vibrant hotel was designed and decorated by artist Julie Gauthron, who even enlisted her daughter to help complete the coloring book-inspired wallpaper in one of the rooms.
?Top Photo: 21c Museum Hotel
Paste Travel's Bucket List columnist Lauren Kilberg is a Chicago-based freelance writer. Her travels have found her camping near the Pakistani border of India and conquering volcanoes in the Philippines.