What was once a city known only for its alluring coastline, palm tree lined boulevards and Hollywood has been taken over by culinary artists on a mission to unravel and take full advantage of its hodgepodge of cultures. Los Angeles' year-round sunshine and beach-worthy weather may yield the best ingredients, but it's the city's medley of multifaceted, multicultural neighborhoods that has really inspired its now thriving food scene. And it goes beyond authentic, non Tex-Mex Mexican cuisine.
Start at a Korean-Mexican rice bowl joint for a hearty helping of Asian comfort food, and eat your way through some of LA's best ethnic food spots with this guide.
1. Night + Market Song
This busy spot (pictured above), which has a sister restaurant in West Hollywood, is one of LA's top Thai restaurants for good reason. Scratch that. It's one of LA's top restaurants, period. It even has Jonathan Gold's seal of approval. Even the fun and vibrant décor cannot distract you from Night + Market Song's delectable take on traditional Northern Thai street food. And it's all thanks to chef Kris Yenbamroong, a Los Angeles native who, if you can believe it, has zero formal training in the culinary arts.
Crowd favorites include the Pork Toro served with Jaew dipping sauce, the spicy Moo Sadoong or Startled Pig, the Fried Chicken Sandwich topped with papaya and jalapeno, and the Crispy Rice Salad with Soured Pork. Those are more than enough for a small group. If you've still got space, however, don't miss out on their Sticky Rice, one of the Hot Pot Soups and the addicting Crab Fried Rice, as well.
2. Chego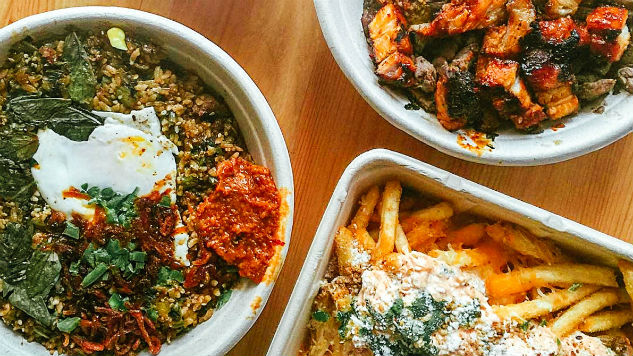 Kogi Korean BBQ taco truck creator Roy Choi has a knack for concocting home-style fares that are perfect for rainy weather and Friday nights in. Luckily, he brought that talent with him when he started Chego back in 2010. It was to be his very first brick and mortar restaurant.
Today, the Korean-Mexican rice bowl spot, which has two main locations in both the east and west sides, is practically a local legend to those in the know. The downtown LA restaurant might feel a bit cramped, but there are a couple of long tables just outside and the bowls are best eaten at home anyway when you're wearing your stretchy pants. Have them whip you up a heaping serving of Chubby Pork Belly (with extra pork belly), The Beefy T or Sour Cream Hen House. And do get those highly addictive, beer battered, sour cream sambal smothered Ooey Gooey Fries. Better yet, order everything on the menu that looks good to you. It's all worth it.
3. Guelaguetza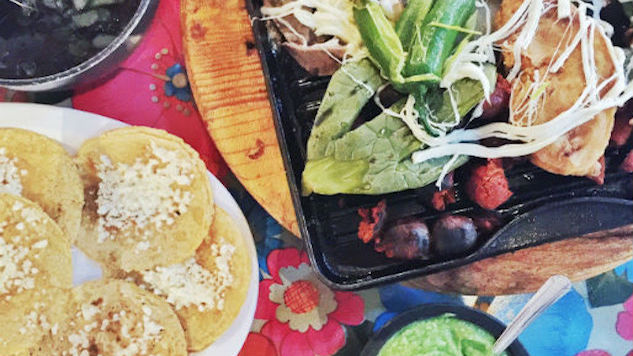 One of the best things about living in Los Angeles is you won't have to cross the border to feast on authentic Mexican dishes. And we're not just talking about traditional street or Baja style tacos. A proper sit down dinner at Guelaguetza is definitely warranted when you're in town. Located in the city's Koreatown, ironically enough, this joint is all about the Oaxacan culture, from its dishes down to its décor.
The Oaxacan meat plates are things of beauty. The family-style Botana Oaxaqueña is good for sampling an assortment without overindulging; it consists of grilled tasajo, chorizo, memelas, carnitas and cecina topped with Oaxacan cheese and cacti, and served with black beans, guacamole and tortilla. The tlayudas and the moles are must-samples as well. Top your meal off with blended margaritas, and yummy fried plantains drizzled with cream and walnuts for dessert as you are serenaded with live Mexican music.
4. Cowboys and Turbans
Los Angeles has many amazing Indian restaurants, but Cowboys and Turbans boasts the aesthetic and atmosphere to match their delicious Indian dishes. Unlike your usual awkward and dimly lit Indian restaurant, this popular spot along Sunset Boulevard in LA's hip Silverlake neighborhood is set in an outdoor space adorned with lanterns, strung lights, a fire pit and upright pianos upcycled as booths.
Cowboys and Turban's dishes are no less impressive. Served in traditional balti bowls that look deceptively small, their entrees are rich, thick and tasty. For starters, get the Masala Fries with Cheese. The Chicken Tikka Masala is, of course, obligatory, as are the Saag Paneer, Garlic Parmesan Naan and the Mexican-inspired Bombay Jumbo Burritos. If you go early enough, you might just get a chance to sample their Murgh Maharaja Chicken, which they only make six of each day. Best of all, it's a fair wage restaurant so tipping is not necessary.
5. Shin Sen Gumi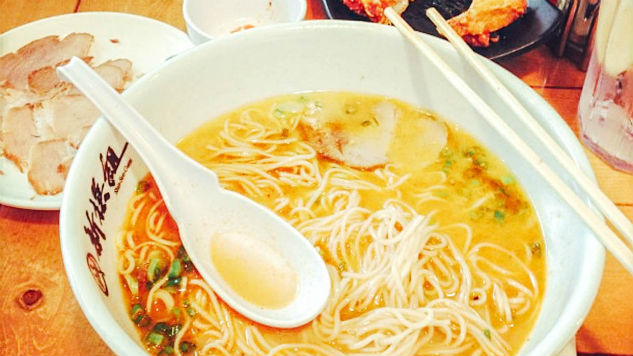 Ramen is huge in Los Angeles, so huge, in fact, that there are at least two ramen rows in town. The one in Little Tokyo is home to a couple of LA's most popular noodle spots, including Daikokuya and Shin Sen Gumi. The latter, which has a number of locations all over the city, often has lines out the door.
This ramen restaurant's specialty is the build-your-own Hakata-style ramen, a specific type of ramen with milky, pork-based tonkotsu broth and thin noodles. Patrons get to pick and choose their toppings from a menu that has everything from spicy miso, chashu pork and flavored egg to kimchi, crispy pig ear and cod roe. Get the big bowl because you're going to want extra noodles, as well as Gyoza on the side. They have other amazing items on offer like Deep Fried Takoyaki, Curry Rice Bowls and Spring Rolls. With a menu like that, expect a bit of wait.
Michelle Rae of Another Spur on the Road is a Los Angeles-based writer, photographer and traveler with a bad case of wanderlust.