With a population of over 15,000, the island of Pico is the second largest in the Azores archipelago.
Visitors would be remiss to think all the islands that make up what's been called Europe's Hawaii are identical to one another. Certainly, they may mirror one another in natural beauty, but Pico's geological traits make it great for adventure and outdoor activities.
Also referred to as Ilha Preta (Black Island), the island has a dark surface due to the Pico Volcano, which erupted numerous times up until 1718. The volcano now lies dormant but Pico Island remains one of the more dynamic islands and requires rapt attention.
1. Vineyards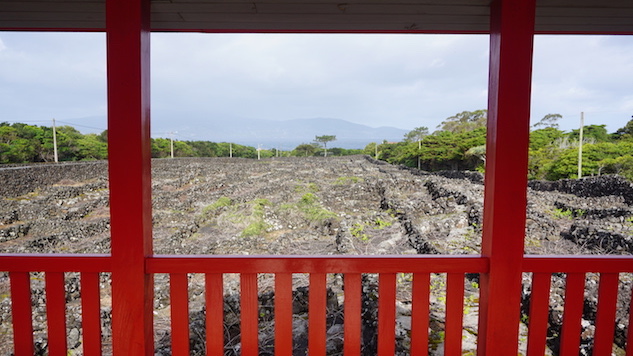 Photo by Tiffany Leigh
The vineyards on Pico are old souls; the origins of Pico's viticulture date back to the 15th century.
It is a breathtaking man-made landscape of stone walls laid out in grid formation running inland from, and parallel to, the rocky shore. This uniquely organized pattern for all the vine plots was to protect the Verdelho Pico grapes from the harsh winds and seawater.
Go ahead and taste a few wines; the grapes have amazing depth of flavor from the terroir—the volcanic soil makes for vino with lush minerality.
2. Mount Pico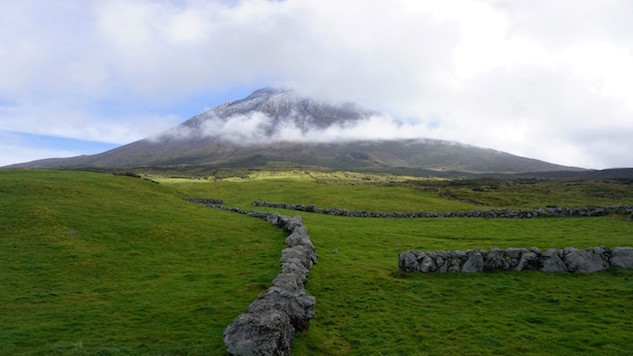 Photo by Tiffany Leigh
Classified as a Stratovolcano, Mount Pico is the highest mountain of Portugal, situated 7,713 feet above sea level.
Volcanic eruptions have occurred numerous times: once in the 1560s and again in 1718. As a result, there is a pit crater travelers can visit on Mount Pico's summit called Pico Alto; it has a diameter of 1,600 feet and is 100 feet deep. Visitors can also hike the trails and ascend to the summit, if they're up for it.
For the first 5,000 feet or so, the mountain is covered in thick foliage. From that point on, the forest gives way to shrubbery for another 1,500 feet. The cap is comprised of lava rock.
Spring and fall are the most ideal seasons to make the climb, weather wise. It can be treacherous in the winter months due to snow and harsh winds.
The climb is well worth the effort, as breathtaking views of Pico and neighboring islands await at the top.
3. Gruta das Torres
OK, not entirely outdoors, but it's got the same natural feel.
Gruta das Torres, also known as the Underground Lava Tube, is a series of caves located on the western side of Pico in the town of Madalena. Visitors get to walk through interconnected lava tubes that were formed from a series of lava flows about 500-15,000 years ago. The diameter of the tubes ranges between two and 72 feet, and the cave's height is between four and 49 feet, with elevations as high as 980 feet. The lava cave is over 3.2 miles in length.
While donning construction hats with light beams and a sturdy pair of shoes, guides take guests underground to walk through the pitch-black lava tubes. Visitors have an opportunity to explore and learn about the geology and history of the tunnels while getting in a good walk.
4. Whale Watching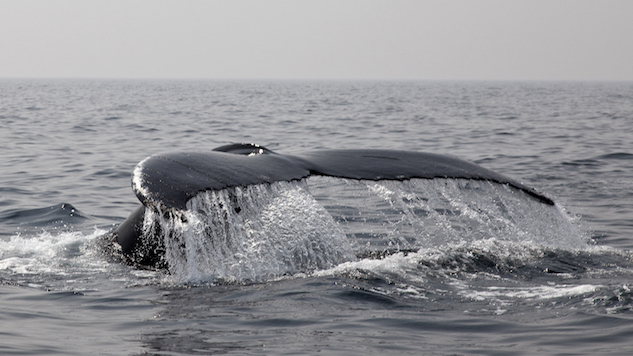 Photo by Hans van Klinken courtesy of azoresphotos.visitazores.com
Pico residents once actively hunted sperm whales and used the blubber and bones as raw material for producing goods such as animal food, oil, fertilizer, teeth and ambergris (for perfume). In 1986, the inhumane industry was permanently shut down. Ten years later, a public museum opened to show the machinery and equipment used to hunt and "process" whales.
Today, Pico hosts a thriving whale watching industry that is an ecologically sustainable business; the end goal is to actively participate in the study and protection of these creatures. Due to Pico's geographical location, visitors can encounter 20 species of cetaceans (whales, dolphins and porpoises) swimming through their migratory routes. Visibility rate of success is at 98 percent.
For the best chance to see these majestic creatures, visit between March and October.
5. Diving with the Sharks
If whale watching is too tame, get up close and personal with sharks during a daring diving experience.
The waters surrounding Pico Island receive nutrients from the Gulf Stream creating a rich and varied habitat. Mobulas, blue sharks and shortfin mako sharks come to a diving spot called Princess Alice, about 50 miles off Pico Island, to feed on the large amount of fish that feeds on food that ascends from the depths of this part of the Atlantic Ocean.
During this expedition, professional underwater guides teach guests about these misunderstood animals.
Shark expeditions last between five and six hours.
Tiffany Leigh is a food, drink, and travel writer. She is a James Beard Foundation Scholarship Recipient and always travels with her companions #PinchietheLobster and #PJthelobster.