South Korea is adept at finding reasons to celebrate. Their selection of festivals ranges from the freezing—the Hwacheon Ice Festival—to the entomological—the Muju Firefly Festival—to the fiery—the Goesan Red Pepper Festival—to the insane—the Cheongdo Bullfighting Festival. Every weekend, you can find a mass celebration somewhere in the country.
But when it comes to international attendance, spending, and debauchery, none rival the Boryeong Mud Festival. According to the Korea Tourism Organization, it is the Boryeong Mud Festival—or Mudfest, as its colloquially called—that brings in more foreign bodies to the country than any other event.
In a yearly July migration that could rival Chinese New Year, thousands of Korea residents migrate to Boryeong, on the west coast of the peninsula, to attend Mudfest, which occurs mainly along the clear waters of Boryeong's Daecheon Beach. More fly in from neighboring countries, and tourists from as far off as Europe and America plan their visits to Korea around it. Normally a quiet and placid beachside town, Boryeong is transformed into Northeast Asia's premiere shit show one weekend a year.
It didn't begin this way. The festival was created in 1999 to promote cosmetics made from Boryeong mud. According to the organizers, Boryeong mud is high in minerals—particularly germanium and bentonite—and it radiates infrared rays, which are great for the skin.
But it wasn't long before the marketing of mudpacks took second place to the enormous party that occurs in tandem on the beach.
What to Expect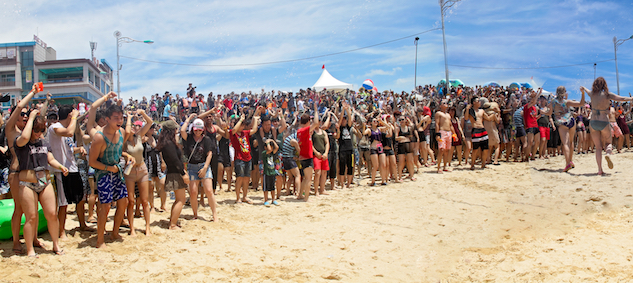 It begins in the morning, when busloads of tourists arrive and head straight to the beach, which will be prepped full of mud (much of it trucked in). Separate sections—some with admission fees, some without—are set up and filled with mud slides, mud pits, a mud prison, giant mud baths, a children's area, mud fountains, and a mud swimming pool. The point is to get as muddy as possible, so that by the end, everyone looks like an extra in a monster movie.
Moon Sunyoung is a tour guide who took two busloads of foreigners to Mudfest in 2013 and 2014. "Getting muddy in a bikini isn't something you get to do every day," she says. "You get soaked with mud, jump into the ocean, get muddy again, get your friends muddy, get strangers muddy, and drink a lot of beer."
Like it is in Korean daily living, drinking is a big part of Mudfest, even though city officials prefer it weren't. "Many people drink a lot 'til the morning," says Haillie Lee, an official at Boryeong City Hall. "We don't want them to drink on the beach; and they leave their trash—some even throw bottles on the street. It is very dangerous."
Haillie says trouble has happened in the past, but she refused to be specific. Probably because, as she says, the festival and its spin-offs also bring in over $40 million a year and create plenty of jobs. So it's worth it for them to keep it going, despite the mess it leaves behind.
Expat Allison Lee (no relation to Haillie), from Portland, Oregon had a typical experience when she went to Mudfest with Moon.
"Getting on a bus at 7 a.m. hungover with a beer in one hand and a Hot Six (a local energy drink) and soju-filled water gun in the other, I was pumped to get out and play on the beach," she says. "We all were between buzzed and stumbling by the time we made it to Boryeong."
Some of Allison's fondest memories from her years in Korea are from Mudfest. "Covering yourself in mud and drinking on the beach with thousands of randoms was fun, but more importantly, the fest was also where I cemented some of my friendships that first year," she says.
Sarah McCabe of Calgary also went in 2014, and is loath to describe it as any sort of "well-being" experience, no matter how medicinal the mud. "It was a drunk fest, with mud as a playful catalyst for shenanigans and debauchery," she says.
It's not only foreigners who show up, in fact, there are probably more Koreans at the event. But once everyone is covered in mud, it's hard to tell who is who until you start a conversation.
It's tempting to dismiss Mudfest as an idiotic frat party, a Cancun on the Yellow Sea. But virtually no one who goes ever speaks badly of it.
Heather Goldring, of Burlington, Ontario, went in 2013. She lost her backpack on the train there, and her phone and wallet in the tide. "But I had booze and friends, so it was all good," she says. "After going swimming to wash off we came across a stage with a DJ spraying water and danced. It was awesome."
While most of the activities occur during the day, there is plenty to do at night including concerts and Korean barbecue. And, of course, more drinking on the beach and at the marts (convenience stores that set up tables and chairs outside for people to drink at). By nightfall, Heather had seen almost every foreigner she'd met, "all outside drinking and wandering from mart to mart to the beach."
Heather stayed in a random motel, and woke feeling hungover with joy. "That was probably one of the best days I had in Korea," she says. "I lost my phone, bag, inhibitions—and it was awesome. I never went back to Mudfest because I didn't think anything could top that."
How to Plan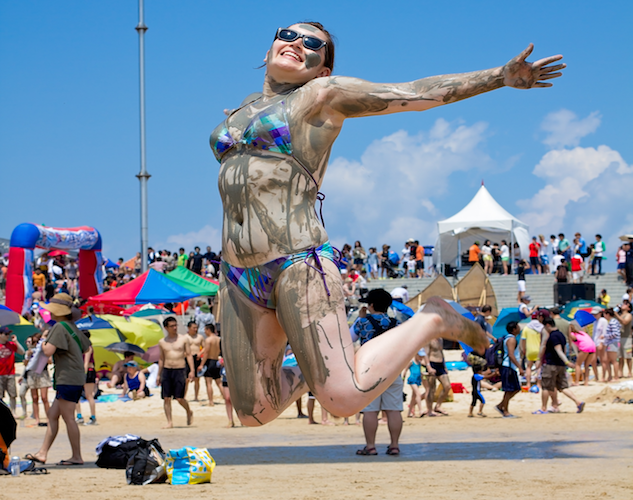 This year, Mudfest will run from July 15 to 24, but to get the full madness, schedule your visit over one of the weekends (if not both, but that might be a bit too much mud).
There are events all over Daecheon Beach and downtown Boryeong. Some are free, but the best ones will cost you.. You can purchase one pass to get into all these ticketed events; passes are just under $9 (10,000 won) for adults during the week, and $10 on the weekend, with discounts for children, seniors, and large groups. You can buy them at the festival or in advance and they will last you one day.
Purchasing a ticket pays off, because the ticketed areas have the inflatable playgrounds, obstacle courses, mud pool slides and races.
Finding accommodations during Mudfest can be difficult without planning ahead but made even more difficult by the fact that Korea boasts a very last-minute culture. But it's not impossible. There are options, including the traditional minbak, where everyone sleeps together on mats on the floor. Most budget hotels don't advertise online, so your best bet is to pop into the dozens of hotels around the beach or in town when you arrive.
If you insist on planning in advance, you'll have to pay the price, as only the more luxurious spots except online reservations (in Boryeong, luxury equates to around $100 a night). Try the Hotel Mudrin, which has sea views from all its rooms, or the Oceanview Resortel which has some "condo" rooms with cooking facilities.
The Korea Tourism Organization's 1330 hotline is a godsend for those who don't speak Korean or need help at any time during their trip. Simply pick up a phone, call 1330, and press 2 for English, and someone will be there to help you find what you need or provide translation.
What to Do
Besides bopping around from inflatable slide to mud tub to massage zone, check out the fireworks and live performances during the festival's opening and closing ceremonies (the evenings of July 16 and July 24, respectively). Other highlights include the festival's mini-Tomatina on the 16th and the Black Eagles Show with Korean Air Force, which occurs daily. Thanks to a partnership between Boryeong and Buñol, Spain. The famed La Tomatina is a lot like Mudfest, just replace the mud with tomatoes. The air show will take place on Daecheon beach and La Tomatina at the Mud Square Special Stage. If you're feeling particularly agile with the mud, take part in the football championship at the Mudflat experience site, New Plaza Beach on the 16th.
How to Get There
All North American flights land at the Incheon International Airport near Seoul. Direct flights on Korean Air cost upward of $1550.
Once you get to the airport, a bus for Boryeong leaves five times a day from Stop 09D on the first floor of Incheon International Airport. You can buy the tickets at the terminal or pay the driver.
From central Seoul, there are express buses to Boryeong from the Central City Bus Terminal.
If you'd prefer to go by train, there are regular departures from Yongsan Station or Yeongdeungpo Station to Daecheon Station. You can book online up to a month in advance.
Dave Hazzan reads, writes, and drinks in Ilsan, South Korea.