Mumbai is beautiful chaos. Sleek skyscrapers tower over rundown shanty towns. Car horns drown out the cries of Chai wallahs brewing masala tea on every corner. Cinnamon and cardamom aromas mask foul scents of rotting garbage and holy cow dung. Penniless beggars sleep on the doorsteps of 19th century Victorian mansions.
India recently overtook China as the world's fastest-growing major economy, and Mumbai—a city where even slum dwellers generate a billion dollars each year—is the financial hub of the subcontinent. From ancient Hindu temples and colonial cafes to modern music venues and the world's largest outdoor Laundromat, here are some of the city's most interesting and iconic attractions.
1. Gateway of India and Elephanta Island
The grand 85-foot basalt arch (pictured at top) was built to commemorate King George V and Queen Mary's visit to Mumbai in 1911. However, in characteristic haphazard Indian style, the royal couple only got to see a cardboard model of the structure, which was not officially opened until 1924.
Looking out over the Arabian Sea, the imposing Gateway of India arch is usually surrounded by sightseers and street hawkers. For a better view of the archway, head to the jetty and board a ferry to Elephanta Island, home to an impressive cave complex of fifth to eighth century Hindu and Buddhist rock cut stone sculptures.
2. Leopold Cafe
When Mumbai's unrelenting heat, metronomic car horns and in-your-face street salesmen start grating on you, check-in at Leopold Cafe in Colaba to cool off beneath the famous whirring fans.
This iconic colonial cafe, immortalized in Gregory David Roberts' novel Shantaram, is a melting pot of rich and poor, locals and travelers, those looking for a cold drink and those looking for something more. There aren't many better spots in the city for people watching—just make sure you insist on sitting downstairs, not in the bland overly-air-conditioned upstairs bar area.
3. Chhatrapati Shivaji Terminus Railway Station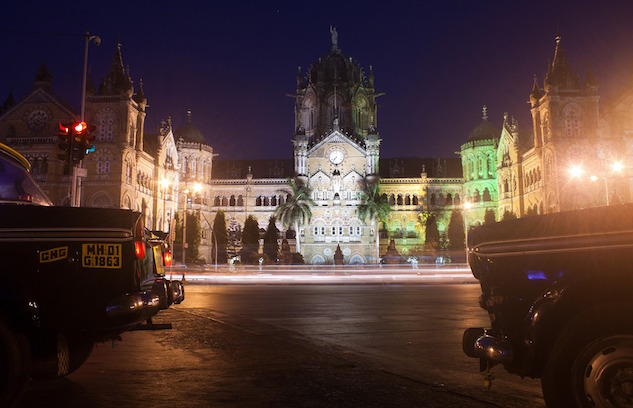 Formerly known as Victoria Station, CST is Mumbai's transport hub. This High Victorian Gothic palatial structure, with its outstanding turrets, domes and pointed arches, is both beautiful and functional: its 18 platforms pump three million people around the city each day.
Enter the station, which is a UNESCO World Heritage site, and you'll be confronted by the echo of a thousand voices as you try and make sense of the iconic destination ticker board. Even if you don't necessarily need to catch a train, you should. The experience of buying some street food, meeting local Mumbaikars or hanging out of the carriage as you travel through the vast metropolis is well worth the minuscule ticket fare.
4. Dharavi Slum
Dharavi, previously the largest slum in Asia, is home to somewhere between 700,000 and a million people. Rudimentary shacks and narrow streets characterize this busy and highly crowded area of town, where you're just as likely to find a beggar, a bar, a recycling unit or a pottery workshop.
Yes, the streets are dirty and the stench of sewage is horrific in parts. But a visit to Dharavi will make you re-evaluate your definition of the word slum. Residents generate around one billion dollars per year in industries such as recycling, pottery, textiles and leather. The tight-knit community live in, what is at times, humbling conditions but their innovation and resolve is both impressive and refreshing.
5. blueFrog
Located in a 6,000-foot defunct warehouse in Lower Parel, blueFrog is widely regarded as Mumbai's, and indeed India's, premier live music venue.
The club, with its futuristic space-pod interior and electric blue lighting, hosts a diverse range of live performances six nights a week—a revolutionary venture in a city famed for its Bollywood tunes. The roster often includes the country's biggest indie and electronica acts, plus everything from Afro-beat and Latin to jazz and the blues.
6. Dhobi Ghat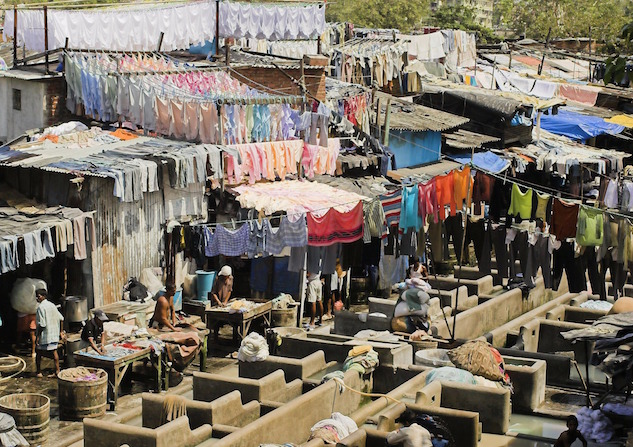 Located next to Mahalaxmi station—not on the same line as CST—Dhobi Ghat is the world's largest outdoor laundromat.
Advertised to tourists as "Washing Laundry," this seven-acre plot of land is home to over 8,000 workers who wash around one million articles of clothing a day. Highly efficient laundrymen, know as dhobis, collect dirty linen from high-end hotels and middle class families on bicycles to be hand-washed at the open-air laundromat.
Astoundingly, the dhobis claim a 99.9998 percent success rate of just two mistakes per million daily orders.
The bridge connecting Mahalaxmi station to the neighboring Dhobi Ghat is great for taking photos of the blocky metal roofs and concrete washbasins, while tours of the washing colony can be arranged with local guides.
7. Shree Thaker Bhojanalay
This small neighborhood thali house serves some of the best vegetarian curry in the city. Don't be fooled by the understated exterior and no-frills interior: this is a serious dining experience.
The attentive servers keep your silver platter topped up with a decadent selection of sweet chutneys, fried finger foods, raita dips, vegetable gravies, paratha breads and rice, imploring you to try dish after dish of delicious traditional Gujarati (Western Indian) cuisine. A festival of flavor, it's worth skipping lunch to make room for a gluttonous dinner.
Josh Ferry Woodard is a travel writer from London with writing credits for Roads & Kingdoms, Slate, Reader's Digest and Huffington Post. He's currently working on the release of a travel card game called Suits You LONDON.