Dating back to 138 B.C., Valencia, Spain, has aged well; the nightlife is still booming and culture is seeping out of the historical gem's pores. Blend that with a coastal setting, navigable public transportation, a juxtaposition of old and new architecture, an sharp native language (Catalan) and the world's best paella and you will soon see that Valencia has it all.
Often skipped over for Barcelona or Madrid, we are here to make sure you stop missing out on this Iberian paradise. For a quick hit of the classics, use our Valencia checklist.
1. Mercat Central de València
Located in one of the city's oldest districts, El Carmen, the Mercat Central is a hectic 8,000-sqaure-foot covered market. This mish-mash of activity is divided into hundreds of stalls where you can purchase fresh pastries, meats, veggies and fruit Monday though Friday from 7 a.m. to 3 p.m. Before falling into a shopping stupor, stop at one of the stalls just outside the market, L'Orxateria, where you can sample horchata, known locally as orxata, a sweet and milky drink concocted with tigernuts, water and sugar. This tasty little treat, originating in this city during Muslim presence from the 8th to 13th centuries, is a sip back in time.
2. Jardines de Turia
If the market was a little overwhelming, get a breath of fresh air in the Jardines de Turia, or Jardí del Túria in Catalan. Once a flood-prone river, the city diverted the river south and then drained the riverbed in 1957 turning it into an ecopark with gardens. The park runs 5.5 miles long and has been transformed into a fusion of gardens, cycling and walking paths with other little nuggets along the way, like the oversized Gulliver's Travels interactive children's park, which turns visitors into Lilliputians climbing and scrambling over a giant Gulliver.
3. Ciudad de las Artes y Las Ciencias
The east end of the Jardines de Turia funnels into Ciudad de Las Artes y Las Ciencas, or The City of Arts and Sciences, a entertainment complex designed by neo-futuristic architect Santiago Calatrava, whose work you will find throughout the city (you can't miss it, trust us). This complex is made up of an opera hall, an IMAX theatre, Europe's largest aquarium and a science museum. The crazy, curvy and pool-surrounded exterior is worth the trip on its own.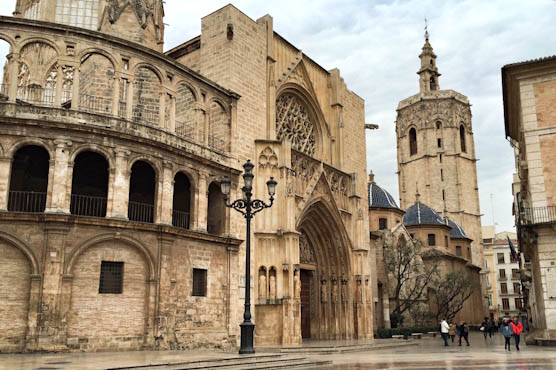 Photo via Whitney Boland
4. Catedral de Valencia
The Ciutat Vella (old town) is the center of Valencia and still touts its medieval layout—star-shaped and fanning out in several directions with fun discoveries tucked into each square's cozy corners. The shining light at the top of this star is the Valencia Cathedral, which was consecrated in 1238. The Cathedral is a mashup of architectural styles—gothic, baroque, Roman and Renaissance—and houses a supposed "Holy Chalice," both revered and scrutinized as the chalice from the "Last Supper," in one of the chapels. Admission is about $4; hours vary throughout the year so check before going.
5. La Riuà
The family-run restaurant La Riuà is the perfect place to try perfect paella. This unlikely spot is truly authentic—some even say legendary—and has countless gastronomy awards lining the walls. While La Riuà has been open since 1982, its food and service aren't losing steam. Go big on lunch with the Paella Valenciana (made with chicken and rabbit) or pick another from one of the 15 traditional paellas and rice dishes. Call for reservations and note that if you're visiting for lunch (2 p.m. to 4 p.m.), the two-hour lunch window is strict and packed.
6. Museo Fallero
If you can't make March's multiday Las Fallas celebration—an edgy festival steeped in tradition and satire—you can still experience it via Museo Fallero, which is dedicated solely to the celebration. Fallas are massive papier-mâché puppets (with a political or pop-culture reference) erected in the city squares during the festival. Each behemoth has a mini-me replica—a ninot, or "puppet"—next to it. During La Crema, all these fallas and ninots are burned except one, which is decided on by popular vote and then housed at the museum (sculptures date back to 1934) which is open daily for about $2 but free on Saturdays, Sundays and holidays.
7. La Lonja de la Seda
Built in the years between 1482 and 1548 and resembling a medieval castle, La Lonja de la Seda, or the Silk Exchange, is known to be one of the best examples of Gothic architecture in the Mediterranean. Once the primo silk-trading post, the structure remains an example of Valencia's wealth during the 15th and 16th centuries. It was designated as a UNESCO site in 1996 and is open Monday through Saturday from 9:30 a.m. until 7 p.m. (it closes at 3 p.m. on Sundays). Tickets cost about $2 and are free on Sundays and public holidays.
Whitney Boland is a freelance writer and climber living the simple life in New York (not the City).