With the number of TV series expanding just as viewer attention spans (and available time) are shrinking, it's imperative that shows come out of the gate with strong pilots. The word pilot has become a little bit of a misnomer, because most TV series on cable, premium, and streaming services are picked up and produced for a full season all at once, and what was once the all-important broadcast pilot (which may or may not proceed from there) becomes, simply, a premiere. Dramas tend to have an easier time with premiere episodes than comedies, which not only have to introduce the full idea of their show but also make it funny within 20-ish minutes, although some do manage it! (Parks and Recreation famously had a less-than-stellar pilot for a show that would later become so beloved. As our own Jacob Oller notes, "Its dismal premiere aped predecessor The Office, making Amy Poehler's Leslie Knope far too much like the bumbling, unaware, blank-faced Michael Scott.")
But shows don't have time "get good" anymore, and so in this list we're celebrating (in chronological order) the ones that came out of the gate fully-formed and confident in what they were giving us. Not all of these shows continued to be great, but they certainly got our attention to start.
Eligibility: Pilots had to premiere between January 1, 2010 and August 31, 2019.
"A Study in Pink," Sherlock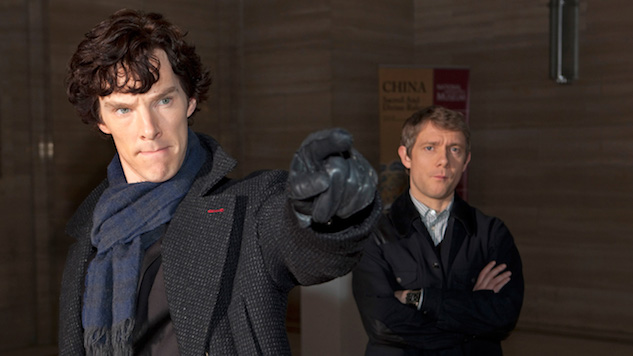 Writer: Steven Moffat
Director: Paul McGuigan
Airdate: October 24, 2010
Arthur Conan Doyle's classic Sherlock Holmes stories have been adapted so many different times and in so many different ways that when this more modern take landed it did so with only mild buildup. That changed, immediately, into feverish devotion at the introduction of Benedict Cumberbatch as the titular detective, thanks largely to his deep-voiced roguish charm and outstanding chemistry with co-star Martin Freeman as John Watson. But for its part, "A Study in Pink" jumpstarted that devotion with its sparkling, London-adoring intro that set the stage for the show's manic pace and quick-step storytelling, throwing us right into a grisly case while establishing the connection of the leads, all making sure viewers were desperate to see more. —Allison Keene
"Days Gone By," The Walking Dead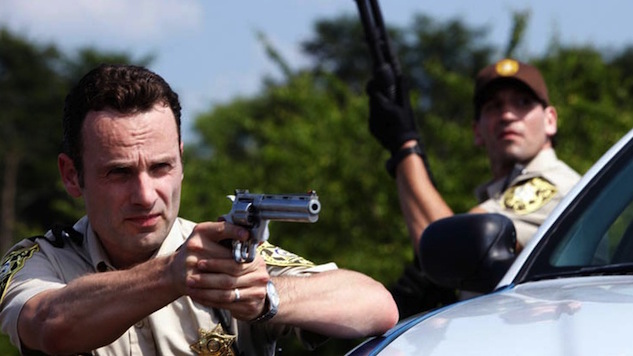 Writer: Frank Darabont
Director: Frank Darabont
Airdate: Oct. 31, 2010
Over the course of the last decade, AMC's The Walking Dead has gone from being a rapidly mounting craze, to the biggest show on cable TV, to the butt of endless jokes, many of them hurled its way by Paste itself. But it bears repeating that Frank Darabont's pilot episode, "Days Gone By," was considered a revelation in the presentation of serious horror on television in 2010. It also still holds up remarkably well today, even knowing the shell of itself that The Walking Dead would eventually become. Unsurprisingly, it comes down partially to simplicity and this setting's inherent lack of information—because we are introduced to the world of the undead via Rick Grimes (Andrew Lincoln), who wakes up from a coma several weeks into the outbreak (as similar to 28 Days Later as this was), we immediately have no idea what is happening in the nightmare scenario he's been dropped into.
This, of course, allows the audience to experience the first moments of the zombie apocalypse through the eyes of someone who is appropriately horrified, seemingly wondering if he's still dreaming. It's a pilot that is filled with individual images that quickly became icons of the genre. You have the shuttered hospital doors, crudely painted with "Don't Open, Dead Inside," with fingers grasping from the other side. There's the pathetically crawling "bicycle girl" zombie, which represents Rick's first opportunity to hunker down and seriously consider the ramifications of this plague, and feel a sense of empathy for the resurrected. And, of course, there's that little zombified girl in the opening moments, clutching a teddy bear, clad in tiny, rabbit-footed slippers. The choice for Rick to calmly and coolly drill a bullet through the head of that little girl announced to the world that The Walking Dead would be unwilling to compromise on the brutality of its source material, sending TV into a new era of appreciation for the horror genre in the process.—Jim Vorel
"Sweet Baby," Scandal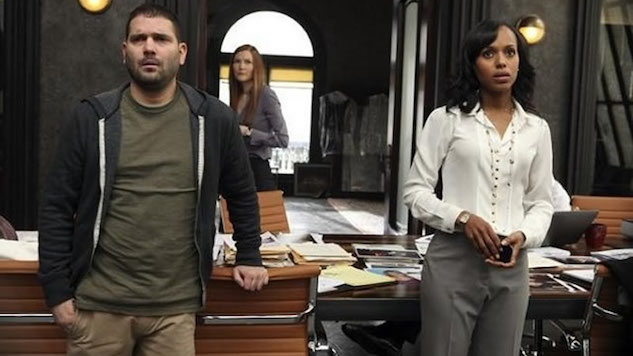 Writer: Shonda Rhimes
Director: Paul McGuigan
Airdate: April 5, 2012
When Scandal hit the scene as a midseason replacement in the spring of 2012 no one was quite prepared. Viewers knew Shonda Rhimes as the creator of the very soapy Grey's Anatomy, where doctors spent more time hooking up in supply rooms than tending to actual patients. But Grey's had proven Rhimes knew how to spin compelling television. With Scandal she took her story telling to the next level by introducing us to Olivia Pope (Kerry Washington), a Washington D.C. fixer who never met a problem she couldn't solve, except, of course, for her unwavering devotion to the very married President of the United States (Tony Goldwyn). The pilot was full of jaw-dropping revelations, rapid fire dialogue and a fast-pace plot that gave you whiplash while leaving you wanting more. By the seventh season the show had collapsed a bit on its own mythology and become a shadow of its former self. But that pilot and seven-episode first season were about as perfect as television can get.—Amy Amatangelo
"Pilot," Rick and Morty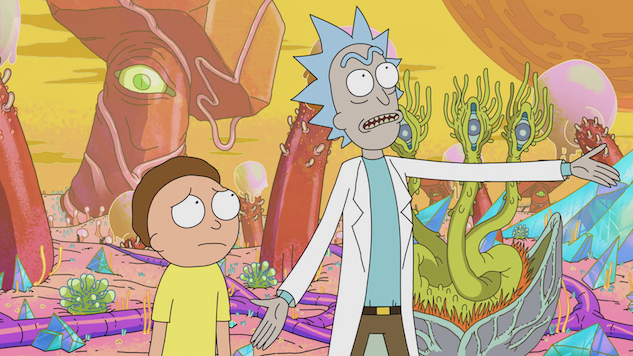 Writers: Dan Harmon and Justin Roiland
Director: Justin Roiland
Airdate: December 2, 2013
Nobody could've expected that Justin Roiland's crass, sexual, and frankly off-putting parody of Back to the Future could be anything more than a joke for him and his friends. Turning it into something that wasn't just a comedy hit, but a cultural phenomenon, took a pilot episode as idiosyncratic as its creator. Rick and Morty's first episode establishes its characters as the dark, upsetting, and ultimately miserable wretches related to by so many, plus gave viewers a taste of the loose, Calvinball-esque rule-breaking that the series would partake in later on. What other show ends its first episode with a long rant about how the characters will go on many more adventures over the rest of the season? What other shows have the sheer gall to pull it off? Rick and Morty didn't just know its characters from the start, but its hyper-specific fourth-wall-disintegrating humor as well.—Jacob Oller
"Chapter One," Jane the Virgin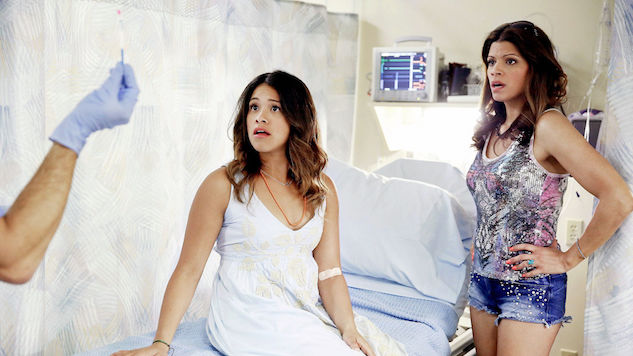 Writer: Jennie Snyder Urman
Director: Brad Silberling
Airdate: October 13, 2014
Few new series announcements have filled me with as much dread this past decade as did the announcement for Jane the Virgin, Jennie Snyder Urman's CW-ified take on the telenovela whose premise was "devout young Catholic virgin gets accidentally artificially inseminated during a routine pap smear." Like, even in 2014, that premise was an actual nightmare. And then "Chapter One" premiered, and the series' signature multimedia texture and vibrant Miami colors popped into focus, the Villanueva women—not to mention Michael (Brett Dier), Rafael (Justin Baldoni), Rogelio (Jaime Camil) and Petra (Yael Grobgias)—were introduced to the world in all their loving, warm, funny complexity, and the Latin Lover Narrator was there to talk us through it all. Immediately, all my anxieties evaporated.
From start to finish, Jane the Virgin was a wildly ambitious story, with wildly ambitious characters, but "Chapter One" demonstrated, with signature Villanueva heart and trademark Rogelio flare, that Urman and star Gina Rodriguez and everyone else in the cast and crew knew exactly what they were doing, and that they were going to do it with both care and zazz. (If not, ultimately, Rafael's "Chapter One" frenemy Zazz. RIP Zazz.) You want proof? Watch the pilot again now, with the whole sweep of Jane's epic romance finally realized. It's all there, a big, warm promise to the viewers about all the joy and heartbreak and political vigor and (above all) love still to come. May we all be so lucky to get another Jane in every future decade. —Alexis Gunderson
"Episode 1," Catastrophe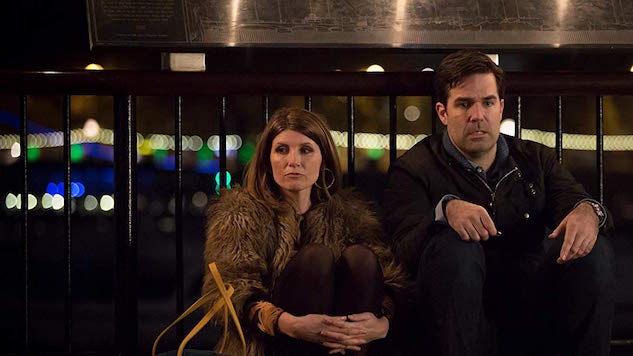 Writers: Rob Delaney and Sharon Horgan
Director: Ben Taylor
Airdate: January 19, 2015
Some shows just know what they have from the beginning and kick off with the confidence of an Olympian. Catastrophe is one of those. From its first steps, Rob Delaney and Sharon Horgan's close-to-home comedy baby was sprinting. And yes, there's a baby involved after the pilot reveals that their quippy characters' total occupation of the bonezone resulted in a pregnancy. The response is dealt with frankly and with black humor abound, providing an augury of the dicey, sexy, silly, and ultimately honest marriage to come from one of the decade's fiercest comedies.—Jacob Oller
"Uno," Better Call Saul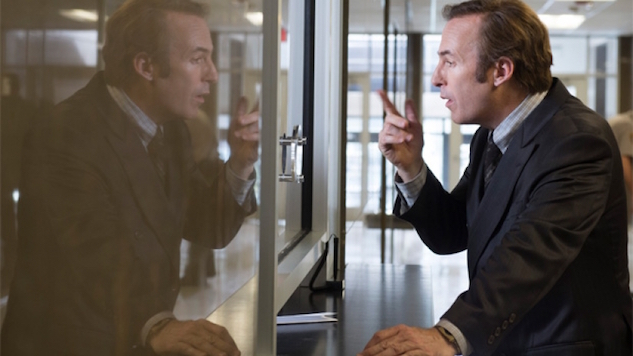 Writers: Vince Gilligan and Peter Gould
Director: Vince Gilligan
Airdate: February 8, 2015
Huge expectations were heaped upon the Breaking Bad prequel/sequel/companion series when it debuted, and one of the first great choices made by its creators was that it really needed to find its own voice. In comparison to what came before, "Uno" is a fairly sedate episode of television, but a haunting one, setting up both the lonely future in store for the man of many names, as well as his hardscrabble past as Jimmy McGill, a halfway decent guy just trying to take care of his invalid brother and make a honest buck or two … or, at least, a halfway honest buck or two. Also, Peter Gould has said he knew from Bob Odenkirk's first episode as Saul Goodman that Odenkirk could lead a drama series, and "Uno" proves it definitively, as Odenkirk dregs up every ounce of likability there is in this character — while never losing the edge that makes it captivating. Breaking Bad was a wildfire, but Saul made sure to say from the beginning that it would be a slow burn — but the heat would not be lacking.—Liz Shannon Miller
"Alive in Tucson," The Last Man on Earth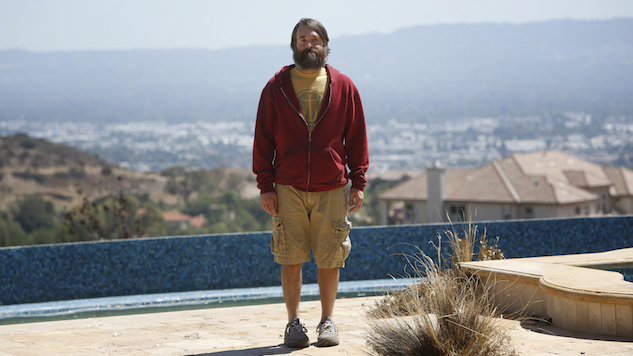 Writer: Will Forte
Directors: Phil Lord and Christopher Miller
Airdate: March 1, 2015
Will Forte's The Last Man on Earth sadly never got to give its characters a proper conclusion, but you can never take away what many TV viewers still consider to be its finest hour: Its first hour. Forte and directors Lord and Miller truly went wild with the creative freedoms available to them in a premise that involved seemingly everyone in the U.S. besides one man (Will Forte's Phil) being dead. The way they hit the ground running made for one of the strangest and most delightful sitcom pilots in TV history. I mean really: If you were the only person left in what appears to be an otherwise undisturbed (but empty) country, how would you spend your time? What priceless artifacts or works of art would you use to decorate your home? Which would you simply destroy out of spite? Which celebrity's belongings would you rifle through? And what liquor would you choose to use in filling a kiddie pool? It was a setting that imagined how thoroughly the average slacker would waste complete and total freedom on pointless excess, typified by such insane sights as Phil (a.k.a. "Tandy") driving a B-2 stealth bomber to the grocery store, or standing in the middle of an MLB stadium to sing the national anthem.
In the years that followed, many viewers wowed by the pilot of The Last Man on Earth expressed a wish that the show had somehow held to the promise of the title by never introducing additional characters, but it should really go without saying that this never could have made for a working sitcom structure in the long run. "Alive in Tucson" was simply a daring aberration, and a hilarious one, but not something that could have been sustained in the same form. Now, as then, we should simply appreciate it as one of the more affectionately strange pieces of comedy to air this decade on network TV. —Jim Vorel
"eps1.0_hellofriend.mov," Mr. Robot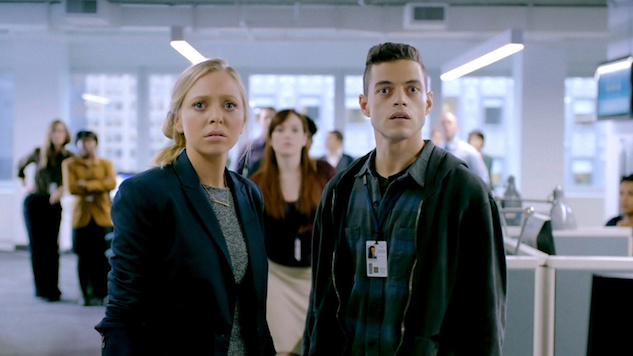 Writer: Sam Esmail
Director: Niels Arden Oplev
Airdate: June 24, 2015
Few shows have defined themselves so clearly right from the beginning in terms of tone, mood and ethos like Sam Esmail's knotty and fascinating hacker drama. The pilot, which won the TV audience award after premiering at the 2015 SXSW Film Festival, immediately stood out as an intense and knotty trip inside the mind of Elliot (Rami Malek), bending reality in ways that set the show apart from anything USA Network had done before, or that US audiences had ever seen before. There's a lot of talk about making TV cinematic, but Niels Arden Oplev's direction set a high standard for noir gloominess, coupled with a cold corporate sheen, and by harnessing Christian Slater's latent agent-of-chaos energy, the undercurrent of frustration and revolution captured by this pilot wasn't just captivating — it was ahead of its time.—Liz Shannon Miller
"Pilot," This Is Us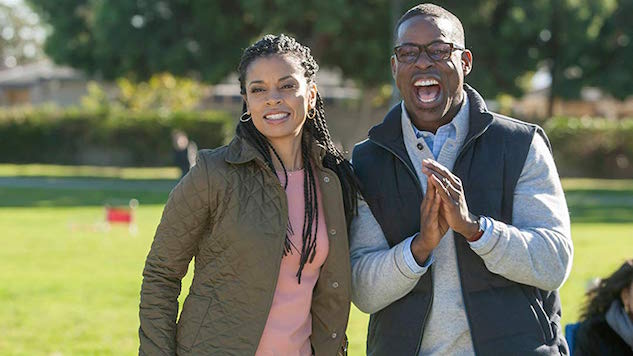 Writers: Dan Fogelman
Directors: Glenn Ficarra, John Requa
Airdate: September 20, 2016
The NBC drama guaranteed to make you cry came along when network TV needed it most. Hulu, Netflix and Amazon Prime were the shiny new toys all the viewers wanted and network TV had been cast aside to the "yard sale" pile. But then along came the Pearson family—Jack (Milo Ventimigilia), Kate (Chrissy Metz), Randall (Sterling K. Brown) and Kevin (Justin Hartley)—all celebrating their 36th birthday. Except when the show started we didn't know they were family. The pilot pulled us in and somehow we didn't even notice that Jack's storyline was taking place three decades earlier, something that series creator Dan Fogelman didn't reveal until the pilot's final moments. The compelling pilot put on display the show's unique storytelling style—it would mix family melodrama with season long mysteries and play with time, deftly taking viewers into the past, present and future. It showed us we had all vastly misjudged Mandy Moore's talent and made network TV the talk of the watercooler once again. As the seasons progressed, This Is Us would make us fear crockpots and try our patience but for this perfect hour, we all fell in love with the Pearsons. —Amy Amatangelo
"The Original," Westworld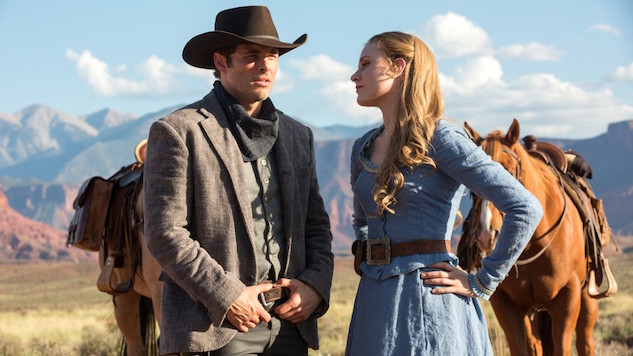 Writer: Jonathan Nolan and Lisa Joy
Director: Jonathan Nolan
Airdate: October 2, 2016
Westworld had an absolutely gorgeous, cinematic premiere that introduced us to a strange new world of humanoid robots housed in an enormous park that digitally caters to the whims of its guests. "The Original" told us a story that we would see repeated throughout the series, which is robot Dolores (Evan Rachel Wood) being forced to relive the same day over and over and over again with different outcomes, none of which she is supposed to remember. But Westworld immediately set up its consideration of what makes us human versus what makes us monsters in these scenes, especially as we see Dolores start to recall things she shouldn't, kicking off a quest to understand where she is and why these things are happening to her and the ones she loves. Alongside that, glitches in the parks' system reveal brutality at the story's core, including uncanny final moments where Dolores warmly greets her father, now a totally different robot, and then kills a fly that lands on her—something the robots shouldn't be able to do…. —Allison Keene
"Pilot," Downward Dog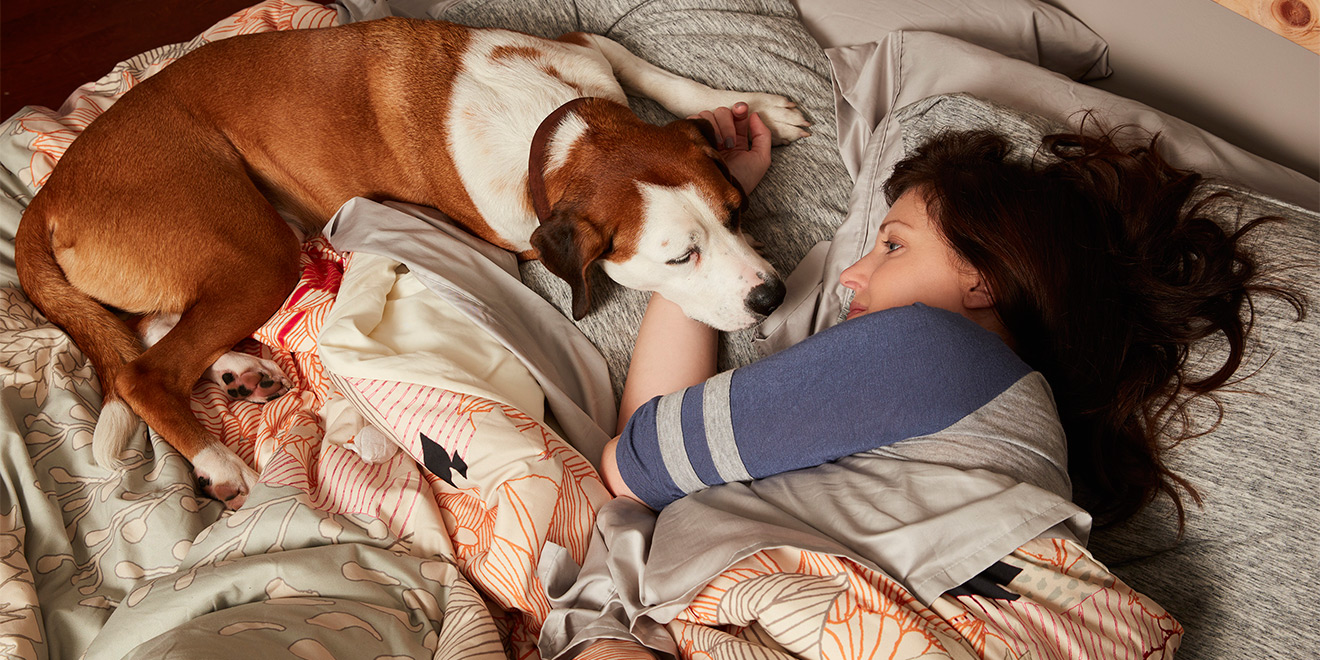 Writer: Samm Hodges & Michael Killen
Director: Michael Killen
Airdate: May 17, 2017
When a broadcast network wants you to buy into a show about a talking dog, it's not an easy sell. Unless, of course, you're talking about Martin (real name Ned), the star of Downward Dog who is probably the best representation of a disaffected but still hopeful Millennial on TV. And who is also, yes, a dog. A show like this has to be excellent from the start, and it is. "Pilot" introduces us to the charming, vernal, Pittsburgh-in-the-summertime life of Martin and his owner (Allison Tolman) as they both navigate their jobs (for Martin that means "managing mail delivery" and afternoon naps). Filmed like a soulful indie and boasting a killer soundtrack (not to mention one Very Good Boy), "Pilot" is one of the strongest comedy premieres of all time. —Allison Keene
"Nice Face," Killing Eve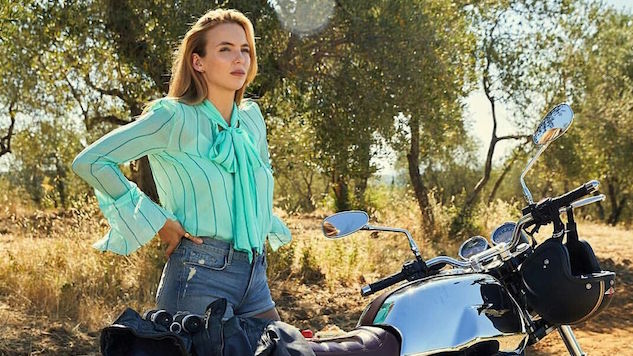 Writer: Phoebe Waller-Bridge
Director: Harry Bradbeer
Airdate: April 8, 2018
From the start, Killing Eve introduced us to a world that wasn't all it seemed. When Villanelle (Jodie Comer) sees a young girl smiling at her in an ice cream shop, she approaches her and tips the ice cream into her lap, casually sashaying away from the chaos. That would be Villanelle's signature move—stylish cruelty—throughout the show, but it is wonderfully juxtaposed with Sandra Oh's frank and funny MI-5 agent Eve, a sizzling dynamic that would rule the series. The roles of international assassin and dogged detective locked in battle are typically played by men, and to have these two outstanding actresses oozing charm from their first scenes was thrilling to behold. The final moments remind us not only of Villanelle's capability as a killer, but how frightening those certain set of skills are when in such close contact with Eve, who is already going outside the bounds of her job to try and track Villanelle down. It's a fantastic start to an enthralling whirlwind of a series. —Allison Keene
"Ace Degenerate," Cobra Kai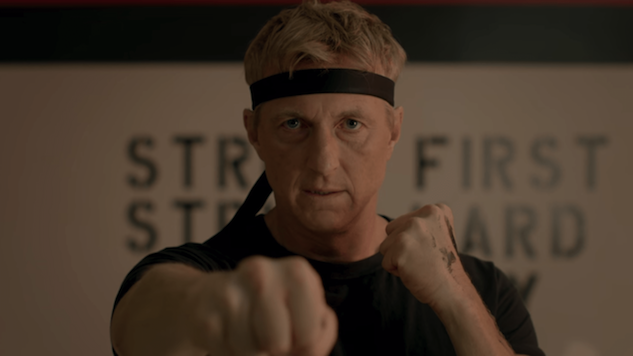 Writers: Josh Heald, Jon Hurwitz, Hayden Schlossberg
Directors: Jon Hurwitz, Hayden Schlossberg
Airdate: May 2, 2018
When Cobra Kai first dropped behind the YouTube Premium paywall back in 2018, few people knew what to expect from the three-decades-late revival of a cult 80s coming-of-age karate movie, and fewer still knew how to tune in. The OG online video platform had partnered with big name YouTubers (and also Ryan Hansen) to join the explosive streaming originals space awhile before Cobra Kai hit the scene, but it wasn't until William Zabka and Ralph Macchio returned to the scene of their petty teenage rivalry for a shared (and genuinely complicated) mid-life crisis that both mainstream audiences and critics were finally tempted to give Premium a shot.
Much of the first wave of Cobra Kai interest was driven, naturally, by nostalgia—well, nostalgia, and also the half-reflexive schadenfreude of getting to see the The Karate Kid's golden-haired bully stagger through a miserable and unfulfilled adulthood. (Look, being an adult is rough.) Once people started watching, though, all it took was the pilot's economical 27-minutes following a pitiful Johnny Lawrence (Zabka) from waking up in alcohol-soaked squalor to beating up a gang of teenage punks bullying a new neighbor kid to coming up with a misguided scheme to rebuild Cobra Kai (the dojo) to understand that not only did Cobra Kai (the series) have a lot of fascinating and complex things to say about honor and self-respect and what it means to finally grow up, but that it knew exactly how to say all of it. And just like that, YouTube Premium was finally in the real SVOD game. — Alexis Gunderson
"The Woman Who Fell to Earth," Doctor Who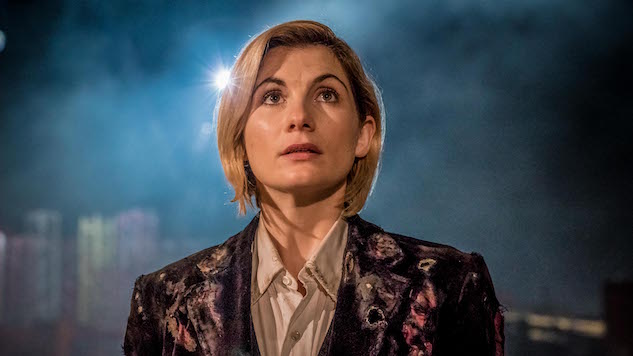 Writer: Chris Chibnall
Director: Jamie Childs
Airdate: October 7, 2018
It seems almost silly to include any episode from the long-running BBC sci-fi series Doctor Who on a list all about premieres. But as anyone with even middling pop culture knowledge is aware, the series' own mythology long ago built finale/premiere-like events into its model by giving the main character the ability to regenerate an entirely new body whenever he or she is mortally wounded—that is, whenever the actor behind the Doctor was ready to move on to new projects. As an alien with two hearts and the ability to live for maybe tens of centuries, nothing in the mythology suggested that a Time Lord's gender couldn't change when their body did, but for literal decades, this passing of the sonic screwdriver torch was an exclusively man-to-man business.
And then the series' long-running showrunner Steven Moffat passed his own torch to Chris Chibnall at the same time as Peter Capaldi hung up his velvet blazer as the Twelfth Doctor, and Episode 11.01, "The Woman Who Fell to Earth," premiered Jodie Whittaker as the Doctor's first female-bodied regeneration. Unsurprisingly, the biggest takeaway of the episode, which finds the Thirteenth Doctor in Sheffield as the motley crew of locals that will become her new companions finds themselves caught up in a mysterious alien attack, was that, like all the actors who steered the TARDIS before her, she was just… the Doctor. Smart and brazen and funny and kind, and wholly, entirely, herself. Not all of the storytelling in her season has been the strongest, but the Doctor keeps being the Doctor. As the saying goes, here on the precipice of 2020: You just love to see it. — Alexis Gunderson
---
For all the latest TV news, reviews, lists and features, follow @Paste_TV.