Bones Cast Gives Clues About Season 12 Farewell
Photos by Alexandra Wyman and Dave Mangels/Getty
TV
Features
When Bones debuted in 2005, George W. Bush was president. Hurricane Katrina had just decimated New Orleans. And Alias, Arrested Development and The West Wing were still on the air. No one could have guessed that Emily Deschanel and David Boreanaz would just be beginning a dozen-year run as Dr Temperance "Bones" Brennan and Seeley Booth on one of the longest-running dramas on TV. But that run will soon be coming to an end when the final 12-episode season begins early next year.
Paste spoke with the Bones cast and producers about what we can expect from Season 12:
Zack is back.
Fans got to experience the return of Dr. Zack Addy, Bones' troubled, brilliant assistant at the end of Season 11, and producers Jonathan Collier and Michael Peterson promise that we'll see more from Eric Millegan's character in the final season.
Jonathan Collier: Everybody's been waiting for Zach to come back. I mean, "Bring back Zach!" is every question at Comic-Con. "When's it gonna happen?" And we did it! And I'm not sure if it's the way fans wanted us to do it, but the story is not done yet. We're probably gonna bring him back for three or four more episodes next year, and there's a lot to be told.
TJ Thyne: I'm thrilled that he's back. It's going to be so exciting. And that they've set it up the way they have, it's going to make it interesting. I hope he'll be around a long time. It's good to have him back.
Michaela Conlin: It's very cool, I'm really excited. I think he has more to do in Season 12.

Lots of returning guest stars.
There was no specific announcement about which guests would be returning to the show, only that the producers are already preparing a wish list.
Emily Deschanel: I would like to see Stephen Fry back. I don't know if he's available, but I would love to see that character again. Also, Betty White and Cyndi Lauper.
David Boreanaz: Katheryn Winnick would be great. [Winnick played Booth's ex-girlfriend Hannah Burley.]
Deschanel: Well, she's not available I don't think.
Boreanaz: I know, she's shooting Vikings, but she'd be hilarious. I threw the ring, remember the ring??
Deschanel: Oh, Eddie! [Eddie McClintock played Bones' love interest Tim Sullivan]
Boreanaz: You're going right to Eddie! I don't know what happened you're going to Eddie! I just wanted to bring her back to say, "See, look, you missed out… you're back!" I went with the right choice, right over here.
Deschanel: Maybe there's competition, we don't know.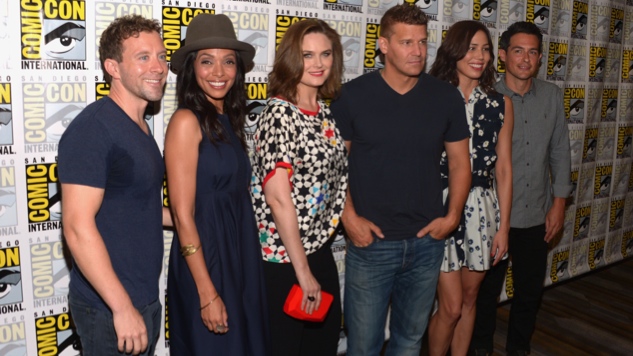 The nostalgia is already beginning.
Boreanaz: Going back, shooting the final season to me is like shooting the pilot. Like, work episode-to-episode, moment-to-moment, share those and you just create a show. Then, you don't know where it's gonna go. Pilot turns into a pick-up, and then you got 22 episodes, and then you get Season 2, and you're like "What's gonna happen?" And it just evolved! And we're lucky and fortunate, and I've always maintained going back to the core relationship and working that—that's what I really look forward to. It's not an end; it's just like, growth. You go on, you do things, but you put it to bed in a way, it's like "Okay, well we're not gonna be on those stages anymore." We're gonna be sad and not see certain people and crew members. So, that will take its course.
Deschanel: It's the ending of an era in our lives, and for people who watched it and for these stories and these characters. I think there will be tears shed. You [Boreanaz] might cry more than I will.
Boreanaz: Yeah, I'll weep.

There's going to be kissing.
Michael Peterson: I think the fans would like it if Booth and Brennan kissed right at the end of the final, entire episode. Six acts of just kissing would make them very happy, at least a certain segment of the fans. We'll probably throw in some mystery with the kissing, but that seems to be what they mostly want. Lots of kissing, explaining a couple mysteries, like 447 and stuff like that, but, mostly kissing. So we will do our best.

There's going to be a wedding.
Dr. Cam Saroyan (Tamara Taylor) and Dr. Arastoo Vaziri (Pej Vahdat) are getting married.
Tamara Taylor: I'm so glad, so glad. I thought they were going to pull a fast one on this, and make me the one that didn't get married.

There's going to be more death.
The unfortunate characters will likely be recurring characters from past seasons and not current show regulars.
Taylor: Apparently people are going to die. We hope it's not us. Yeah, I think there are a few surprises. They're definitely going to kick it up a few notches.
Thyne: I think we lose a couple characters. At least two. A couple of deaths, and a wedding!