The 10 Best Shows on TV Right Now: RWBY, Great British Bake, and More
Illustration by Christine Fernando and Soleil Collins
TV
Lists
Power List
If Apple TV+ launches and nobody watches, did it ever exist at all? Everyone was talking about Apple's foray into the TV landscape but, for the most part, their new shows were a mixed bag; bright and shiny, but lacking substance. We here at Paste TV are scratching our heads at the launch strategy. The cost is $4.99/month but there's no catalog of beloved movies or shows to support the launch. Everything is brand new. And if you want a free trial, you'll have to buy a new Apple product to get a free year. Loyal consumers who already have an iPhone, iPad, or Mac are out of luck.
But even if we didn't love all of the Apple TV+ offerings, we can't deny they were the talk of the TV world last week, especially The Morning Show and Dickinson. That may not last long with Disney+ debuting on November 12,but we'll let Apple have this week.
The rules for the Power Rankings are simple: Any series on TV qualifies, whether it's a comedy, drama, news program, animated series, variety show or sports event. It can be on a network, basic cable, premium channel, Netflix, Amazon, Hulu, YouTube or whatever you can stream on your smart TV, as long as a new episode was made available the previous week—or, in the case of shows released all at once, it has to have been released within the previous four weeks.
The voting panel is composed of Paste editors and TV writers with a pretty broad range of tastes. We're merciless: a bad episode can knock you right off this list. So much good TV is available right now.
Honorable Mentions: Tom Clancy's Jack Ryan (Amazon Prime), Silicon Valley(HBO), The Good Place (NBC), The Affair (Showtime), and Peaky Blinders (Netflix), Sorry for Your Loss (Facebook Watch).
10. The Cry
Network: SundanceTV
Last Week's Ranking: Not Ranked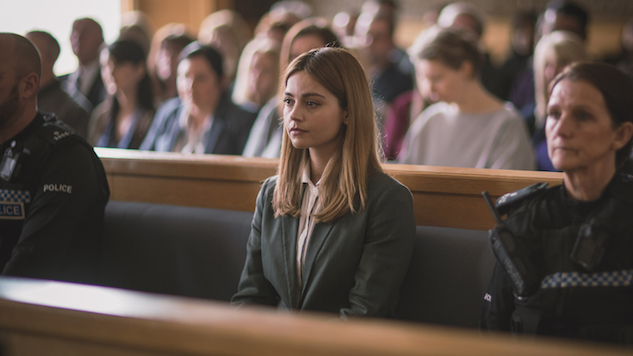 The Cry, a four-part psychological thriller from the BBC (now making its way to AMC), is definitely not just for people who need re-schooling on "gaslighting," an abnormal psychology term that's been abused in a pathology-obsessed and relentlessly finger-pointing cultural moment, but for sure it can also do that for you. This excruciating breakdown of a toxic marriage will keep most people on the edges of their chairs.
The four hours of The Cry cut back and forth relentlessly, chopping past and present narratives into spliced, stochastic, and muddled webs of connected moments. Joanna (Jenna Coleman) is the young mother of a colicky newborn. Her husband, Alistair (Ewen Leslie), wants to go from Scotland to his childhood home outside Melbourne, where his first wife has absconded and "stolen" his teenage daughter, Chloe (Markella Kavenagh), after their marriage fell apart. The day Alistair and Joanna arrive, after a harrowing flight with a shrieking baby and a cabin full of resentful co-passengers, they make a pit stop at a convenience store and, after leaving the car unattended for just a minute, find the baby is not in the car seat.
The truth is, heroes and villains are pretty thin on the ground. Most of us are a lot more complicated than that, more blinkered, more inconsistent, more capable of shifting in response to context, sometimes in ways that shock everyone, especially ourselves. Many people are manipulative; very few are true gaslighters. Anyone can be lied to and not see it, but not everyone is susceptible to deliberate and sustained psychological torture—it takes a unique set of personality traits and circumstances for someone to be destabilized enough to accept that kind of abuse. When it does happen, though, the results can be spectacular and horrible, and not just for the victim. The Cry is an intelligent psychological thriller that will focus and refocus your suspicions and loyalties, all the while evocatively demonstrating the shifting power dynamics, rotating roles and changing presumptions that characterize a marriage where something has gone terribly, terribly wrong. —Amy Glynn
9. Stumptown
Network: ABC
Last Week's Ranking: Not Eligible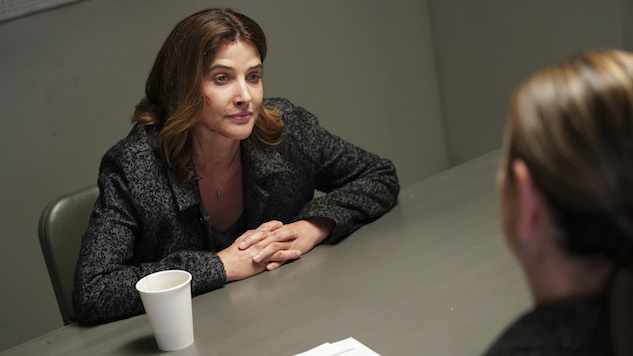 Created for television by Jason Richman and based on Greg Rucka's comic book limited series of the same name (Rucka also writes for the show), Stumptown is a modern-day hardboiled detective drama that follows Dex Parios (Smulders), a former Marine investigator with a gambling problem, a drinking problem, and a monster-sized case of undiagnosed PTSD when she stumbles her way into a gig as Portland's new favorite private investigator.
As a detective procedural on an alphabet network, the story that follows traces a fairly standard shape: A civilian (Dex) has a case land in her lap that parallels a formative tragedy/mystery from her past and her mixed success with that case sparks the idea that, hey, there might be some kind of career to be made out the whole detection game. The difference in this case is that does all that with a handcrafted Pacific Northwest cedarwood scalpel. The formulaic parallels aren't the surgical part—it's the finesse will which all the exposition and characterization necessary to introduce Dex's world, including the tiny but sympathetic support system she has in her brother Ansel (a very charming Cole Sibus) and best friend Grey (Jake Johnson, who was born for a hipster-brewer beard and shearling denim jacket). This is especially true about Dex's military background, which sets up both her exceptional hand-to-hand combat skills and her cynical loner attitude as natural consequences of the life she's lived, rather than convenient coincidences for the hardboiled story the show wants to tell. —Alexis Gunderson
8. Impulse
Network: YouTube Premium
Last Week's Ranking: Honorable Mention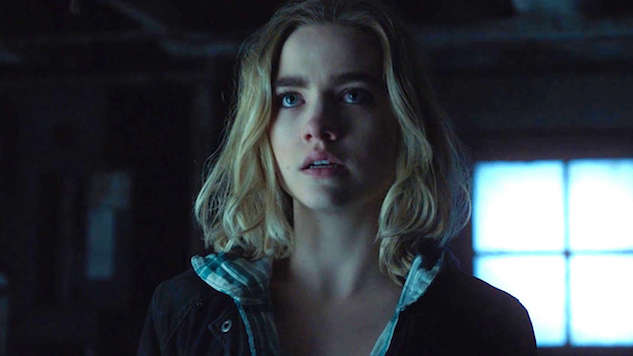 The second season of Impulse has been available to YouTube Premium subscribers in its entirety since October 16, but the platform's new "come one, come all" promotional model—a new free episode dropping weekly for non-subscribers, with the first season also streaming free (at least through the end of the second season's rollout)—means that anyone with an internet connection can make it their business to keep up with teen teleporter Henry Coles (Maddie Hasson, who we interviewed before the premiere) as she works to recover from her many Season 1 traumas, matures in her ability to be a good friend to Jenna (Sarah Desjardins) and Townes (Daniel Maslany), and evolves in her ability to control her superpowers.
This is excellent news, as the new season takes all the strengths of the first and blows them up into narrative and emotional arcs that are deeper and more complex, characters who aren't Henry getting more attention, and the agenda of the ominous organization tracking down and experimenting on teleporters finally getting fleshed out. The mysterious Nikolai (Callum Keith Rennie) gets special focus this season, both in terms of insinuating himself in Henry's life as a kind of teleportation mentor, and in terms of having his own origin story revealed in the exquisitely affecting fourth episode, "The Moroi," which is set in Nikolai's punk-loving teenhood in 1989 Bucharest and takes place almost entirely in Romanian, and Jenna, Townes, Lucas (Craig Arnold), Deputy Hulce (Enuka Okum), and Henry's mom, Cleo (Missi Pyle), all get the opportunity to grow in really interesting ways. At the end of the day, though, it is still Henry, along with her hiccuping, arduous journey through trauma, guilt, and the burden of power, who's the star of the show, and she just sparks. May everyone find this series the next time they log onto YouTube. It's just so good. — Alexis Gunderson
7. BoJack Horseman
Network: Netflix
Last Week's Ranking: 1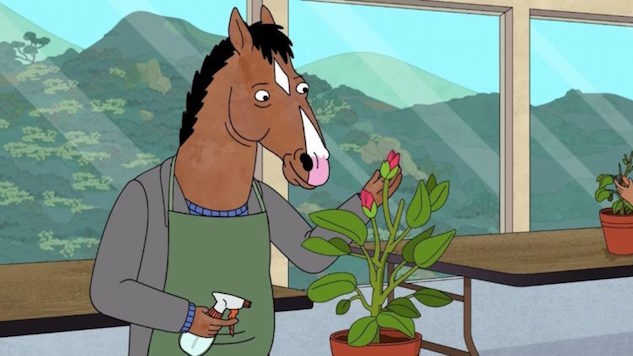 What is the worst thing you've ever done? How hard do you have to work to avoid thinking about it every day? And do you actually deserve to escape it? Netflix's BoJack Horseman has, nearly since the beginning of the series, ascended beyond the surface level aspects of its premise: An animated satire about a washed-up sitcom star (who happens to be an anthropomorphic horse). And that transcendence has always been courtesy of the show's obsession with examining questions like the ones above. In many ways, Season Six begins like many others — with BoJack (Will Arnett) determined to make his life better, despite whatever setbacks/emotional trauma he'd endured over the course of the previous season. This time, this is even more explicit, because at the end of Season Five, BoJack made the decision (with some help from Diane (Allison Brie)) to go to rehab. His time there stretches across multiple episodes, even after a somewhat easy-to-predict inspirational montage where BoJack's difficulties with sharing, crafts, therapy and yoga are overcome.
As an unabashed fan of BoJack, I have personally spent untold hours inflicting one of the lamest cards in the critics' deck of cliches upon friends, family and random acquaintances: "You have to watch until [This Episode]." For me, that episode is Season One's "The Telescope," where the show's understanding of how to invoke the past collides in a haunting way with the present, revealing the true potential of this series. It's also an episode which reveals how BoJack's use of flashbacks is perhaps its greatest, most deadly emotional superpower: No one can withstand how the dance of nostalgia, hard truth, and real consequences lead to damaged, even broken lives. This is a long-term train of thought that BoJack Horseman is close to completing. But waiting another three months for the show's final thoughts is going to be rough. —Liz Shannon Miller
6. The Durrells in Corfu
Network: PBS
Last Week's Ranking: Honorable Mention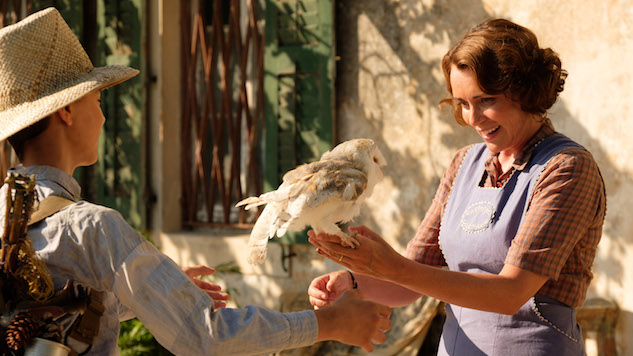 One of TV's brightest gems has one of the strangest names, which means that the series may have passed you by. But it's never too late to catch up! The Durrells in Corfu just completed its fourth and final season in the U.S., where we say goodbye to this English family living in Greece in the 1930s, just before the dawn of a new war. It sounds very posh, but in fact Louisa Durrell (the exceptionally charming Keeley Hawes) moved her four children from England after the death of her husband because they were struggling financially. Life is (or was, at this time) cheap in Corfu, where the family takes up residence in a wonderfully ramshackle and remote house right on the water—which also lacks electricity or other modern conveniences. The series is loosely based on the real story of the Durrells in a trilogy written by Louisa's youngest son Gerry (portrayed in the series by Milo Parker). Like all good TV families, they love each other, constantly yell at each other, and also mildly insult one other.
But the less known about the gentle twists the final season takes the better. Suffice it to say that the family continue to have their adventures, but the feeling of things winding down is acute in these last episodes. For those returning to the series, you will be greeted with all of the easy-going, low-key, and whimsical touchstones that have made the show so good over the years. And if you are just now considering catching up, you are in for a treat. (Durrells has a total of 26 episodes, which is not an insurmountable number even in Peak TV!) And you will be the one urging people to get past the strange names of the title (which will no longer be strange to you) and give this wonderful show a chance. It is a soothing, deeply engaging alternative to the sound of fury of so many current dramas. There's nothing supernatural or world-ending, there's no excessive violence or gruesome horror. It's just a quirky little family in an unfamiliar place who bring with them a heaping amount of laughter and joy. And in doing so, Durrells has made itself an essential watch.—Allison Keene
5. RWBY
Network: Rooster Teeth
Last Week's Ranking: Not Eligible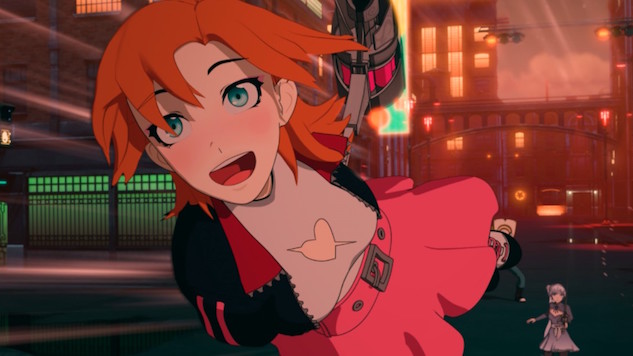 RWBY creator Monty Oum died in 2015 at the age of 33, but his world of Remnant and the mythology surrounding it was so rich, filled with such lovable and memorable characters, that the web series has only grown in the seasons since his death. The fact that new episodes are only available with membership on the Rooster Teeth website hasn't stopped its legions of fans from watching the epic journey of Ruby Rose and her friends as they battle both the monstrous Grimm who threaten humanity and the political infighting that constantly complicates their goals. As Series 7 begins, the young team of huntresses and hunters finally make it to the powerful kingdom of Atlas, but not quite how they planned. The American anime-style show succeeds because the villains are as compelling as its heroes, its humor is as important as its action, and every frame is gorgeously illustrated. If you don't want yet another monthly streaming bill, early episodes are available for free on YouTube and absolutely worth your time. —Josh Jackson
4. Mr. Robot
Network: USA
Last Week's Ranking: Honorable Mention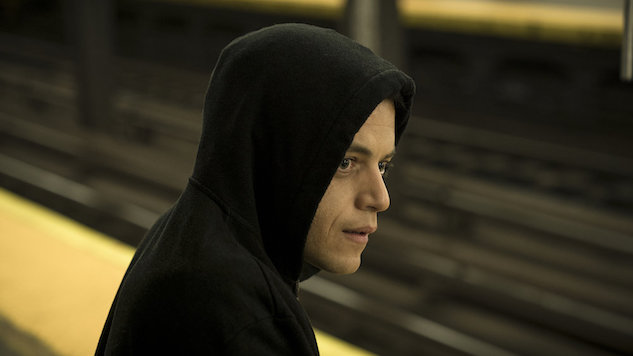 Beginning its fourth and final season with some big shifts for its characters (including at least one shocking death), Mr. Robot remains awe-inspiring for the ways in which it plays with the concept of what you can do on television. Few shows have ever delivered the same level of creative spark on a week-by-week basis, but that's because Sam Esmail is only one man; the creator and auteur has truly made his mark on the TV landscape with each inventive choice. The season premiere, focusing on the increased threat presented by the mysterious Whiterose (B.D. Wong) and Elliot's (Rami Malek) efforts to take her down, was a strong opening that delivered a few major twists. It's an all-consuming hour of television that never takes its foot off the accelerator, except for the occasional moment of grieving that reminds us that these characters might be caught up in a crazy global conspiracy, but that doesn't make them any less human. —Liz Shannon Miller
3. Watchmen
Network: HBO
Last Week's Ranking: 5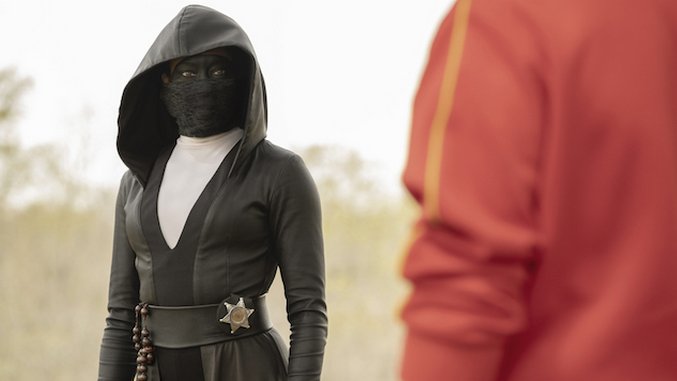 Alan Moore and Dave Gibbons' graphic novel Watchmen, like Fight Club and Starship Troopers, has a knack for getting itself misunderstood. Frankly, that's mostly because white guys in the demographic that usually watches this kind of thing are used to a certain kind of messaging and a certain status quo interpretation. Action heroes kill stuff. It's awesome. Rah, rah, violence. Move along, see the sequel in a year. Past behavior is hard to escape; it's also hard to criticize without accidentally dipping back into old habits. Watchmen's HBO sequel series from Damon Lindelof isn't perfect in this regard, but it's easy to watch, tough to pin down, and well worth working through.
The show becomes more and more about the traumas suffered by our progenitors, how they've lived on through us, and how we respond to their effects. It susses out the ways the government would attempt reparations for black Americans robbed of historical wealth—including the racist backlash against and cringe-inducing videos used to inform those receiving them. This applies to oppression and inequality, sure, but an entire episode digs into the 9/11-like aftershocks resonating into the American psyche from Ozymandius' space squid drop on NYC. The past comes for everyone in the show.
Unlike some other prestige TV with muddled messaging, Watchmen doesn't leave you feeling empty. The thematic throughline of the past's haunting echoes and tangible consequences can get hammy at times, but it's still a fascinating concept for a sequel series that nobody asked for. Clever, mean, blood-in-the-mouth humor meshes with politics warped and wild in this alt-present where Robert Redford is president and peace was forced upon the world by a murderous genius. Coping with this reality, moving on from the sins of the past, and figuring out how to find a just future—that's a journey riddled with pitfalls, but one Watchmen makes irresistible. —Jacob Oller
2. The Great British Baking Show
Network: Netflix
Last Week's Ranking: Not Ranked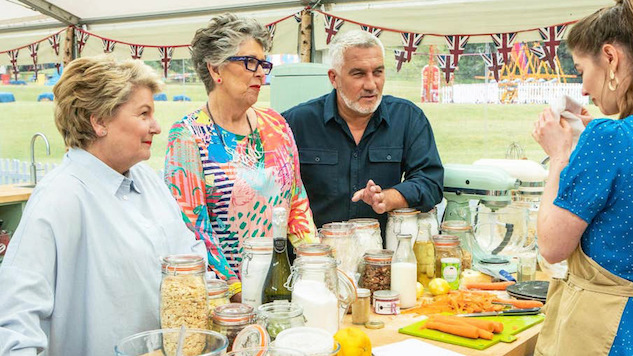 Despite something of a wobbly season that felt a little more commercial, a little more camera-ready, and maybe even a little cattier (when it came to the judges), the Season 10 (or Collection 7) finale of The Great British Baking Show was lovely. There were some gimmicks and questionable choices along the way, but in the end, it was down to the best bakers in the tent. Without giving away any spoilers, the results of the competition were completely satisfying, and there was a heartwarming coda that showed the bakers still visiting each other and remaining friends after genuinely bonding through the competition. As long as GBBO remembers its roots and doesn't lean into some of these hammier elements for its next season, we should be just fine. Unlike its competitors, the series has never needed to be show-stopping to impress us with its kindness and the quality of its bakes. —Allison Keene
1. Apple TV+
Network: AppleTV+
Last Week's Ranking: Not Eligible
Of the new series AppleTV+ launched last week, there were only two—Dickinson and For All Mankind—our critics thought were really worth your time. (All of the shows are fun though, even the messy Morning Show). The throughline of Apple's TV+ launch is that the series are pretty but also a little hollow; the amount of money that Apple has put towards these shows is on full display—they are gorgeous and feature A-list talent, they just need more cohesion and substance in the writing. On the positive side, women are featured at the forefront of almost all of these productions, which cynically you could chalk up to Apple being great at optics, but sometimes it's nice just to take the win.
Apple has made themselves almost indispensable in our daily lives. They did this by coming up with new innovative products that we didn't even know we needed but quickly realized we couldn't live without. But when launching a streaming platform you expect people to pay for, you need more than fine. You need to break the mold and give us a TV show we didn't even know we needed but cannot live without. That's not where we've landed with Apple TV+ yet, but the launch was the talk of Twitter this week (for good or ill, depending). Whether or not it continues to capitalize on that momentum, though, remains to be seen. —Amy Amatangelo and Allison Keene