PaleyFest, an annual TV fan festival in Los Angeles, brings show runners and cast members together before a live audience—this year at the Dolby Theater, home of the Oscars—to talk about their shows, and sometimes, spoilers.
HBO's political comedy Veep made its first PaleyFest appearance on Thursday (March 27) in advance of its third season's return on April 6. Before the cast was introduced, Veep creator Armando Iannucci surprised the audience with a sneak screening of the new season's second episode, "The Choice."
He told the PaleyFest attendees that he wanted to play the episode, which tackles a highly controversial issue, because he was "intrigued about what kind of reaction it gets." Iannucci asked everyone not to Tweet or post the details, so we will only say this much: Judging by the audience response (and laughter), we'll guess that they liked it. Very very much.
After the screening, Stacey Wilson of The Hollywood Reporter, welcomed Iannucci to the stage along with Veep cast members Gary Cole (Kent Davison), Kevin Dunn (Ben Cafferty), Sufe Bradshaw (Sue Wilson), Timothy Simons (Jonah Ryan), Reid Scott (Dan Egan), Matt Walsh (Mike McLintock), Tony Hale (Gary Walsh) and, of course, Julia Louis-Dreyfus (Selina Meyer).
Here are 10 of our favorite moments/lines/insights from the Veep panel:
1. On sneaking into the State Department…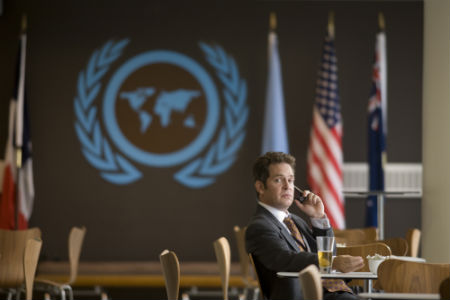 Iannucci told an almost unbelievable story about sneaking into the State Department while doing research for his 2009 film, In the Loop. With only a BBC pass with photo, he was given the advice to tell security: "BBC … I'm here for the 12:30 p.m." It worked. "We started wandering around the State Department," and since the art department would want to see it, he and a colleague starting taking pictures and video. "Technically," he says they were committing "international espionage." The State Department, then under Hilary Clinton, upped security shortly thereafter the stunt. "She is alive thanks to me," he cracked.
2. On who should play the president?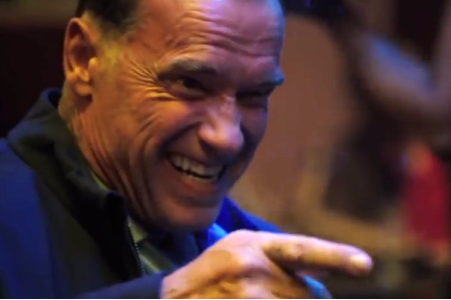 The panelists were asked who they'd like to play the president (who's never been seen on the show). While most didn't want to choose, keeping the character a mystery like Norm's wife on Cheers, Iannucci blurted out, "[Arnold] Schwarzenegger," while Dunn added, "I always picture Gary Busey."
Iannucci added that it's unlikely they'll have political guest stars on the show, as they try to keep characters and storylines as politically ambiguous as possible.
3. What President Bill Clinton said to Louis-Dreyfus about her role on Veep…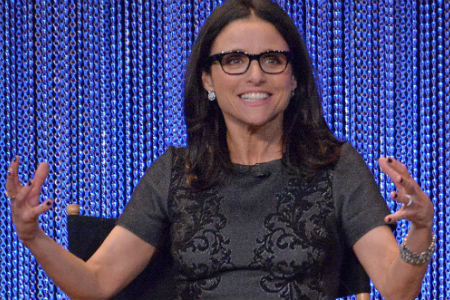 She recalled Clinton saying to her at a fundraiser: "You know what's great about your part? No term limits."
4. On Mike McLintock's future and Matt Walsh's movie…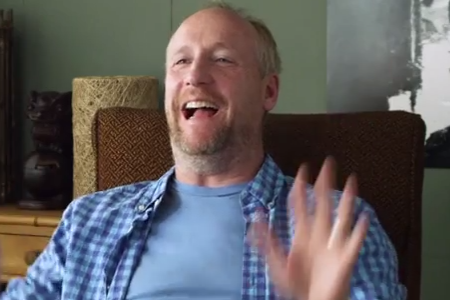 Walsh teased us in the press line about what the upcoming season has in store for his character (Selina's director of communications). While he said that Mike's personal life is doing a little better (he's newly married on the show), the stakes are higher with the president's decision not to run for another term. Walsh added this caveat, "It never works out for Mike, but you see glimpses of happiness [for him]."
Walsh also talked about A Better You, the just-wrapped film he directed, with a cast that includes Horatio Sanz, Brian Huskey, Joe Lo Truglio, Andy Daly, Adam Pally, Reid Scott and Nick Kroll, about a hypnotist who's "trying to cure everyone but himself." He also added that they're doing an IndieGoGo campaign to "rescue it from non-completion."
5. What government worker did Wilson base her character on?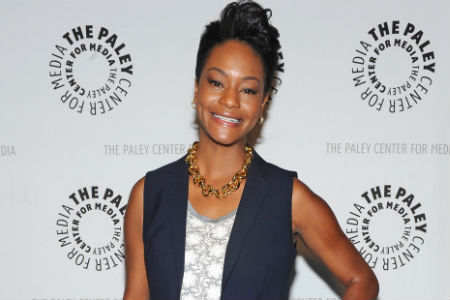 "I based her on someone at the DMV," said Wilson, who plays Selina's no-nonsense assistant. We also learned in the press line that Wilson is also a spoken-word poet who still performs at a poetry lounge at the Greenway Arts Alliance in L.A. She's also working on her own documentary, New Leaves, about troubled youth and the life choices they make.
6. On the importance of looks…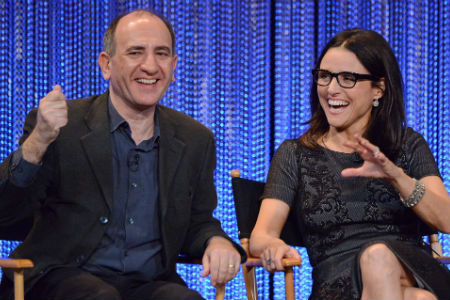 Veep is a little different when it comes to filming jokes in the dialogue. Iannucci said that rather than focus on the person telling the joke or saying a funny line, they're taking shots of people listening. "The joke is told in 'the look,'" he said. Iannucci also mentioned that the cast rarely uses marks (set places to stand) on the set.
7. Golden age of TV … for women?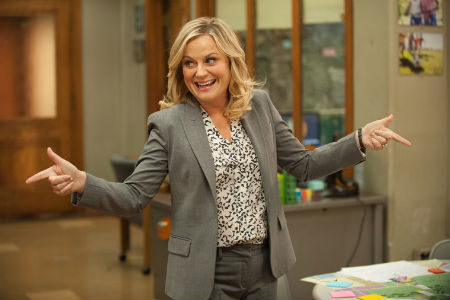 We asked Louis-Dreyfus whether she thought the new "golden age of television" with much-heralded shows like Mad Men, Breaking Bad, True Detective, also applied to women in the industry. "Definitely. I think there's so much good material on TV right now for women," she said, rattling off a top-of-mind list: "Amy Poehler in Parks and Recreation I think is outstanding. Zooey Deschanel, Edie Falco, Lena Dunham, Claire Danes. They're not just comedies. There are tons of really strong, powerfully written characters for women right now, and that's as it should be."
8. Why does Tony Hale's character look away or rifle through his bag a lot?
Hale told us that he's the worst about keeping it together on set, being the one who breaks out of character to laugh during scenes (and the cast backed up this claim on stage). So if you're watching Veep, and suddenly Hale turns around and looks up at the ceiling or digs around in his bag, he's usually trying not to laugh. "It's absolutely awful and completely unprofessional," he said.
9. So other than his own, what shows make Tony Hale laugh?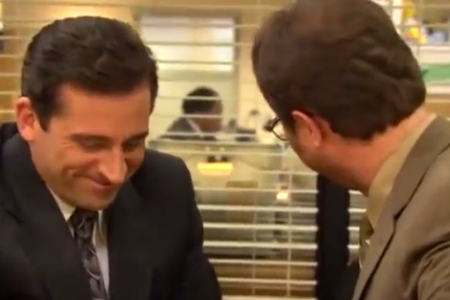 "Community makes me laugh. Honestly, what makes me laugh the most is bloopers. I love—maybe it's because I laugh so much on set—but I like to go to the shows I love like Community, The Office, Parks and Recand just look at the blooper reels. To me, that's where the life is, where you just kind of see behind-the-scenes and see the joy in just somebody losing it. That's so fun to watch."
10. On learning about a "pencil f*ck"…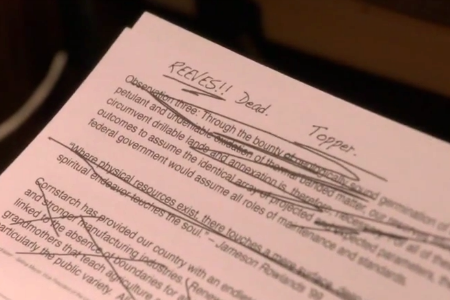 Scott, who plays Selina's ambitious deputy director of communications, said that at the beginning of the series, which films in Maryland, he and a few of the cast would go to bars with government staffers and other young politicos to pick their brains for ideas and insider knowledge. "They were only too willing to spill everything," he said. From those bar sessions, he learned the term, "pencil f*ck a speech" (a speech that's been highly edited, usually by someone higher in the government's chain of command).
Christine N. Ziemba is a Los Angeles-based freelance pop culture writer and regular contributor to Paste. You can follow her on Twitter.